In this post, you'll discover 40 fun Halloween crafts for toddlers that are simple, easy, and festive! Use these crafts as the cutest Halloween decorations around the house!
Okay, Mamas, we are quickly heading into the busy holiday season and it's time for us to get festive with our kids. First up, Halloween!
Because my daughter is almost 2-years-old, I decided to make a list of Halloween craft ideas for toddlers that are fun but still easy enough for a toddler to do the bulk of the work. Of course, parental supervision and assistance will still be required for all these crafts.
40 Fun Halloween Crafts for Toddlers
Pumpkin Crafts for Toddlers
1. Transparent Pumpkins
These transparent pumpkins are absolutely adorable and don't require any paint which is always a bonus. Hang these pumpkins on any window in your house and watch as the sun shines through the tissue paper creating a stained glass effect.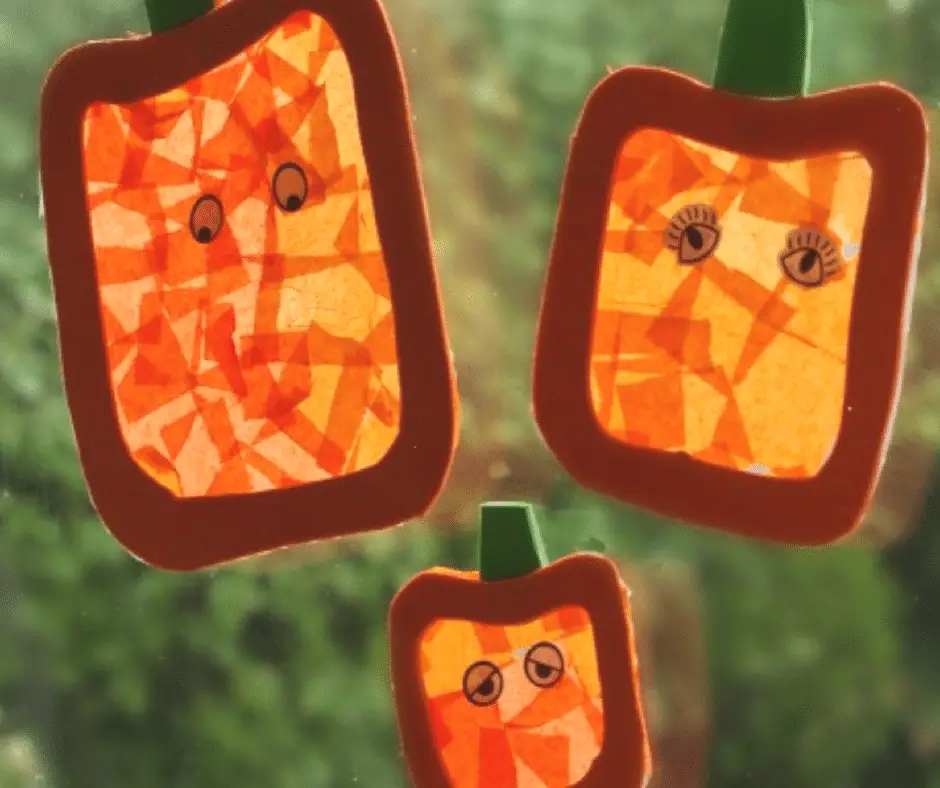 2. Paper Plate Pumpkin
This paper plate pumpkin is a quick Halloween craft that uses materials you probably already have lying around the house. It does require lots of orange paint, so be prepared for a mess!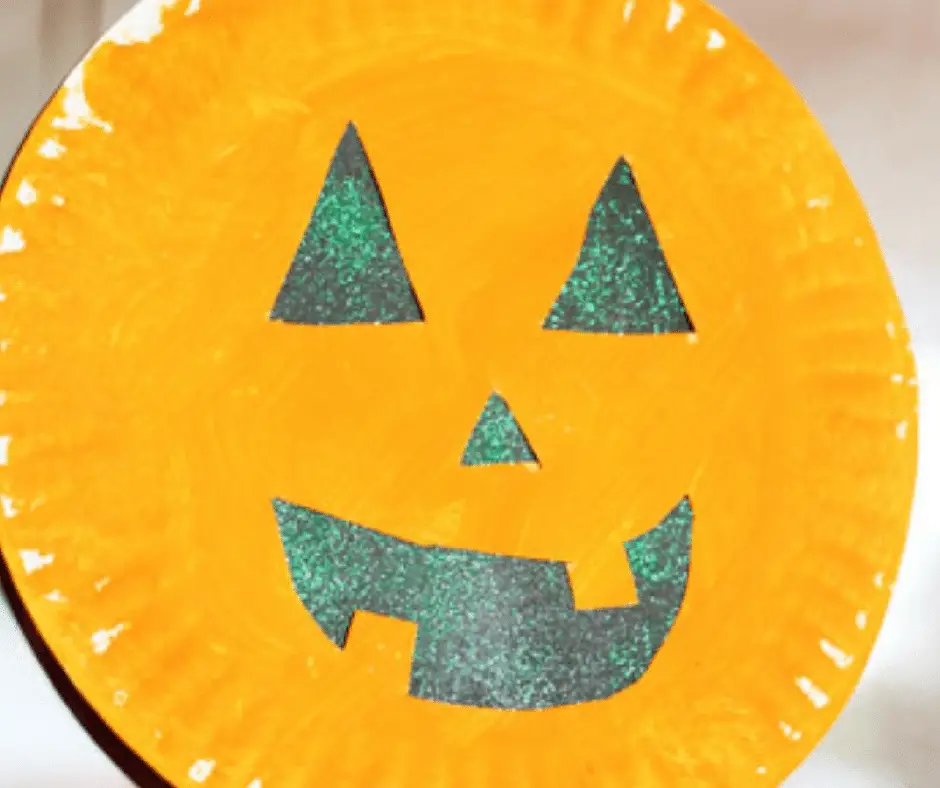 3. Easy Fist Bump-kins Pumpkin Craft
This easy fist bump-kins pumpkin craft is a keepsake craft you'll want to save forever. I love this Halloween project because it can include the whole family!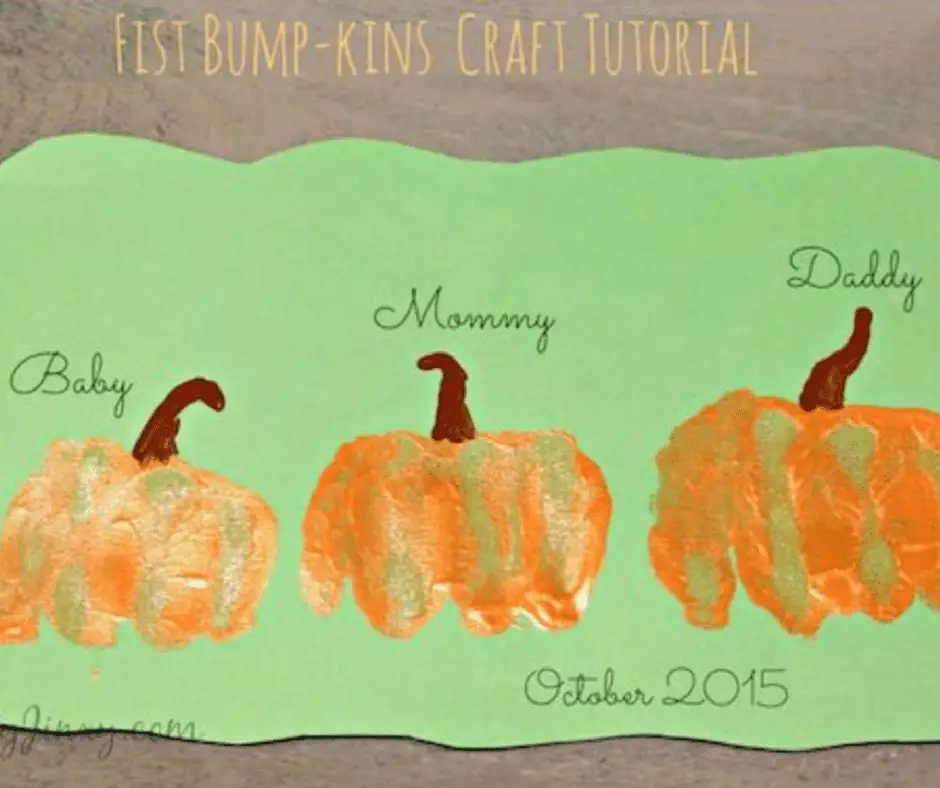 4. Pumpkin Handprint and Photo Keepsake
Try this pumpkin handprint and photo keepsake if you're looking for another Halloween craft that you'll want to save and use as decor year after year!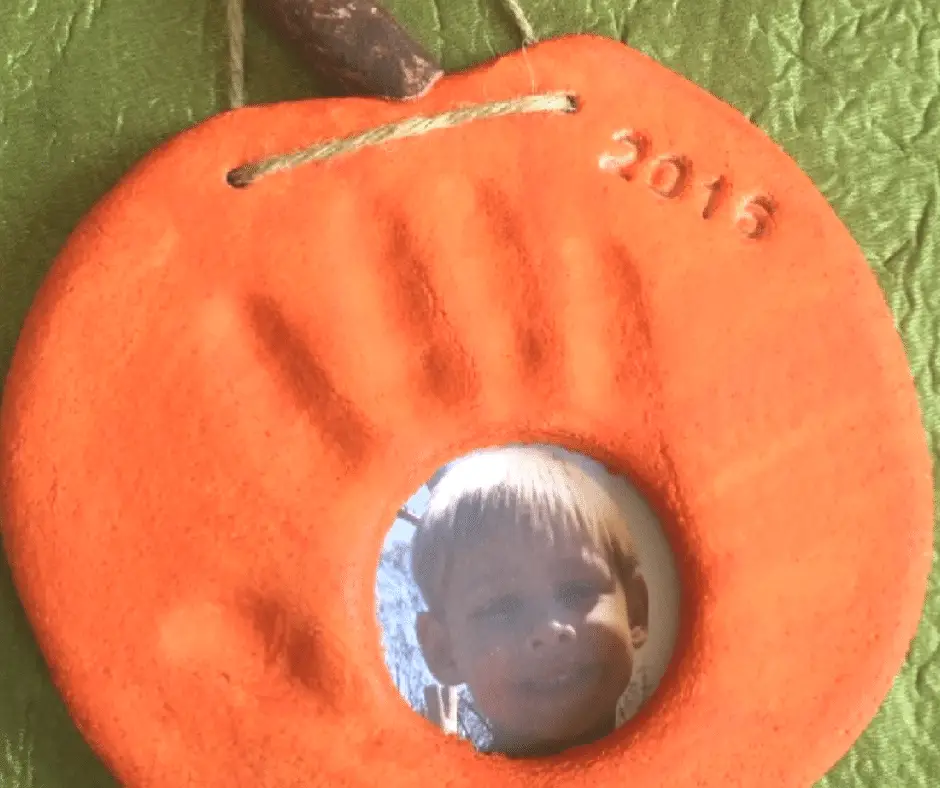 5. Spatula Pumpkins
These spatula pumpkins are not only adorable but such an easy Halloween craft to do if you have a younger toddler. I know my nearly 2-year-old would get a kick out of slapping the spatula onto the paper.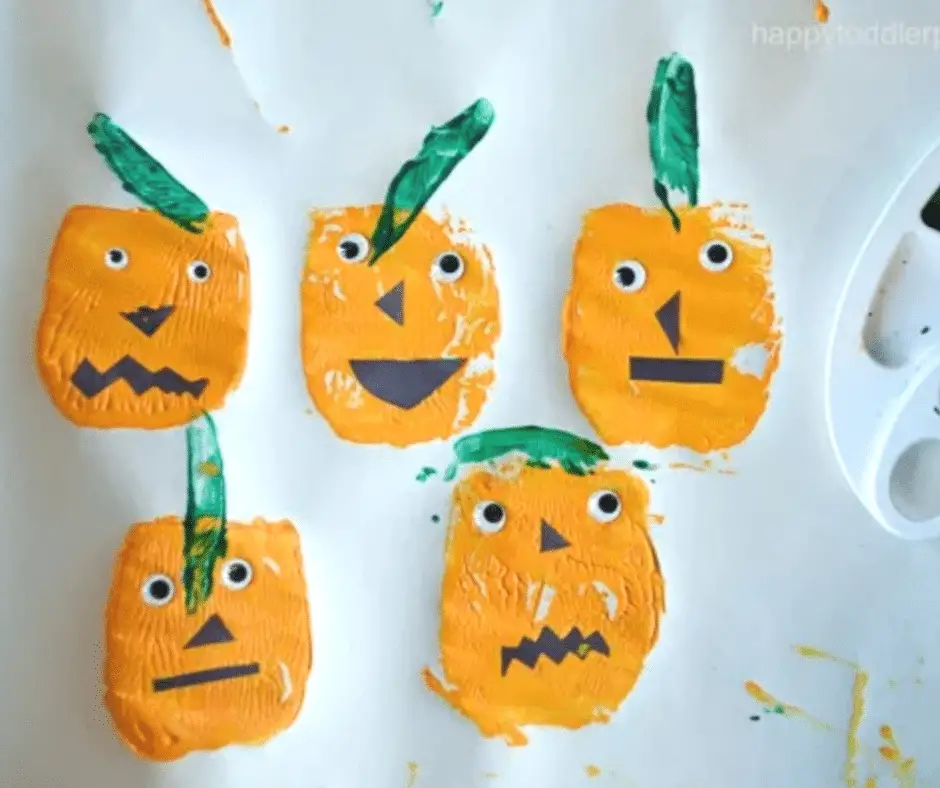 6. Melted Crayon Pumpkins
These melted crayon pumpkins are more than just a Halloween art project, they're like a fun science experiment! Toddlers will have a blast getting to use the blow dryer and watch as the crayons melt.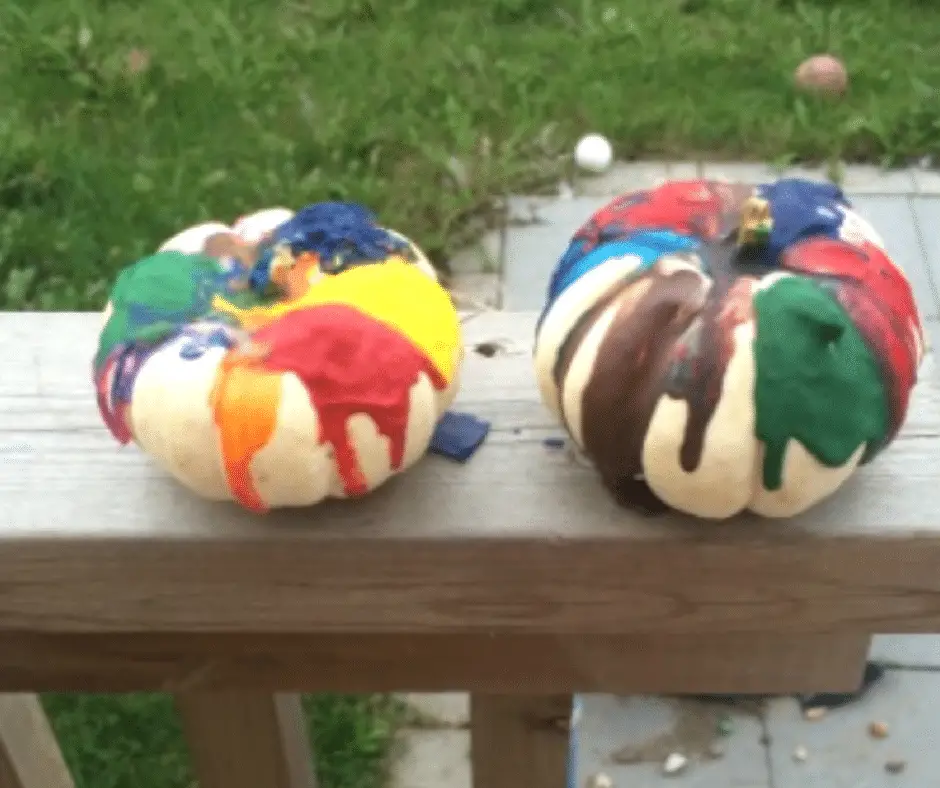 7. Pumpkin Printing with Pool Noodles
Take those well-used pool noodles from summer that were heading to the trash and repurpose them for this pumpkin printing with pool noodles craft! This is one of the most simple Halloween toddler crafts on this list and perfect for toddlers in the 1 to 2-year-old range.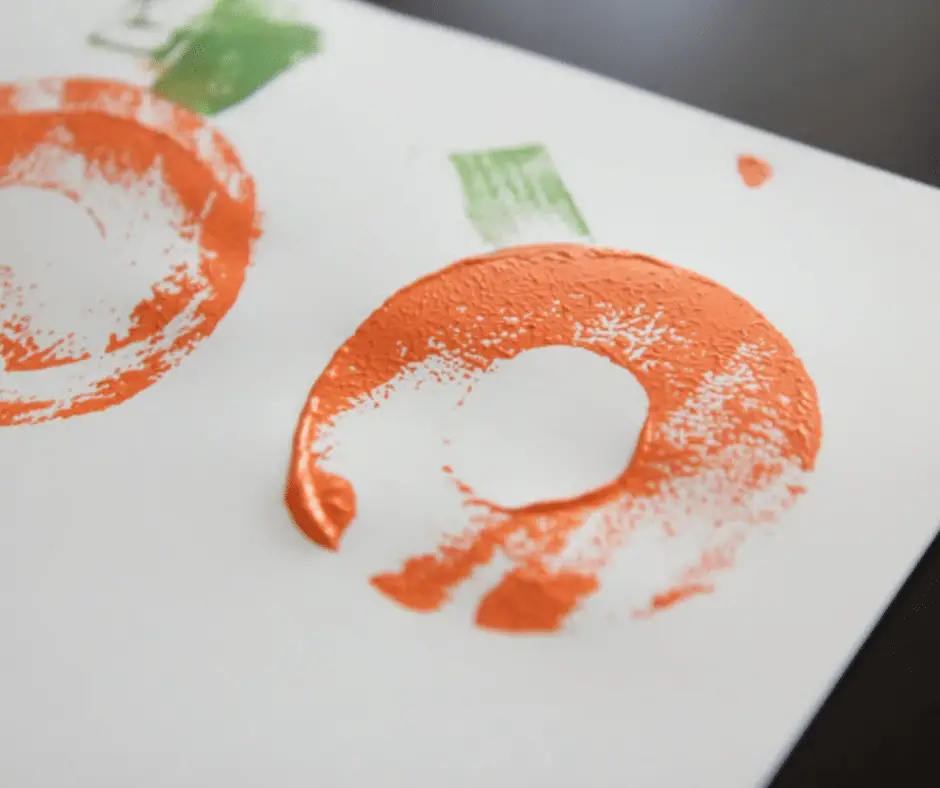 8. Pumpkin Apple Stamps
These pumpkin apple stamps are so creative and festive to the core…see what I did there? Just make sure your toddler doesn't try to eat the apple while there's orange paint on it!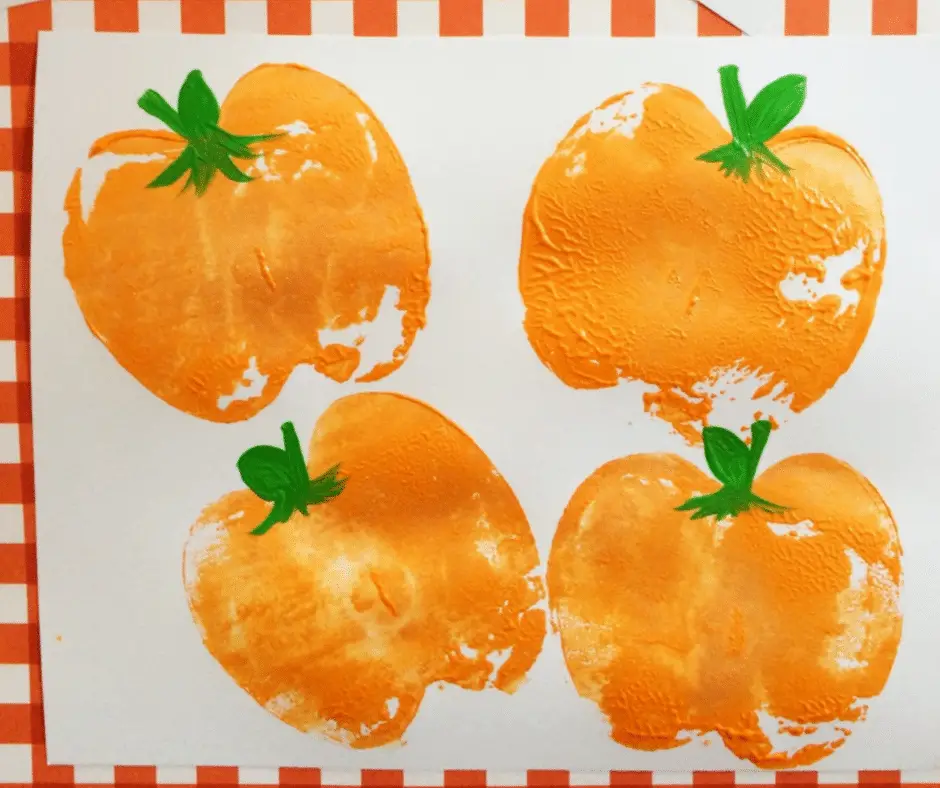 9. Lego Stamped Pumpkins
Instead of just stepping on them and screaming out in pain, put those Legos to good use and make some lego stamped pumpkins! Your toddler will love getting to use a familiar toy in a new and exciting way.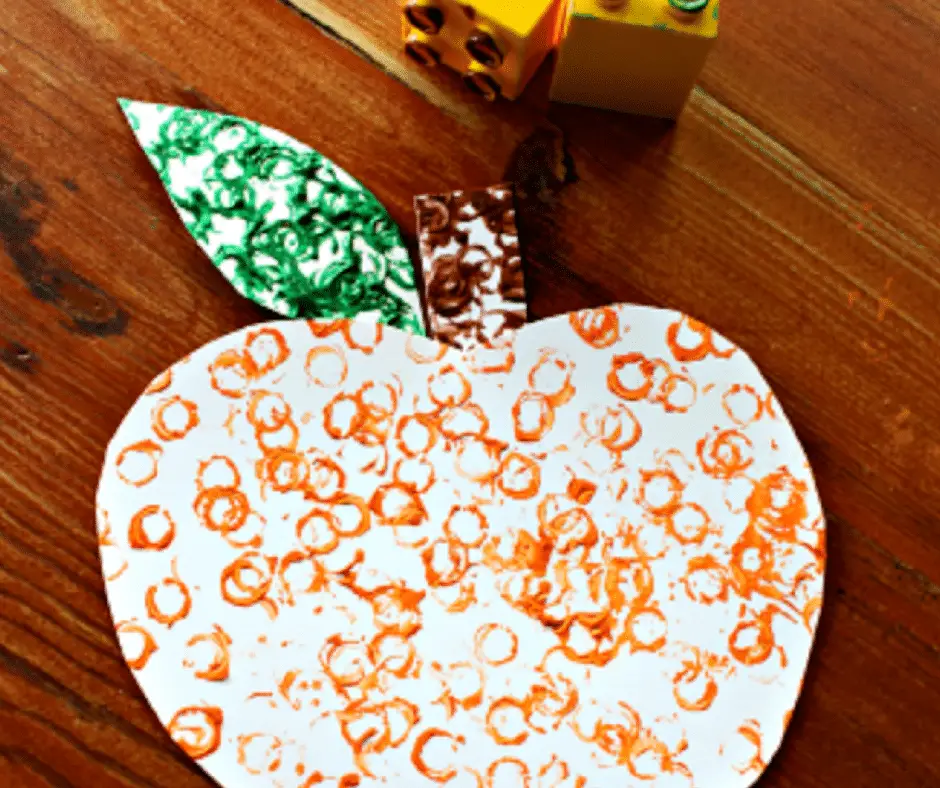 10. Pumpkin Play Dough
Try making this pumpkin playdough to give your toddler a sensory experience. This is more of a Halloween activity for toddlers because you can save the play dough and use it multiple times and it's not something you can hang on your fridge.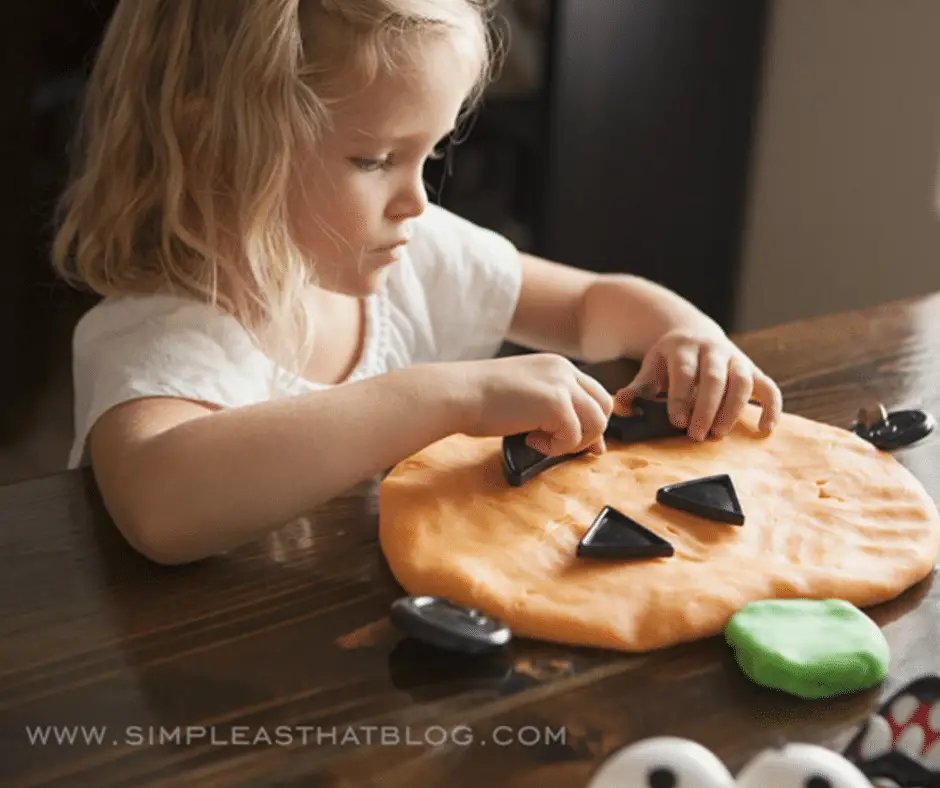 11. Egg Carton Jack-O-Lanterns
Next time you run out of eggs, don't throw away the carton. Instead, make these egg carton jack-o-lanterns. These adorable tiny jack-o-lanterns would be so cute on top of a fireplace mantle.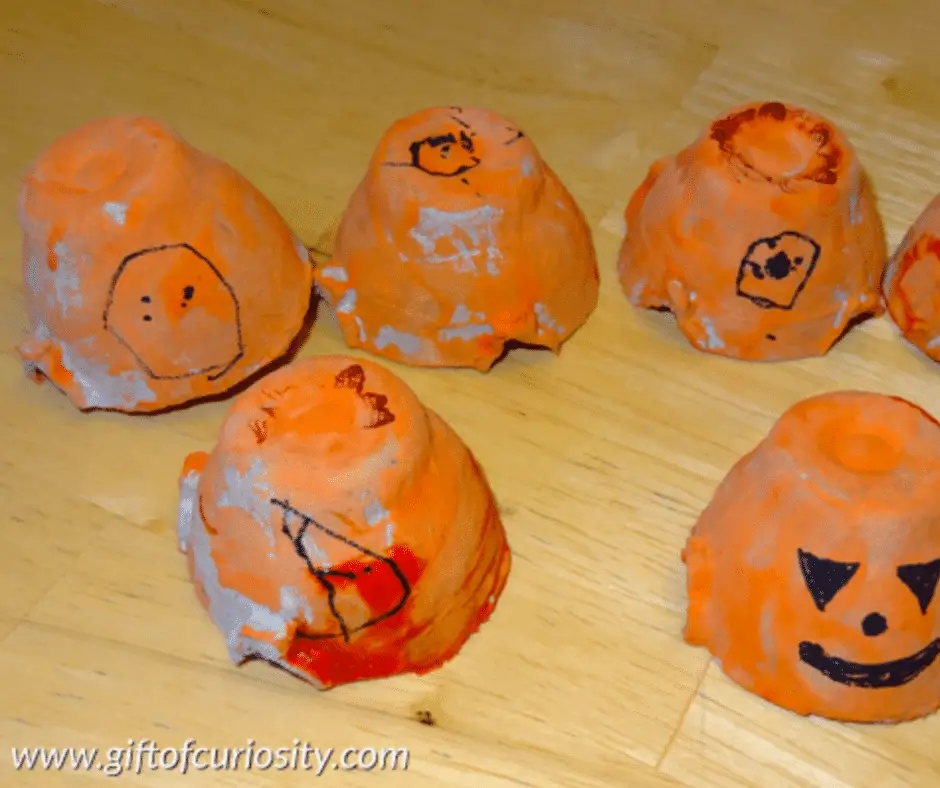 12. Toddler-Friendly Jack-O-Lanterns
Carving pumpkins with toddlers is just not an option for obvious reasons, but they don't have to be left out of the pumpkin fun. These toddler-friendly jack-o-lanterns are a pumpkin craft for toddlers that is completely safe! Here are some fun FREE Halloween Stickers you can print out at home and stick to your pumpkins!
Candy Corn Crafts for Toddlers
13. Candy Corn Halloween Craft
This candy corn Halloween craft is a such quick Halloween craft for toddlers because it's super easy. Thriving Home Blog even provides a free printable for you to use!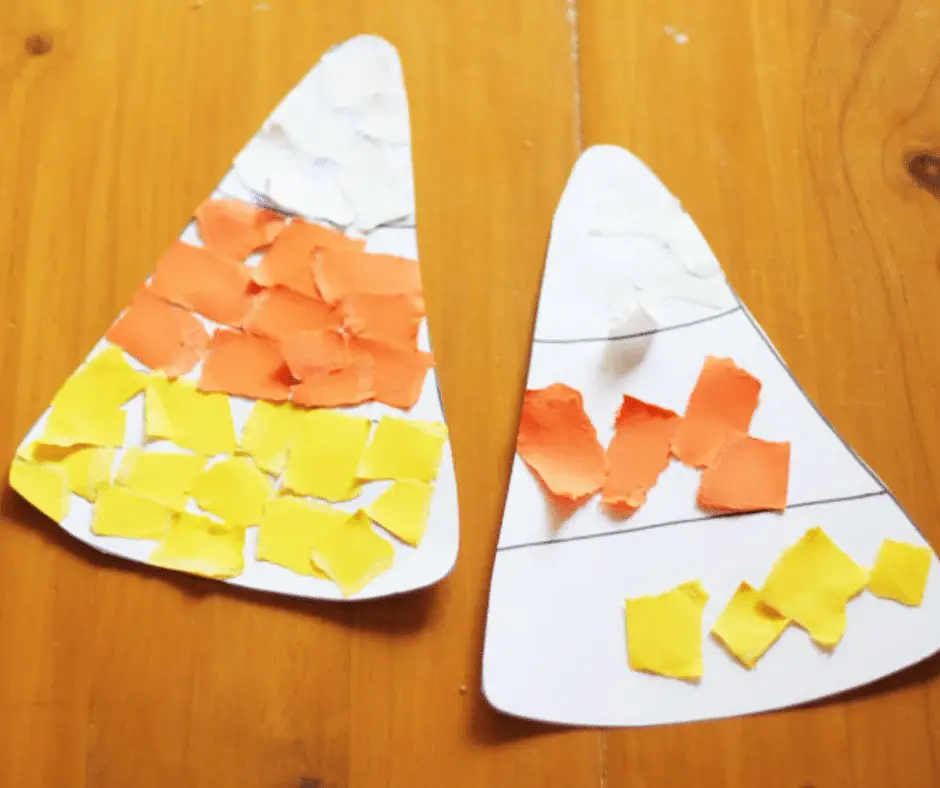 14. Sponge Painted Candy Corn
I love this sponge-painted candy corn idea so much! Such a fun and easy way for toddlers to paint. I know my almost 2-year-old might end up stamping too many candy corns and making a huge blob, but with a little assistance maybe that could be avoided.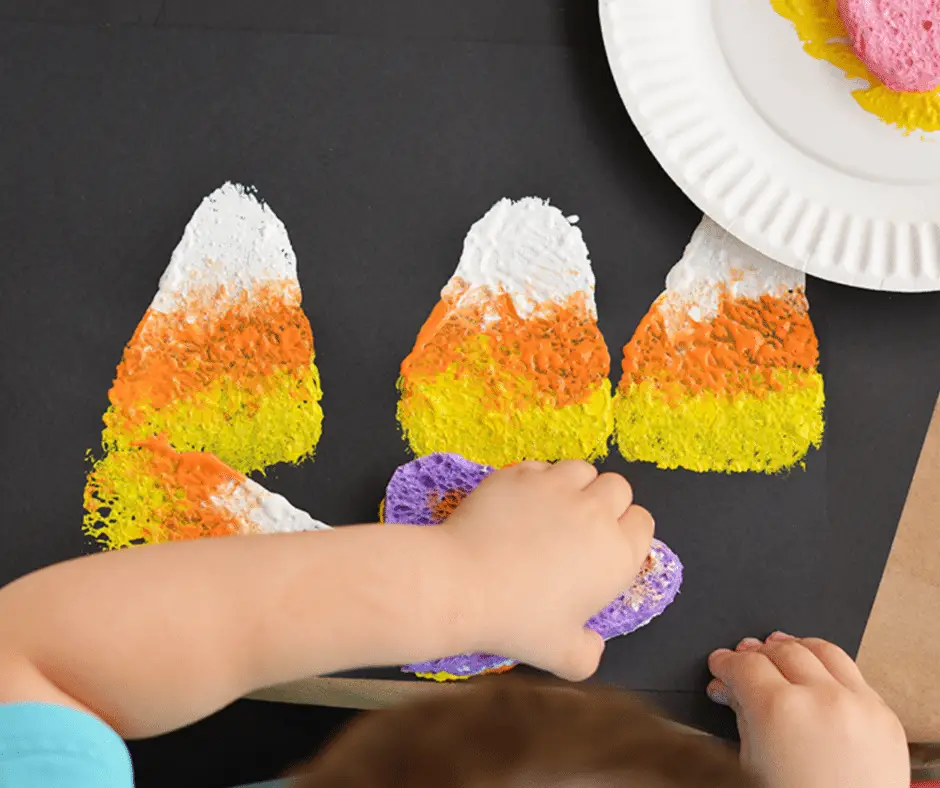 15. Candy Corn Flowers
My favorite thing about these candy corn flowers is that they are really just a fall craft for toddlers, so they can be used at fall decorations from September through November. Actually, all these candy corn crafts can be displayed throughout the fall season.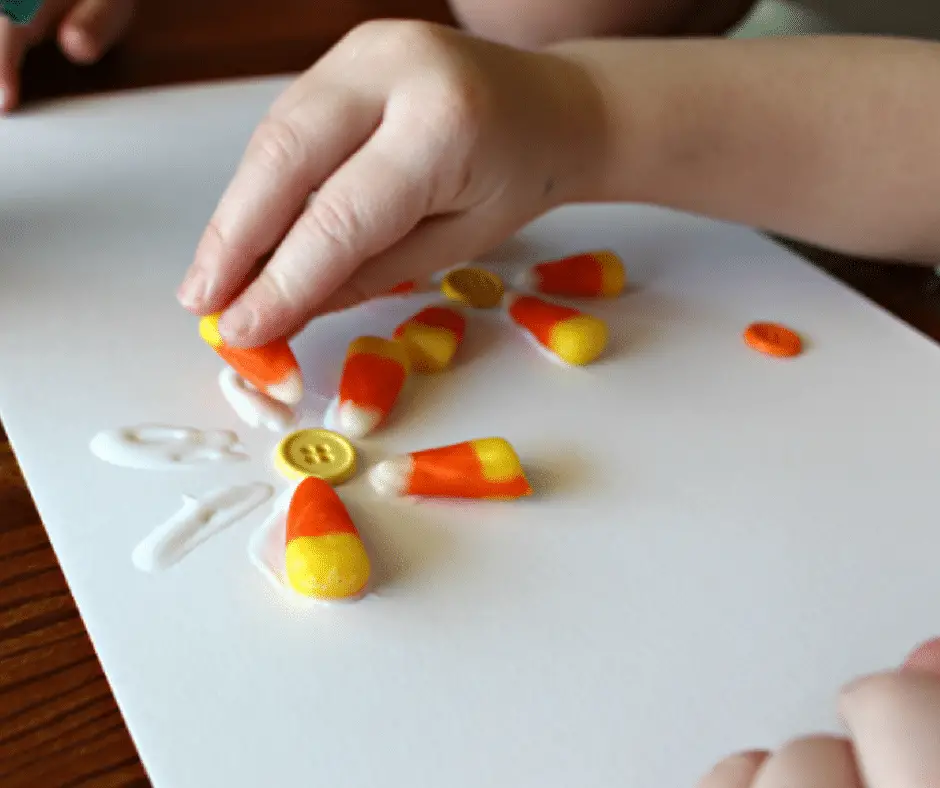 Monster Crafts for Toddlers
16. Construction Paper Monster Puppets
These construction paper monster puppets are not only adorable but also so easy to make using things you already have at home. If you don't have any googly eyes lying around you can always make your own eyes out of construction paper.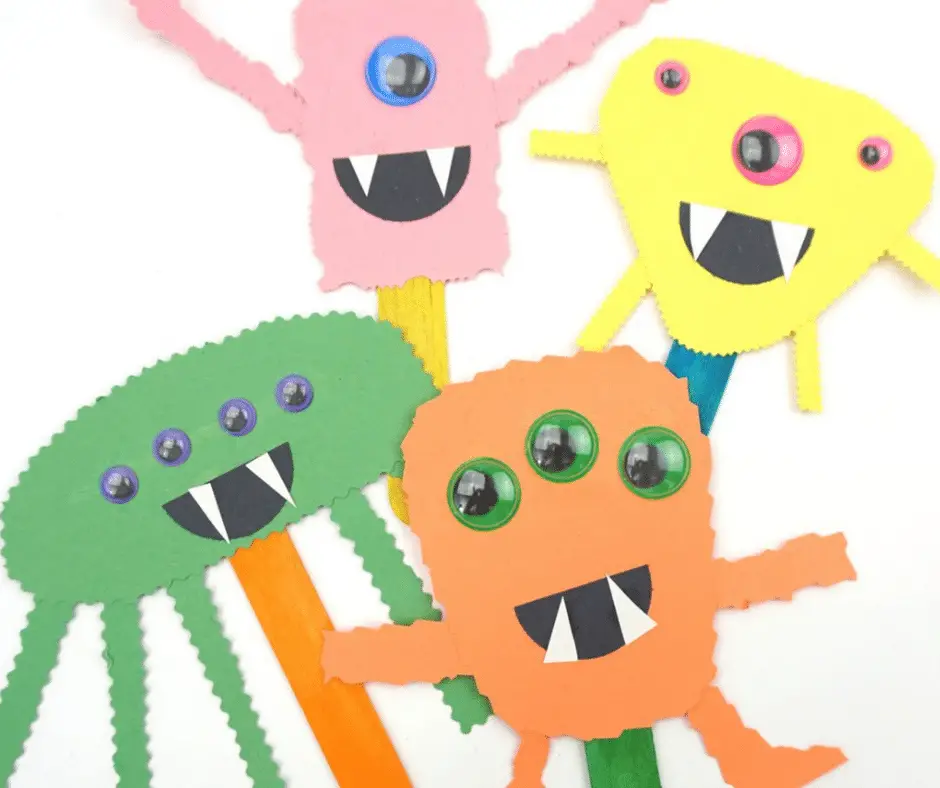 17. Monster Bookmark
I think this monster bookmark craft would be a really great gift for your preschooler to give their classmates for a little Halloween treat. Just attach a piece of candy and you're good to go!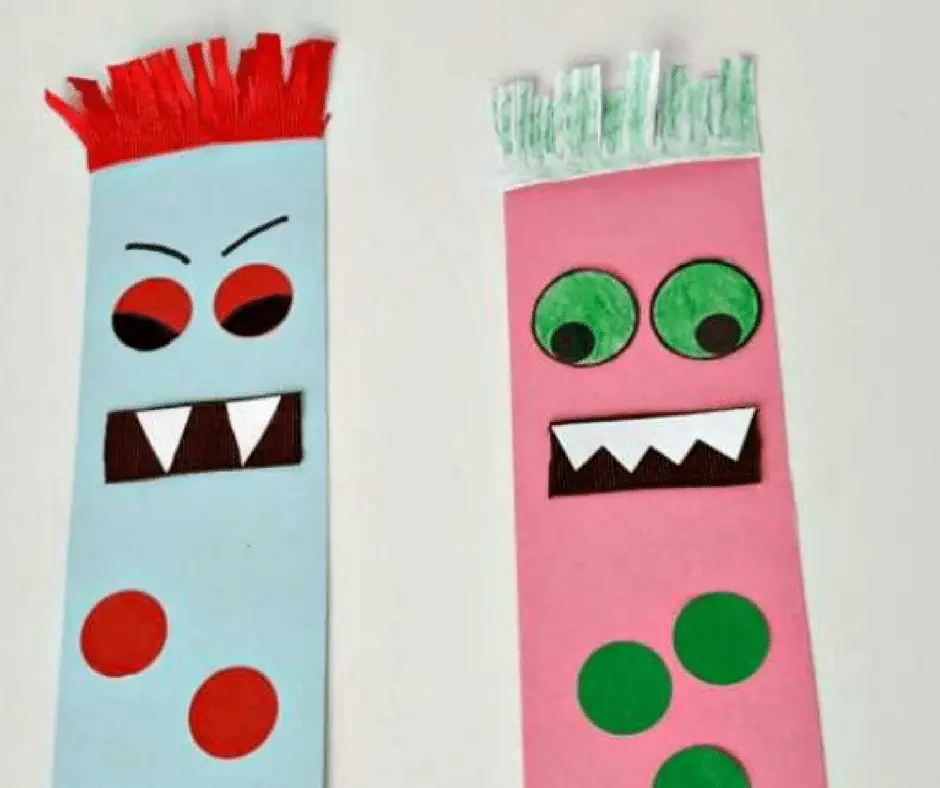 18. Mess-Free Monster Painting
This mess-free monster painting is great for young toddlers and even babies. Your toddler will have so much fun smudging the paint around but you'll be happy knowing you won't have to clean up a mess later!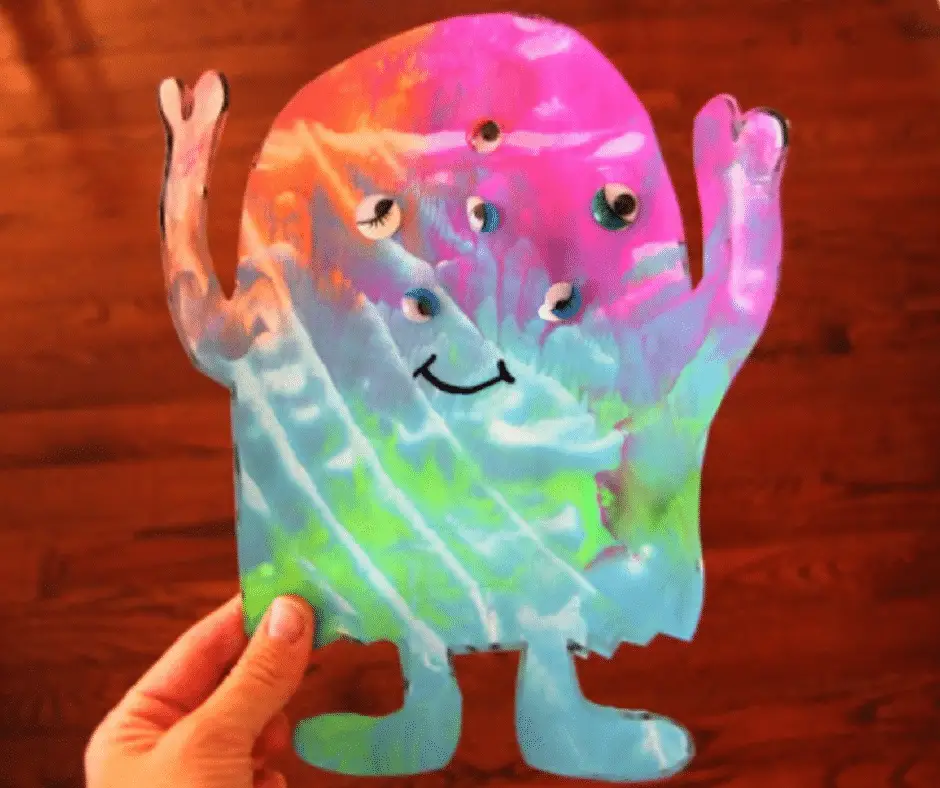 Ghost Crafts for Toddlers
19. Cookie Cutter Ghosts
These cookie-cutter ghosts are another super easy Halloween craft for toddlers, they are even good for 1 to 2-year-olds because there is not much precision involved. You will need a ghost cookie cutter, so if you don't have one you might have to move on to the next craft or Amazon Prime one.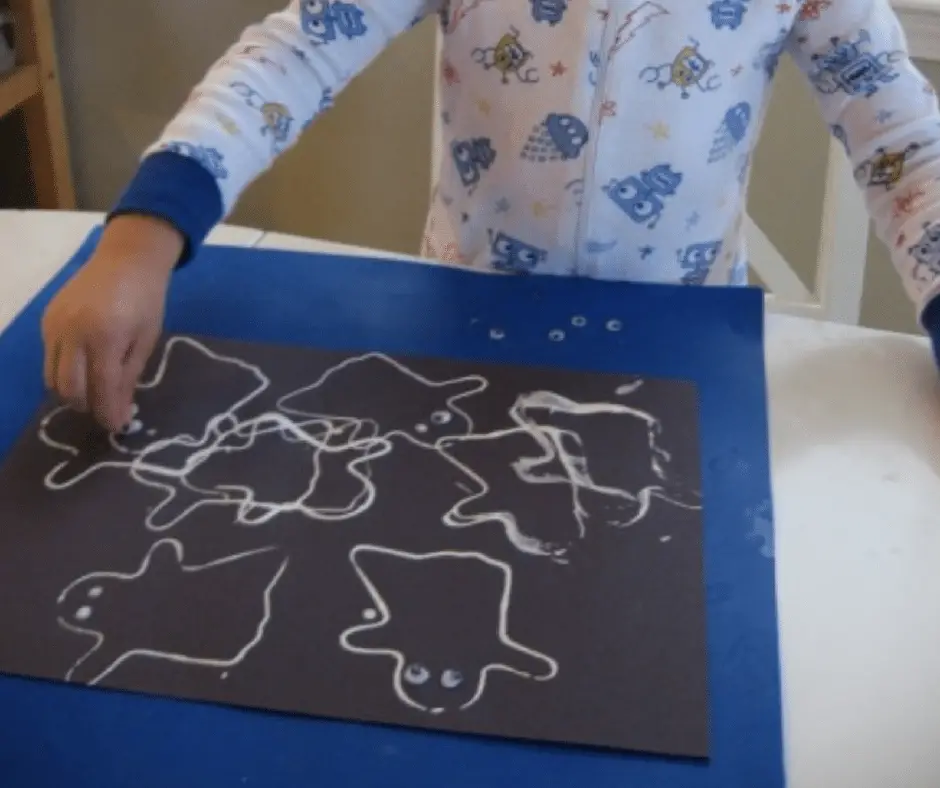 20. Paper Plate Ghost
These paper plate ghosts are great for hanging in your tree outside! This Halloween craft idea doubles as your outdoor Halloween decor! And if your toddler makes them, your neighbors will adore them!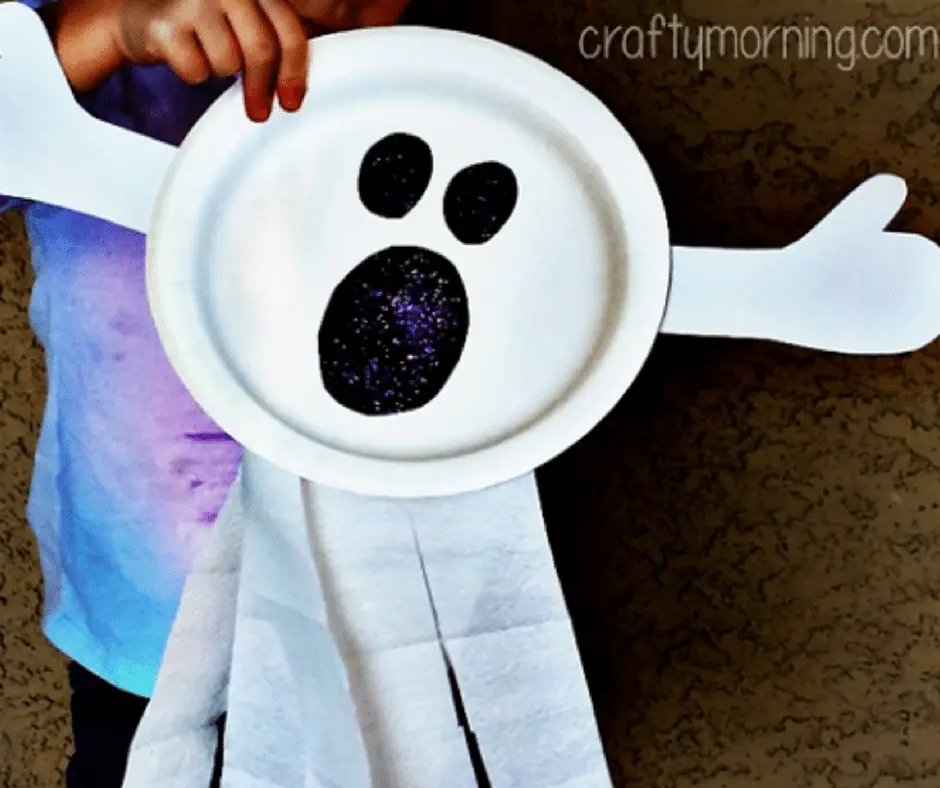 21. Puffy Ghosts
Make a bunch of puffy ghosts and hang them around the house for some seriously spooky, cute, and affordable Halloween decor.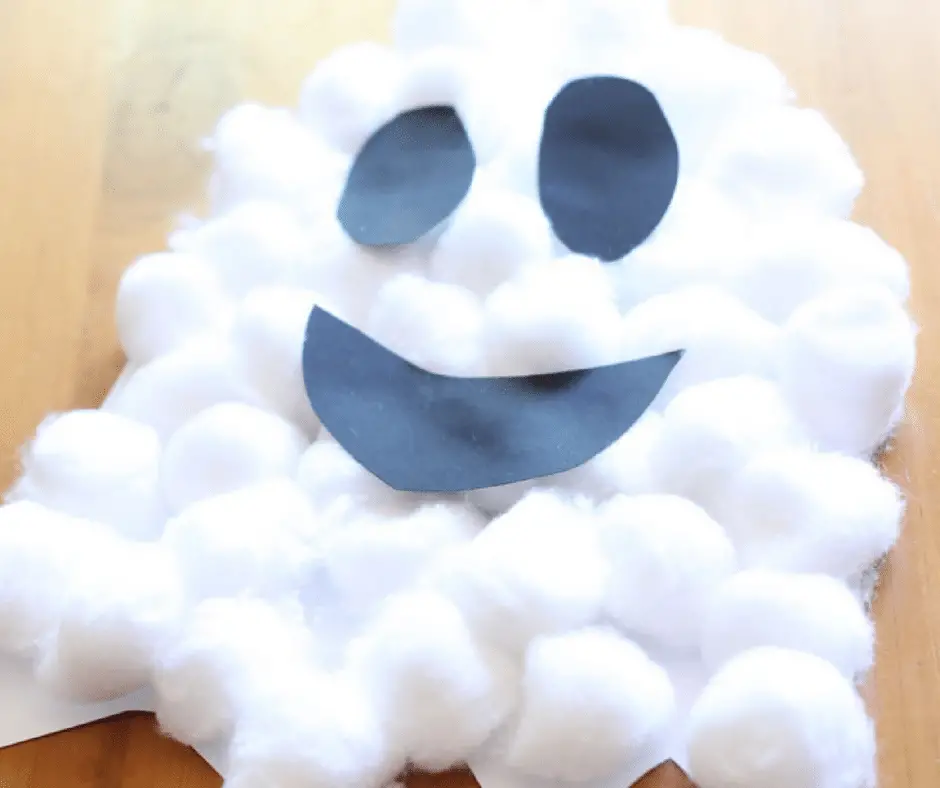 22. Painted Rock Ghosts
Make a bunch of these painted rock ghosts with your toddler and add them to your outdoor landscaping. Such a cute way to add a little Halloween fun to your home.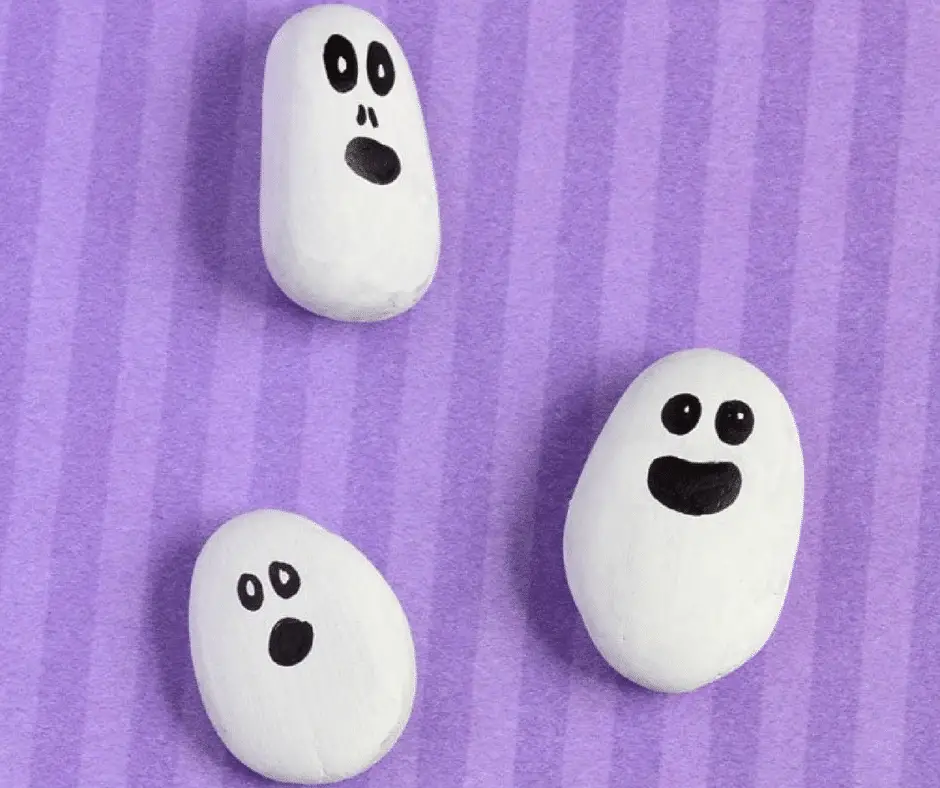 23. Ghost Footprint Keepsake
After you make this ghost footprint keepsake you're going to want to keep it forever. What a great way to look back on your toddler's tiny footsies every Halloween!
24. Contact Paper Ghost
If your toddler loves sticky things, they're going to love this contact paper ghost craft. Basically, anything goes with this Halloween toddler art and they can go crazy sticking all kinds of things to the window.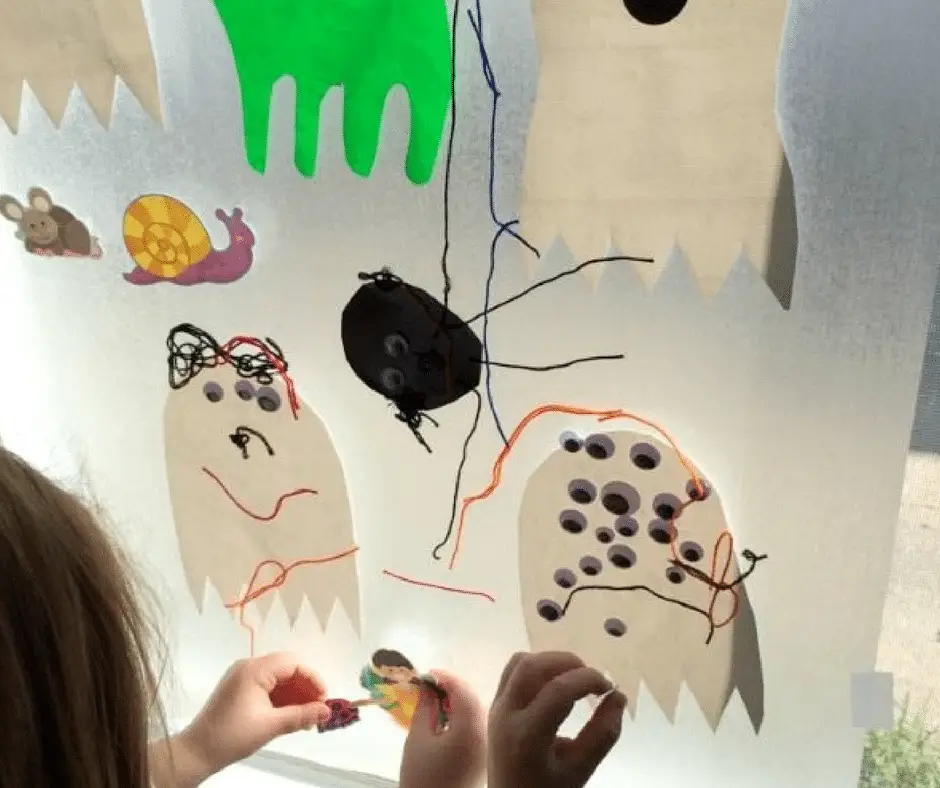 25. Footprint Ghost Craft
This footprint ghost craft is another keepsake art project that you'll want to hold onto forever. What a cute way remember how cute and small your toddler's feet were!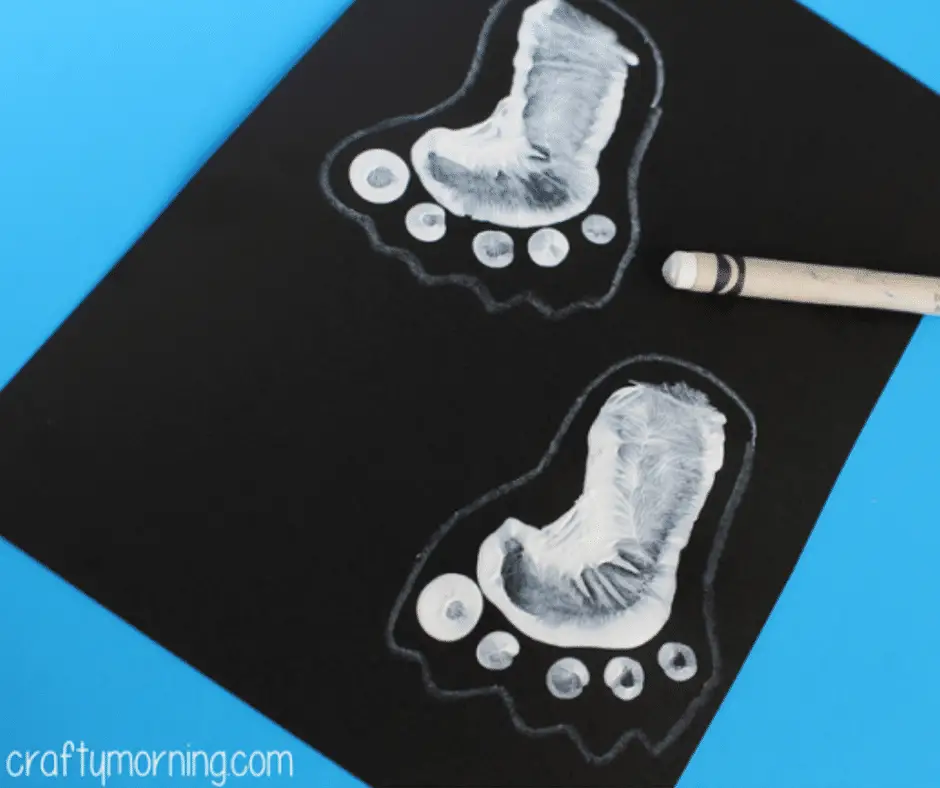 Spider Crafts for Toddlers
26. Halloween Spider Handprint Craft
If you're looking for a Halloween craft for kids that has few steps, this Halloween spider handprint craft is perfect. You can premake the pieces of the spider and your toddler can put them all together.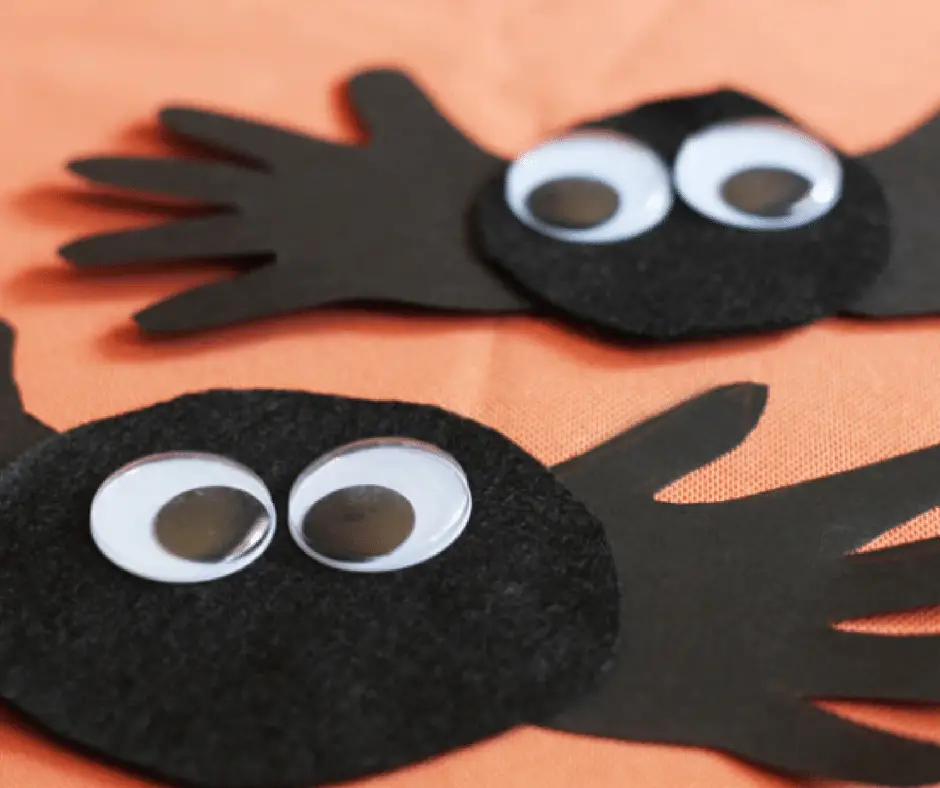 27. Yarn Spiders
Make one of these yarn spiders with your toddler and hang it on your fridge for some creepy crawly Halloween decor! This craft is probably more for toddlers older than three because it involves precisely placing the yarn over a small strip of glue.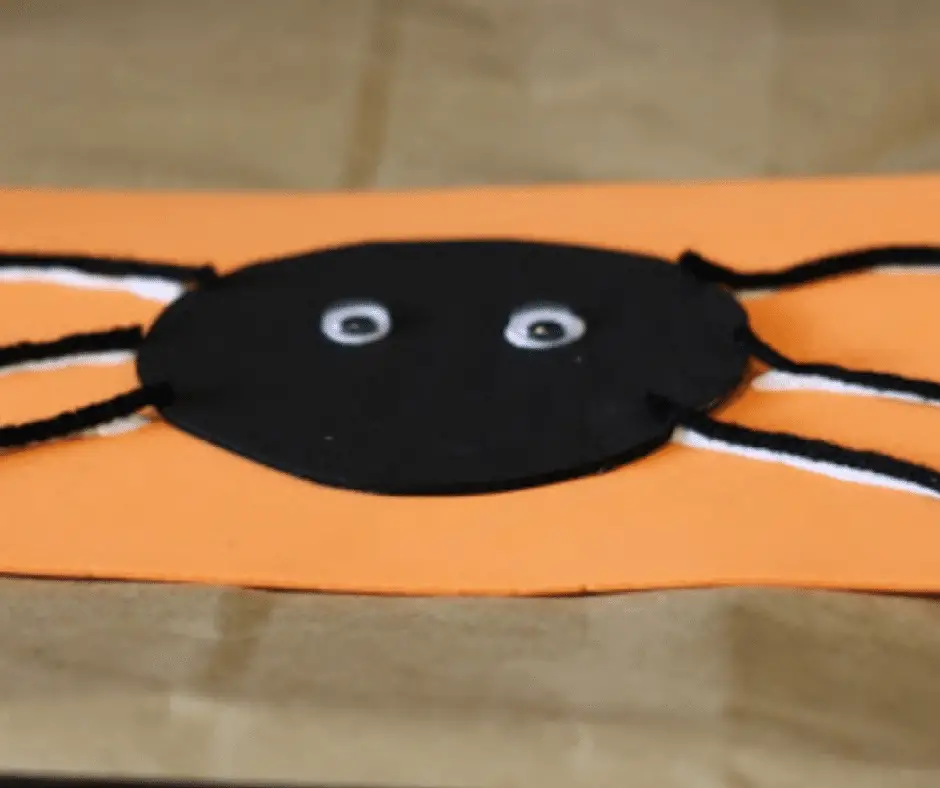 28. Fingerprint Spiders
This fingerprint spiders craft is a little more complicated than some of the other toddler crafts on this list, but it comes out looking awesome. I love that it uses watercolor instead of regular paint.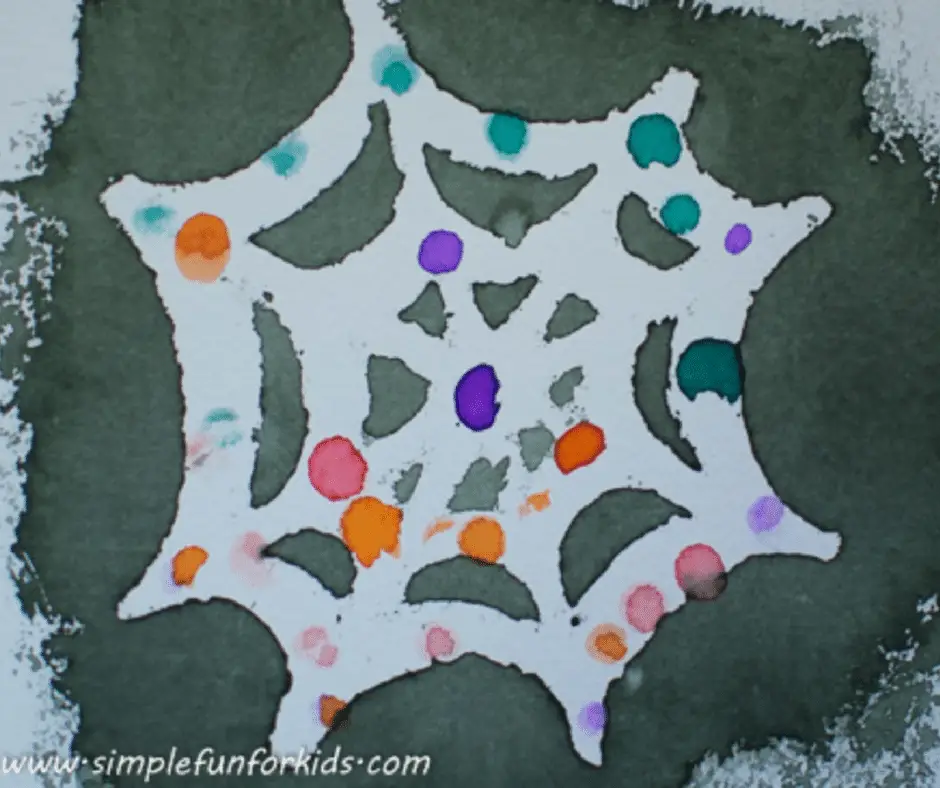 29. Painting with Spiders
Try this painting with spiders craft as a fun way for your toddler to paint with something not normally used for painting. This is truly a Halloween craft activity because the process of making the craft is more important than the final product itself!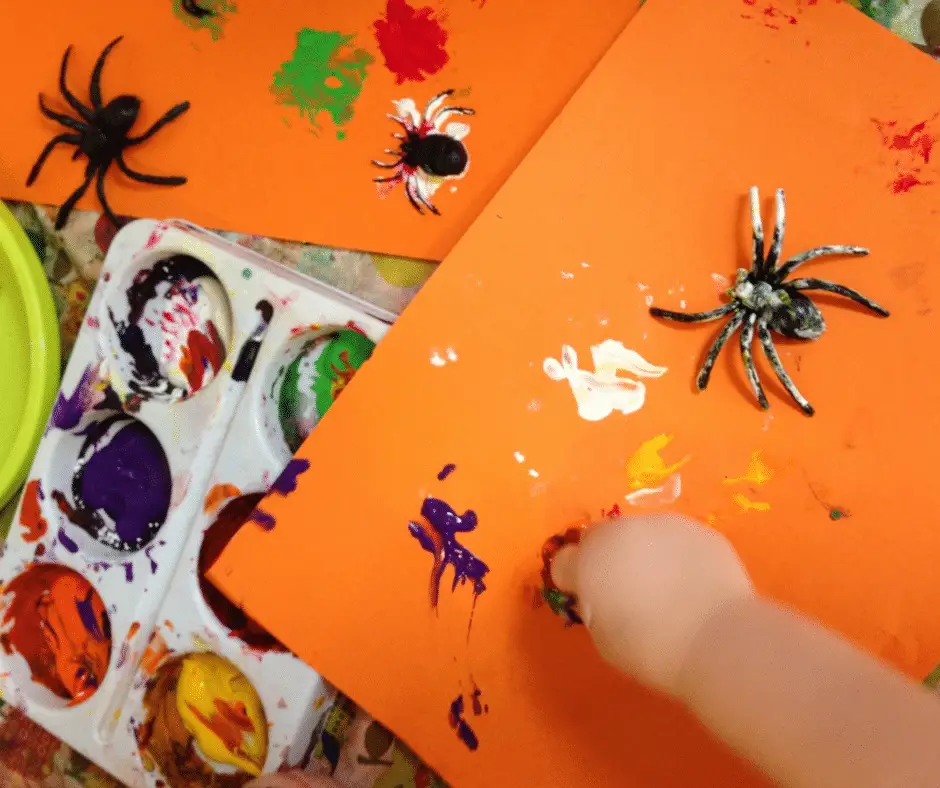 30. Easy Spider Paper Plate Craft
For this easy spider paper plate craft, all you really need is paper plates and pipe cleaners. You can pretty much decorate your spider with anything, like crayons, markers, or construction paper cutouts. Get involved and see what creation you and your toddler can come up with!
Mummy Crafts for Toddlers
31. Masking Tape Mummy
If your toddler loves playing with tape as much as mine does, then they will love this masking tape mummy craft! Basically, you can cut out the mummy body and then let your toddler go crazy with the tape. Add some eyes peeking out and you've got yourself an adorable Halloween mummy.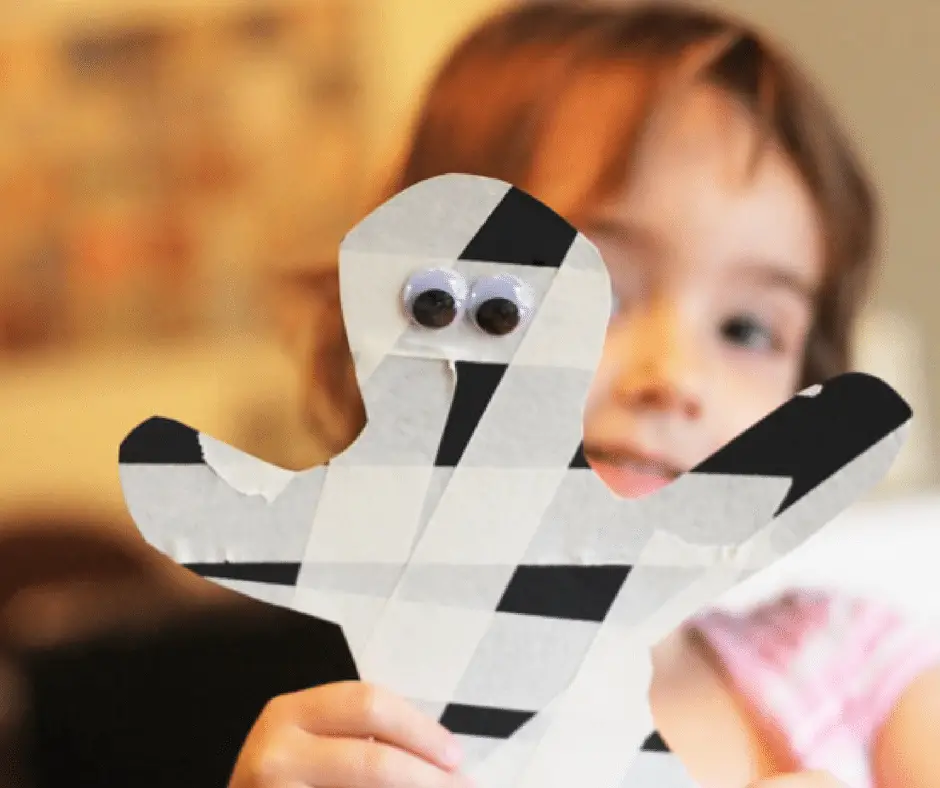 32. Mummy Pumpkin
If you're looking for an alternative to carving pumpkins, this mummy pumpkin craft is a great way for toddlers to decorate pumpkins safely.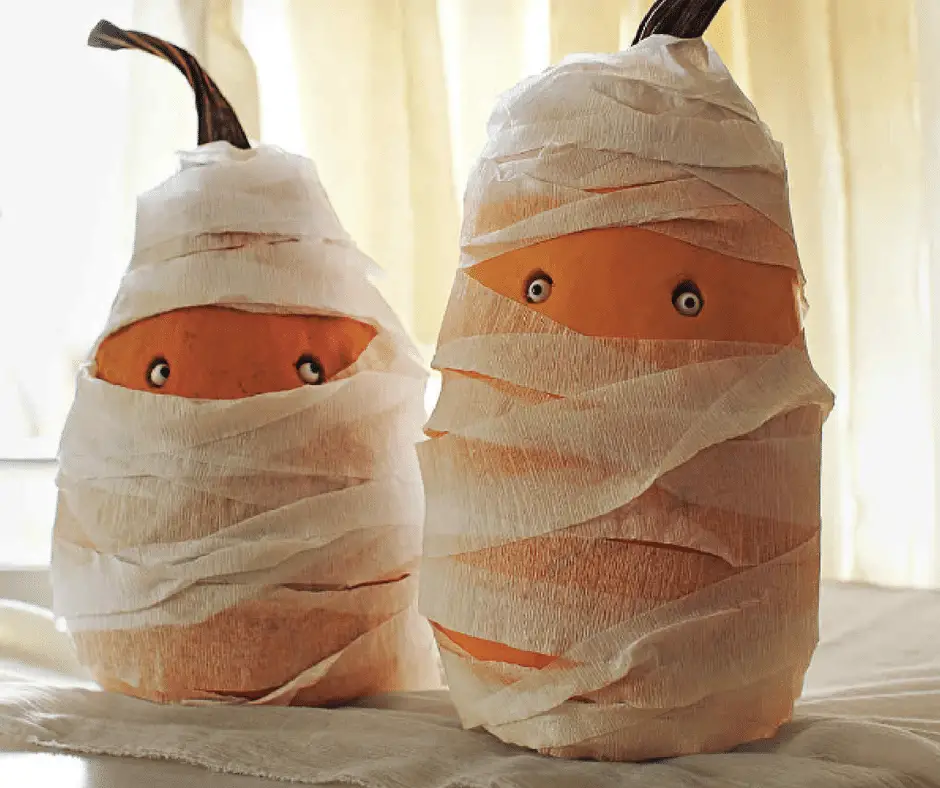 33. Paper Plate Mummy
This paper plate mummy craft comes out looking so adorable! It's also super easy and fun for toddlers to stick the crate paper on the plate because it doesn't have to be precise at all.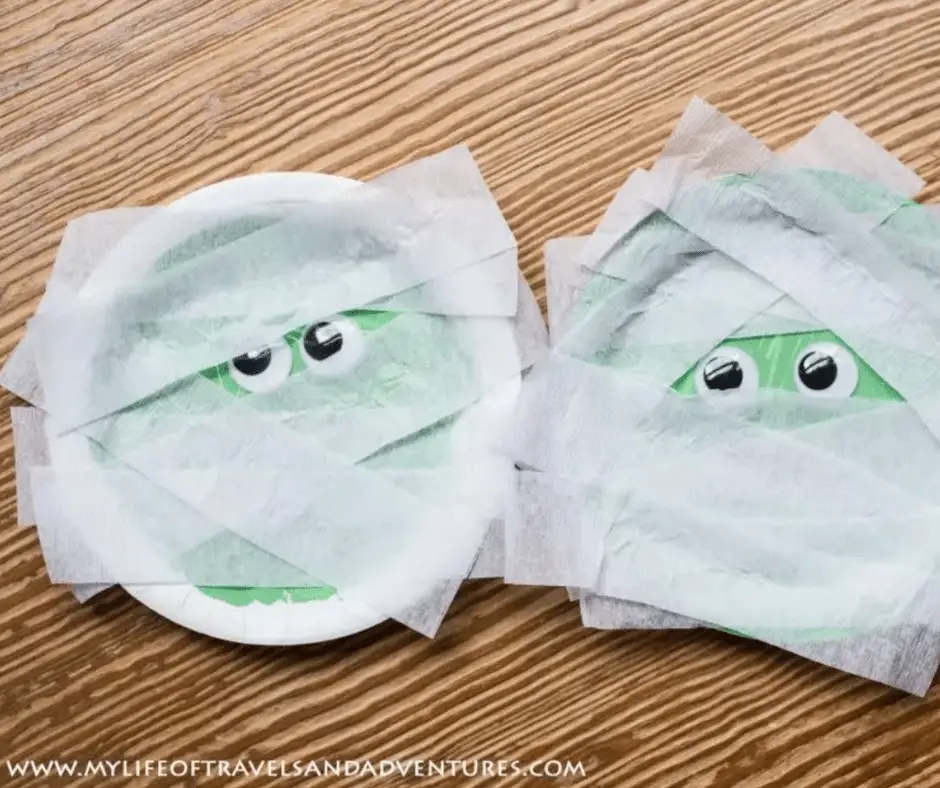 34. Cardboard Tube Mummies
Toddlers always love playing with the toilet paper when they're not supposed to, so give them a chance to play around with these cardboard tube mummies!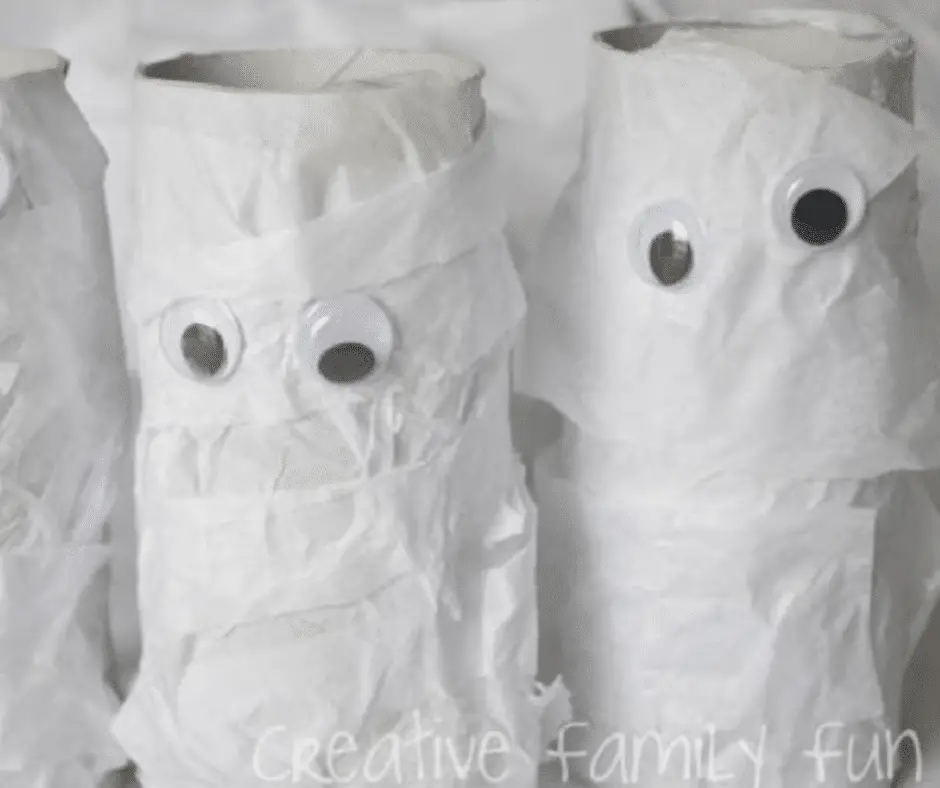 Creepy (but silly!) Halloween Crafts for Toddlers
35. Silly Halloween Marshmallow Designs
Try these silly Halloween marshmallow designs to give your toddler a special sweet Halloween treat. This toddler activity includes playing with your food and I don't know a toddler who doesn't love doing that!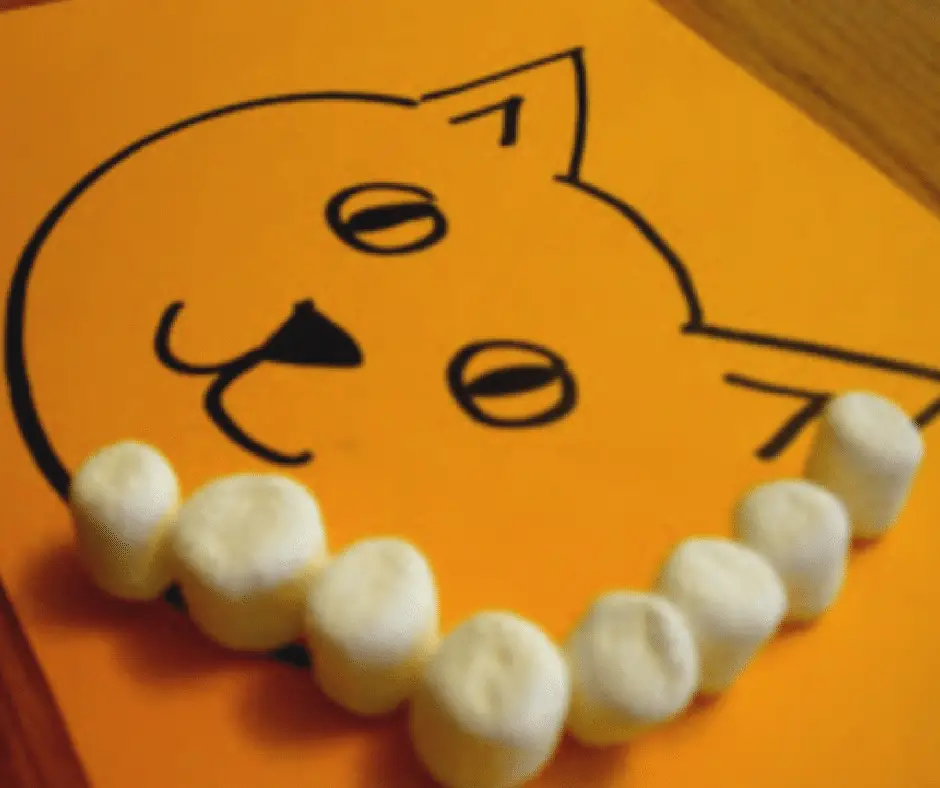 36. Creepy Halloween Cups
These creepy Halloween cups are probably geared more toward older toddlers, but they can still be done with younger toddlers with a little more parental assistance. When they're done, these Halloween cups are awesome, festive decorations.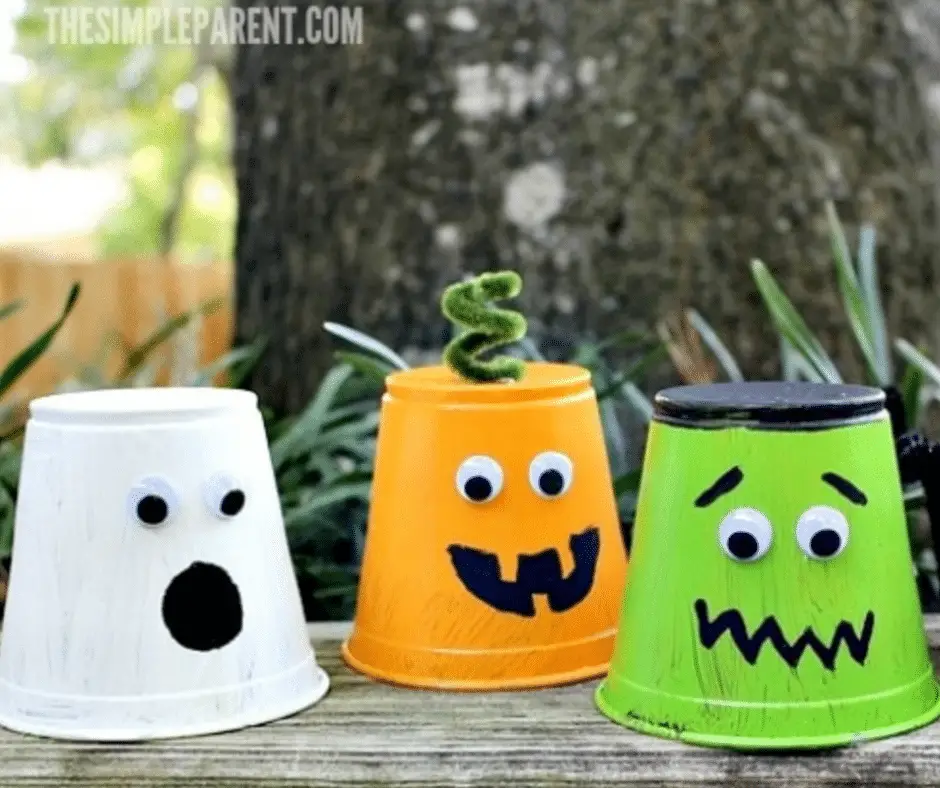 37. Halloween Handprint Ghoul Banner
Make this Halloween handprint ghoul banner and hang it on your front door to give trick-or-treaters an adorable welcome!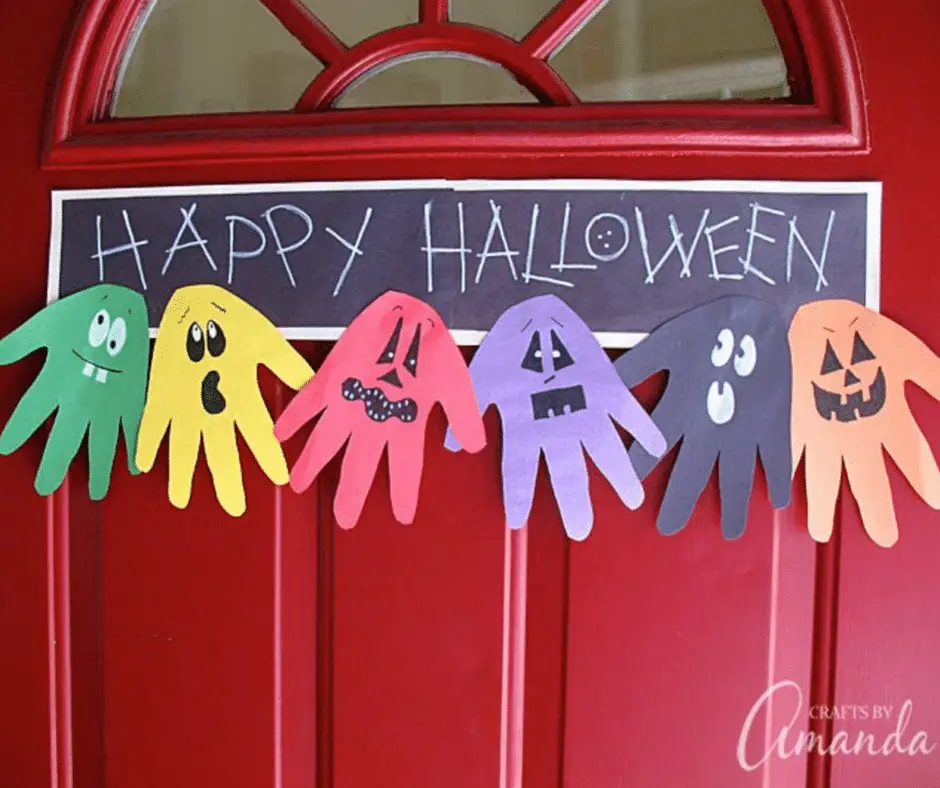 38. Easy Handprint Bat Craft
Use your tiny toddler's hands to make this easy handprint bat craft and they will be the most adorable little bats you've ever seen. Hang them from your tree's to add some spooky decor to your front yard.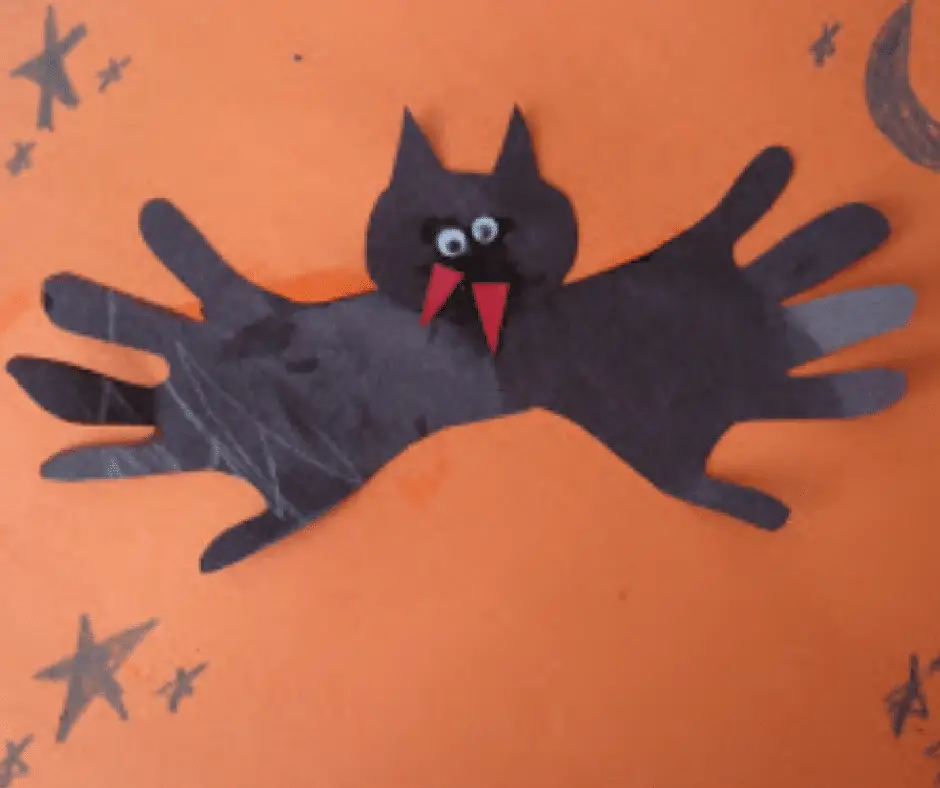 39. Toilet Paper Roll Bat
Here is another awesome Halloween cardboard roll project, the toilet paper roll bat craft! If you want some three-dimensional bats hanging from your trees, try making this bat craft instead of the one above.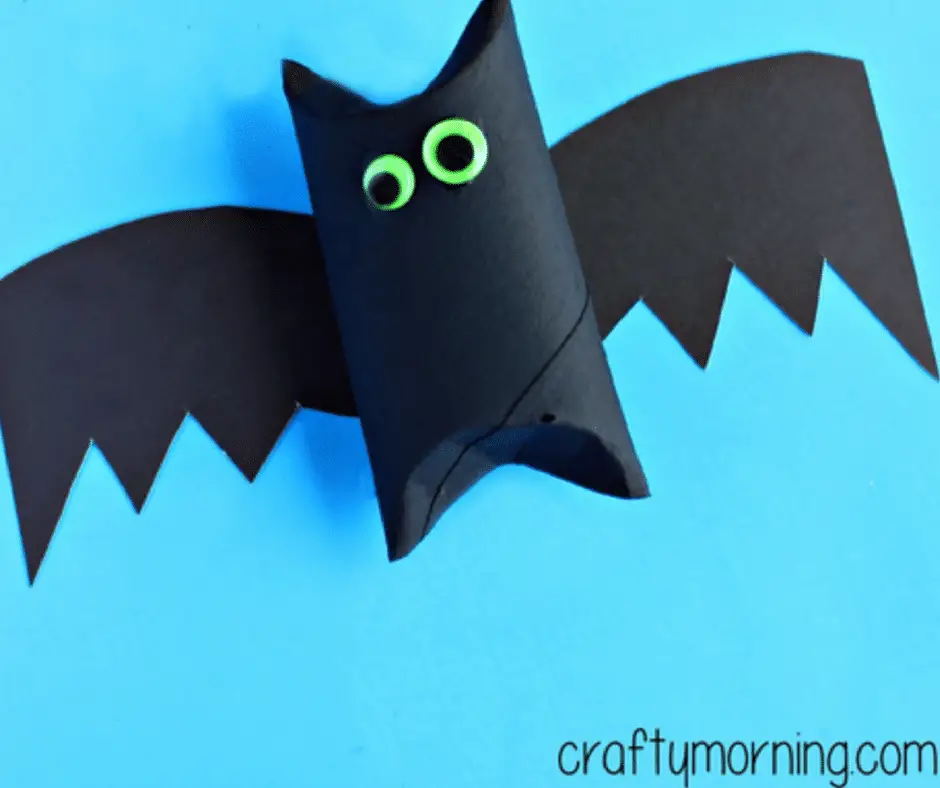 40. Handprint Witch Craft
No Halloween is complete without a little witchcraft…a handprint witch craft that is! If your toddler loves finger painting, then they will love this Halloween witch project.
There are 40 Fun Halloween Crafts for toddlers!
If you try any of these Halloween toddler crafts this year, please share which one was your favorite in the comments below! Also, if you're not quite ready for Halloween yet, just pin the image below and save it for later!
If you're looking for some more activities to do with your toddler, check out these 20 toddler activities for learning and development!