In this post, you'll discover 40 of the best educational apps for toddlers so you can make sure your toddler's screen time is helping their growth and development and not hindering it.
I remember being pregnant and looking around at all the little kids with phones or tablets in their hands and thinking to myself, "That's so sad. I am definitely not letting my child stay glued to a screen like that." Well, now I'm eating my words.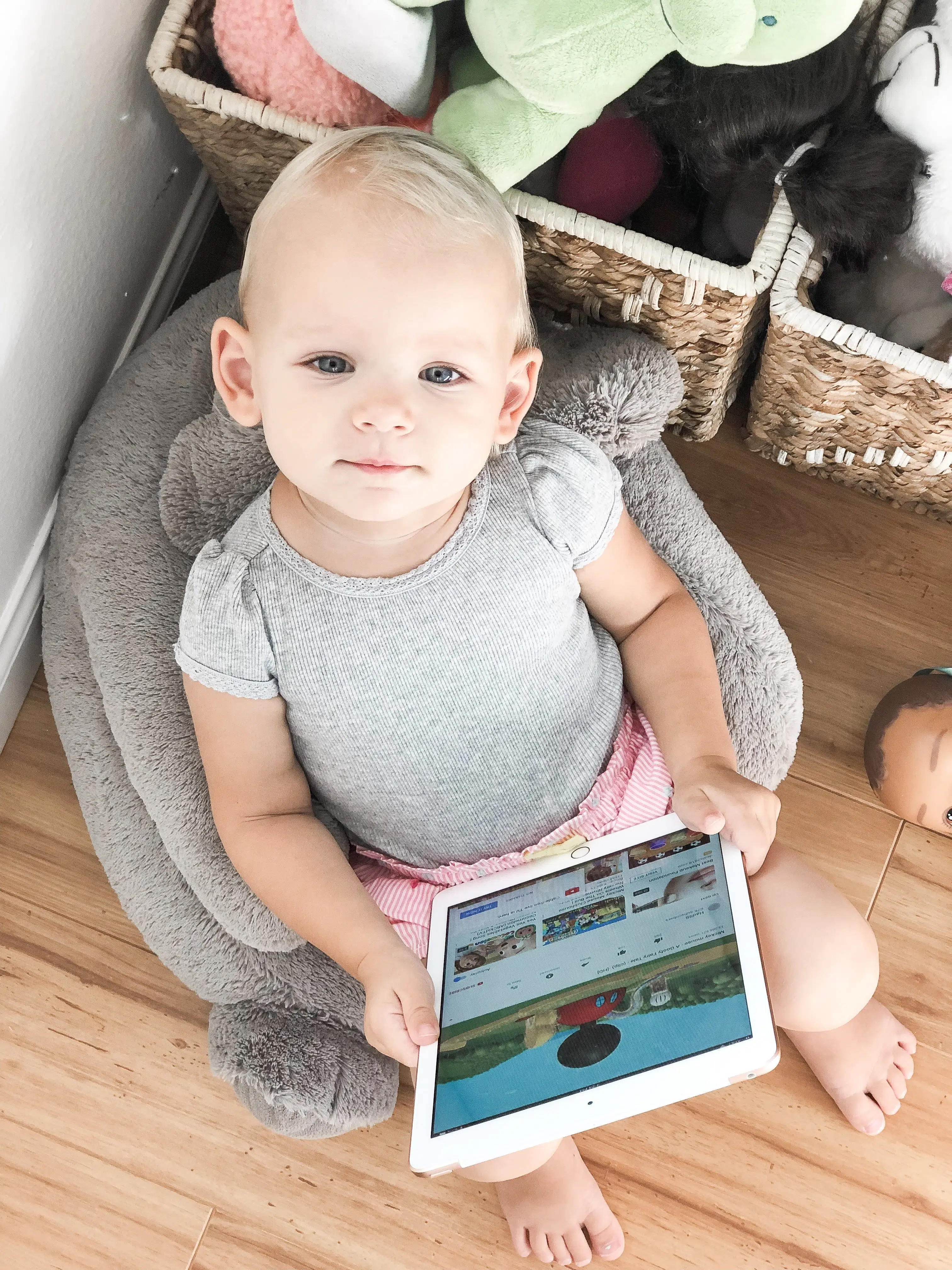 The Blessing of Screen Time for Kids
First, let me just say that this post is about the best educational apps for toddlers and not screen time, but I feel like I need to address the topic of screen time for a quick moment.
Screen time for children, whether it be on phones, tablets, computers, or TVs, is a pretty controversial parenting topic.
The general recommendation from doctors is that children under the age of two should not have ANY screen time at all. But for a second, let's just put the doctor's recommendations aside, and be real.
Screen time can be an absolute lifesaver for parents!
Even with all my past judgment, I put myself in that category and take advantage of screen time often.
Like most first-time moms, I tried to be perfect. I made my own organic baby food, I had my daughter do all the right developmental activities, I followed all the safety rules, did hours of research before letting my daughter use any new products, and I fought hard not to let my daughter have any screen time.
I lost the fight.
And to be completely honest I don't feel bad about it.
Letting my daughter play with my phone in the car has allowed me to drive without her screaming bloody murder the whole car ride and has allowed me to complete work in order to provide for her that I wouldn't have been able to complete otherwise.
My new thought on screen time for kids is that it can be a very positive and helpful thing, but ONLY IF you use it the right way.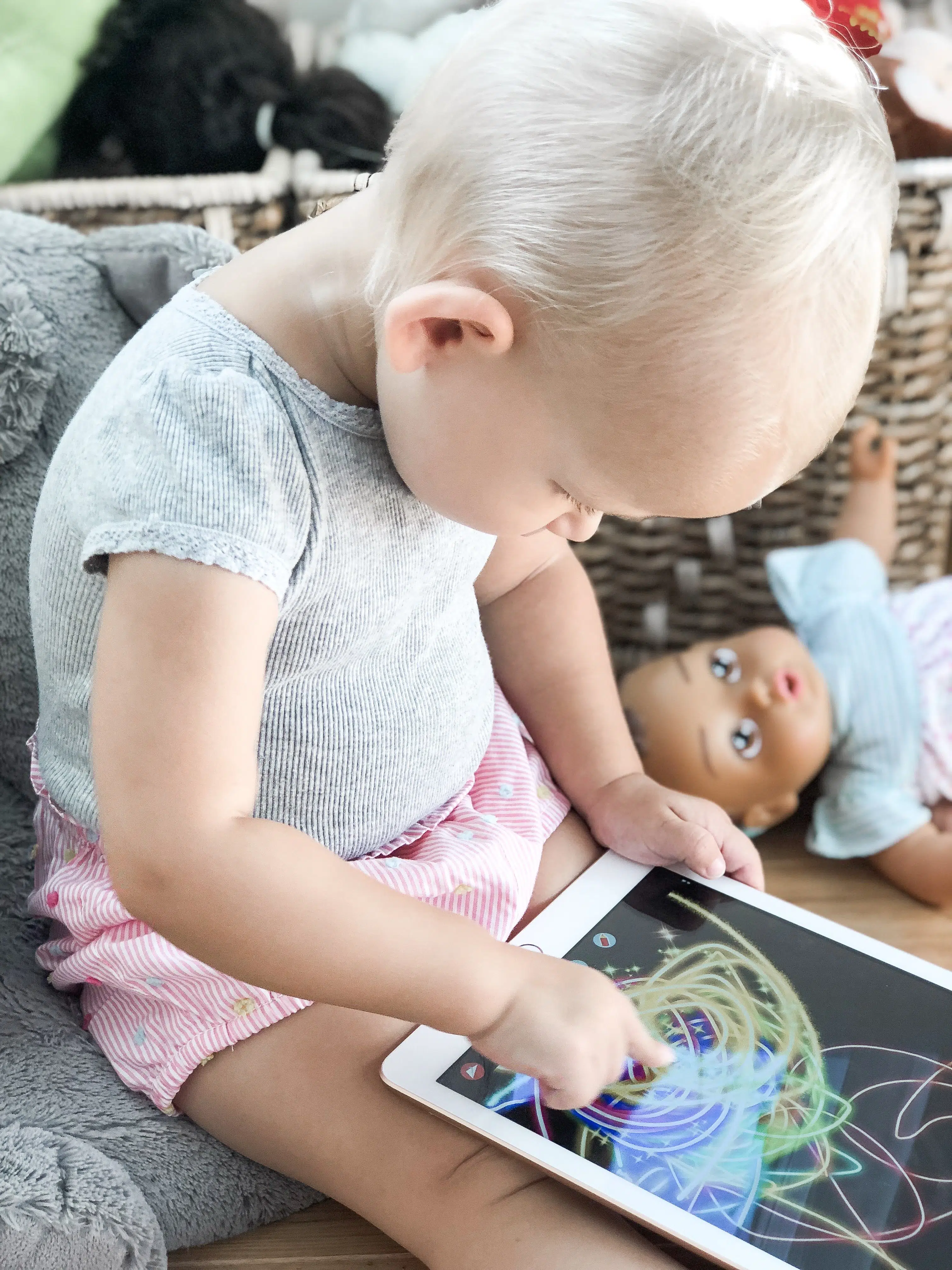 How do you set screen time limits?
I think the most important way to make screen time positive and productive is to make sure you set limits.
While I truly believe that screen time isn't a bad thing in moderation, it can become a very negative thing if it's used too often or the wrong way.
For example, if your child is staring at a phone more often than they are physically playing, that's probably not good.
If your child is on the phone for hours watching mindless Youtube videos that don't require any critical thinking, that's probably not good either.
There are two things that you might consider setting limits on when allowing your children to play on a device: time and content.
If you need some guidance deciding how much screen time you'll allow your toddler, check out this article on Screen Time and Children.
But today, I am here to help you discover the best educational apps for toddlers, so you can make sure that the content they do consume is positively helping them learn and develop.
What are the best free educational apps for toddlers?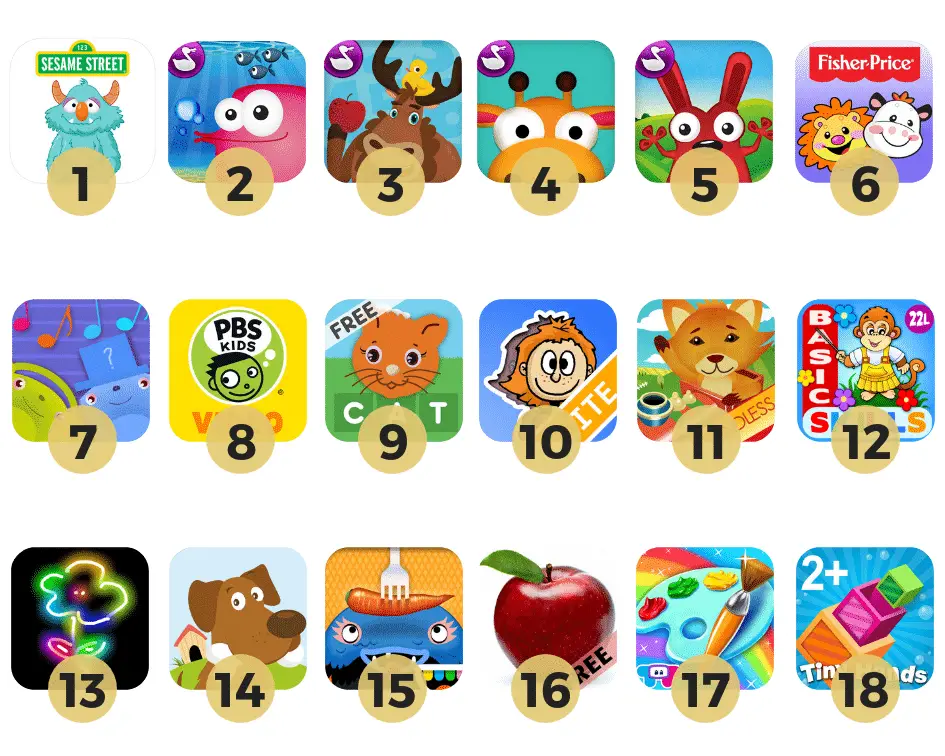 1. Breathe, Think, Do – In this app, your toddler will help a Sesame Street Monster calm down and solve everyday challenges. Your toddler will also learn breathing techniques and problem-solving strategies that are all research-based. (Ages 2-5)
2. Fish School – This toddler app takes place underwater and teaches colors, shapes, letters, and numbers. It's very colorful and has cute little sealife characters. (Ages 2-5)
3. Moose Math – In this math app, toddlers play fun games like Moose Juice Store and Puck's Pet shop all while learning basic math, such as counting, addition, and subtraction. This educational toddler app also includes a section where parents can track their child's progress. ( Ages 3-7)
4. Peek a Zoo – This award-winning app teaches children about animals, emotions, actions, and sounds. The graphics are fun and colorful. This app is very simple which is great for younger toddlers. (Ages 2-5)
5. Musical Me! – This is a musical app for toddlers. It teaches notes, rhythm, and pitch through different interactive games and activities. (Ages 2-6)
6. Fisher Price Laugh and Learn Animal Sounds – In this simple app, toddlers learn about animals, animals sounds, first words, and action/reactions. It has great music and allows your toddler to interact with the screen to make different motions and sounds. (Ages 6 months and up)
7. Domi Domi Listen and Guess Lite – This app teaches toddlers to identify animals or objects by what sounds they make, which sharpens their listening skills. This is the free version which only comes with a certain amount of animals and objects but you can buy the full version if you want more options. (Ages 2-4)
8. PBS Kids Videos – If your toddler loves watching TV but you want to make sure they are consuming quality content, then this PBS Kids Video app is perfect for that. It allows them to control which shows they watch through a scrollable picture menu and they are able to watch all the best PBS educational children's shows. (Ages 1-7)
9. First Words Sampler – This great educational app for toddlers teaches them about letters and how letters relate to sounds. This app is easy to use and has fun, colorful graphics to make the games interesting. (Ages 3-6)
10. Tozzle Lite Toddlers Favorite Puzzle – By dragging and dropping puzzle pieces to their correct location, this app teaches your toddler shape recognition and improves their fine motor skills. (Ages 2 and up)
11. Reading Train Endless Books – This app is made for toddlers who are beginning to read. Through books, songs, and quizzes your toddler will learn new words to add to their vocabulary. While this app is geared toward older toddlers, I truly believe no toddler is too young to learn about reading. (Ages 4 and up)
12. Abby Monkey: Preschool and Kindergarten – This toddler app has games that teach your child numbers, patterns, counting, matching, and more. The free version of this app includes 6 educational games, but you can buy the complete version to access al 14 games. (Ages 3-5)
13. Kids Doodle – This drawing app is a favorite of my daughters and has been since she was around 1 year old. This app is great for toddlers because they can develop their fine motor skills in a fun way as they draw all over the screen. (Ages 1 and up)
14. ABC Animal Toddler Adventures – This app was designed to strengthen your toddler's cognitive skills, concentration, and memory through 9 interactive and educational games. When your toddler correctly plays one of the games they receive a sticker, which encourages them to keep trying and do well. ( Ages 2-6)
15. Toca Kitchen Monsters – This app encourages your toddler to explore the world of cooking and food through cooking with monsters. Your toddler can slice, boil, fry, and mix different ingredients. There is even a vegetarian mode! (Ages 2 and up)
16. I Hear Ewe – If you want to introduce your toddler to different animal and vehicle sounds, this app is a very simple way to do it. You can even change the language to spinach, German, or Chinese! (Ages 1-3)
17. Paint Sparkles Draw – If your toddler loves coloring then they will love this fun drawing app. Your toddler can draw on a blank white canvas or a coloring book picture. As your toddler draws the paintbrush sparkles which my daughter absolutely loves. (Ages 2-5)
18. Tiny Hands Toddler Educational Games – This app was created to teach toddlers basic concepts like animals, colors, size, and seasons. Your toddler will learn sorting and classification in a colorful and interactive way. (Ages 2.5 and up)
BEST PAID EDUCATIONAL APPS FOR TODDLERS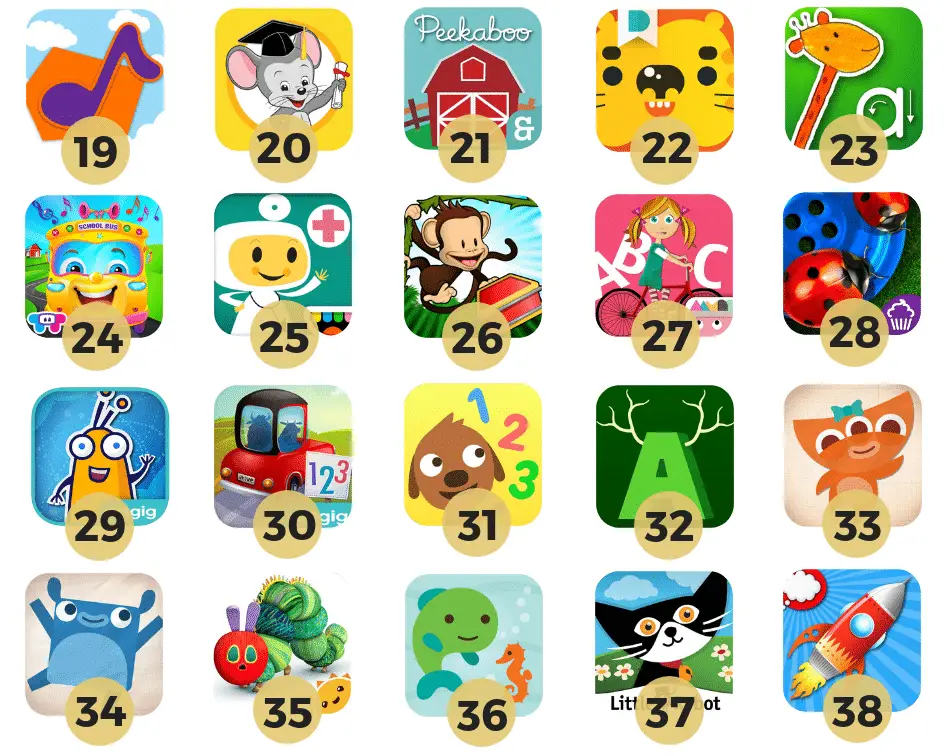 19. KidZongs – This app is all about music and teaches your toddler all the most popular children's songs like Twinkle, Twinkle Little Star, and Row, Row, Row Your Boat. It even has animated lyrics so everyone can sing along. ( $0.99, Ages 6 months and up)
20. ABC Mouse – This incredibly popular toddler educational app teaches reading, math, beginning science, art, music, and more. Studies show that this app can significantly accelerate children's development when it comes to literacy and math. To use this app you must pay a monthly or yearly subscription fee. ($9.99/mo, Ages 2-8)
21. Peekaboo Barn – In this app, your toddler will learn the names of animals and the sounds they make by exploring the barn, opening doors, and discovering different animal animations. This app for toddlers was featured by Apple and won the Best Toddler App Ever award. ($1.99, Ages 1-4)
22. Duckie Deck Collection – This toddler app focuses on healthy habits, creativity, and the challenges of childhood. For example, the games inside encourage picky eaters to try different foods, how to take care of pets, the value of a clean home, and more. ($2.99, Ages 2-5)
23. iWriteWords – In this app, your toddler will learn to handwrite while playing fun and interactive games. This amazing toddler app was named one of the New York Times' best iPhone apps for kids. ($2.99, Ages 3-5)
24. Wheels on the Bus – This all-in-one app has multiple different activities and games for your toddler to play like sing-alongs, a coloring book, a car race, and puzzles. ($3.99, Ages 2-4)
25. Toca Doctor – This app was created to teach children about the medical profession and the human body. Your toddler will play the doctor and examine patients through the different puzzles and games. ($3.99, Ages 3 and up)
26. Monkey Preschool Lunchbox – In this app, your toddler will help the monkey pack his lunchbox. During which they will learn colors, shapes, and sizes. They will also learn the names of letters and fruits and veggies. ($1.99, Ages 2-5)
27. AvoKiddo ABC Ride – In this app, your toddler with go on a bicycle adventure that takes them through 26 educational games and activities. Those activities will teach them to use their logic, observation skills, and problem-solving skills all while learning spelling, phonics, and word recognition. ($2.99, Ages 2 and up)
28. Bugs and Buttons – This app is a bundle of educational games and engaging activities. Your toddler can explore everything from counting, currency, and fractions to bug art and bubble games. ($9.99, Ages 2-8)
29. Alien Buddies – This app disguises the learning experience through fun and exciting alien games. From matching games to problem-solving games your toddler will develop their cognitive and fine motor skills without even knowing it. ($2.99, Ages 2-6)
30. Drive About Numbers – Ranked in the top 10 best apps for kids, this educational app for toddlers is a great introductory to early math. There are 9 math games included such as Cookie Bakery and Catch-a-Sea Pickle. ($2.99, Ages 3-6)
31. Sago Mini Puppy Preschool – If your toddler is a puppy lover like mine, this cute app is perfect for teaching them numbers, shapes, and matching in a fun way that allows them to play around with puppies! This whole app is puppy-themed and completely interactive. ($3.99, Ages 2-5)
32. Metamorphabet – This award-winning app is not only visually beautiful but also the perfect app to introduce babies and toddlers to the alphabet and expand their vocabulary. Your toddler will be able to use their finger to interact with letters in a fun and exciting way. ($3.99, Ages 1-4)
33. Endless Numbers – This introductory app to numbers will teach your toddler number recognition, sequences, quantity, patterns, addition, and more. The first 5 numbers are free to try but if you want any additional numbers you have to purchase them. ($6.99-14.99, Ages 2-5)
34. Endless Alphabet – This app teaches your toddler the ABCs and develops their vocabulary using fun and silly monsters. All the games are interactive and the letters talk which makes the learning process more fun and entertaining. ($8.99, Ages 1.5-5)
35. My Very Hungry Caterpillar – This app brings the beloved book to life and encourages a love for nature in your toddler through non-competitive games. This educational toddler app lets your toddler go on a new adventure with their own Very Hungry Caterpillar every time they open the app. ($4.99, Ages 1 and up)
36. Sago Mini Ocean Swimmer – This is a great app for young toddlers to develop their fine motor skills as they move Fins the fish through a bright and colorful underwater world. This app is basically an interactive picture book that lets your young toddler control the actions of the fish. ($3.99, Ages 1-4)
37. Pixel and Parker – This toddler app is an interactive storybook that always changes. You can keep your toddlers bedtime exciting by letting them play this app where the main character always goes on a new and exciting adventure. ($2.99, Ages 3 and up)
38. Rocket Speller – This is a fun and animated spelling app for toddlers that follows Zip the alien through the creation of a new rocket. This app promotes letter recognition, developed awareness of left to right order, enhances vocabulary, and more. ($0.99, Ages 3-7)
Educational apps for toddlers can be amazing!
As you read through those educational apps for toddlers you probably realized just how amazing a little screen time can be IF it's done in a positive and constructive way. Comment below what educational apps your toddler loves to use and your thoughts on screen time!