Self-esteem is one of the most important things for a child to develop early on. It affects everything from their academic performance to their relationships. A confident self-image leads to a good life, while a lousy self-image can lead to a lifetime of struggles. In this post, you will learn positive affirmations for kids to help boost their self-esteem.
101+ Positive Affirmations for Kids to Boost Self-Esteem
We've got you covered if you're looking for positive affirmations for kids to use every day! Feel free to mix and match or use them as-is. The most important thing is that positive affirmations become a part of your child's daily routine.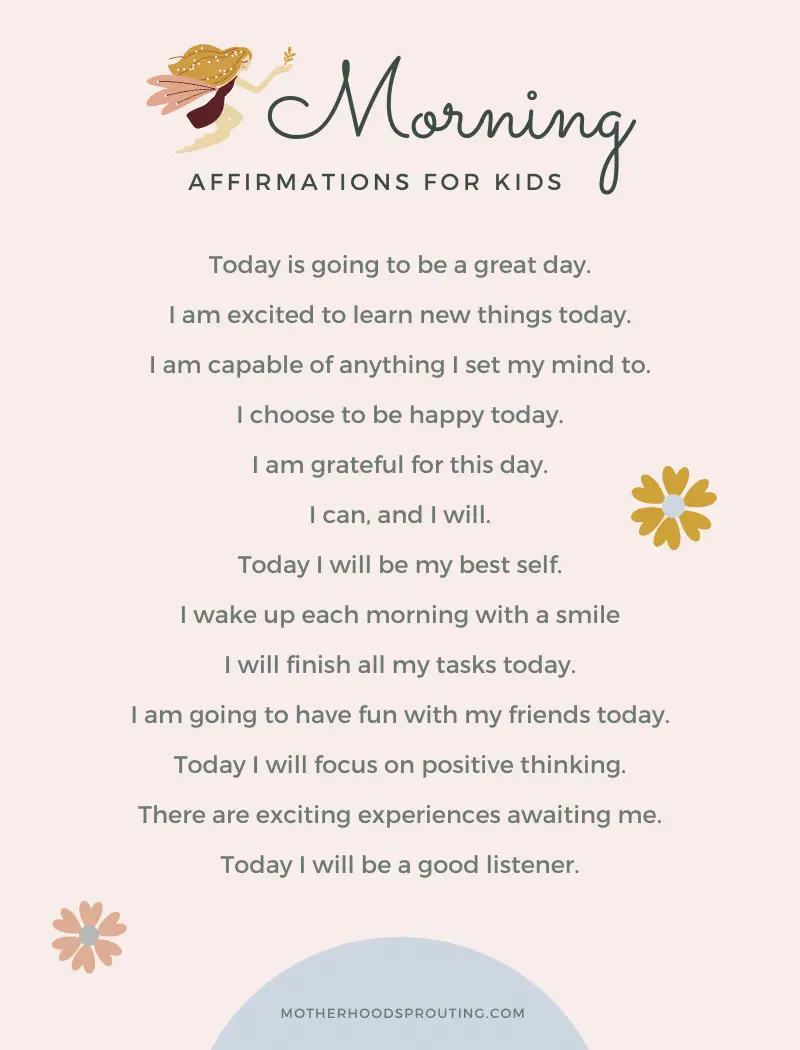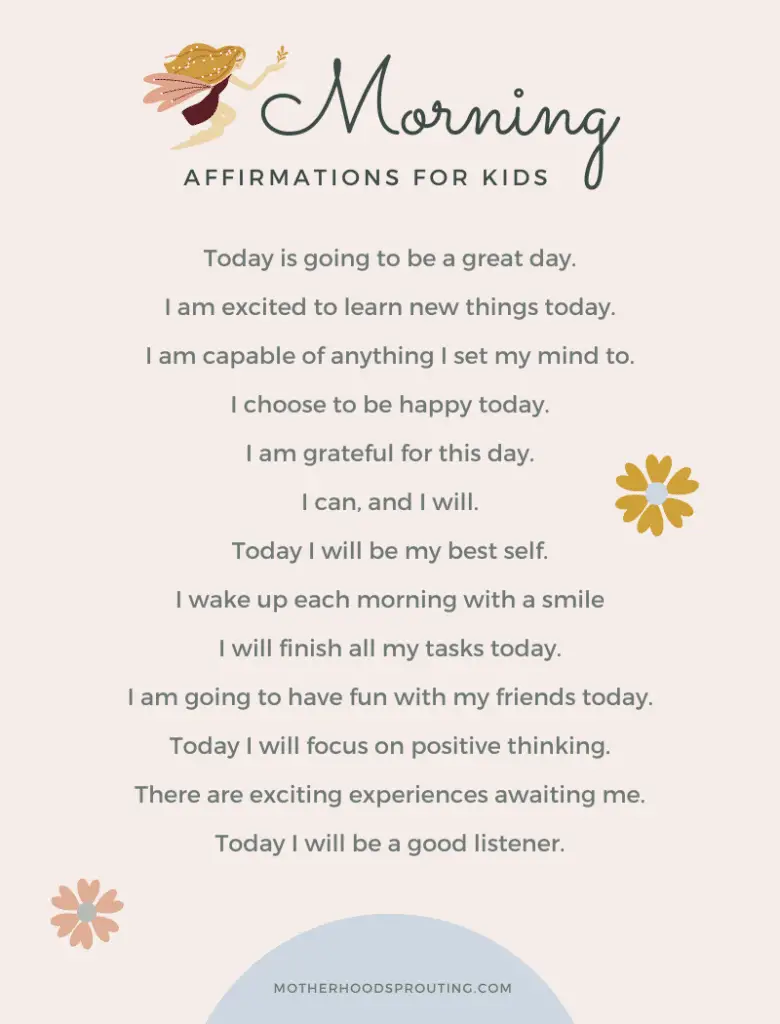 Morning Affirmations for Kids
Today is going to be a great day.
I am excited to learn new things today.
I am capable of anything I set my mind to.
I choose to be happy today.
I am grateful for this day.
I can, and I will.
Today I will be my best self.
I wake up each morning with a smile
I will finish all my tasks today.
I control my day, and I will make it a good one.
I am going to have fun with my friends today.
Today I will focus on positive thinking.
Exciting experiences are awaiting me.
Today I will be a good listener.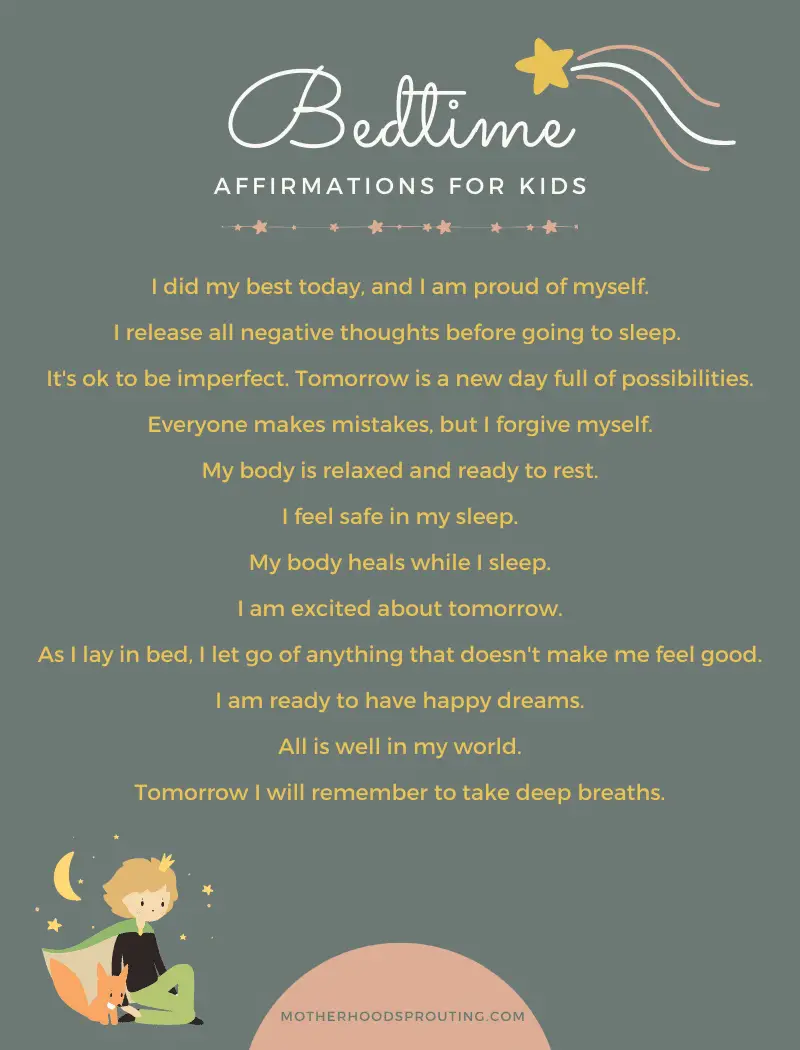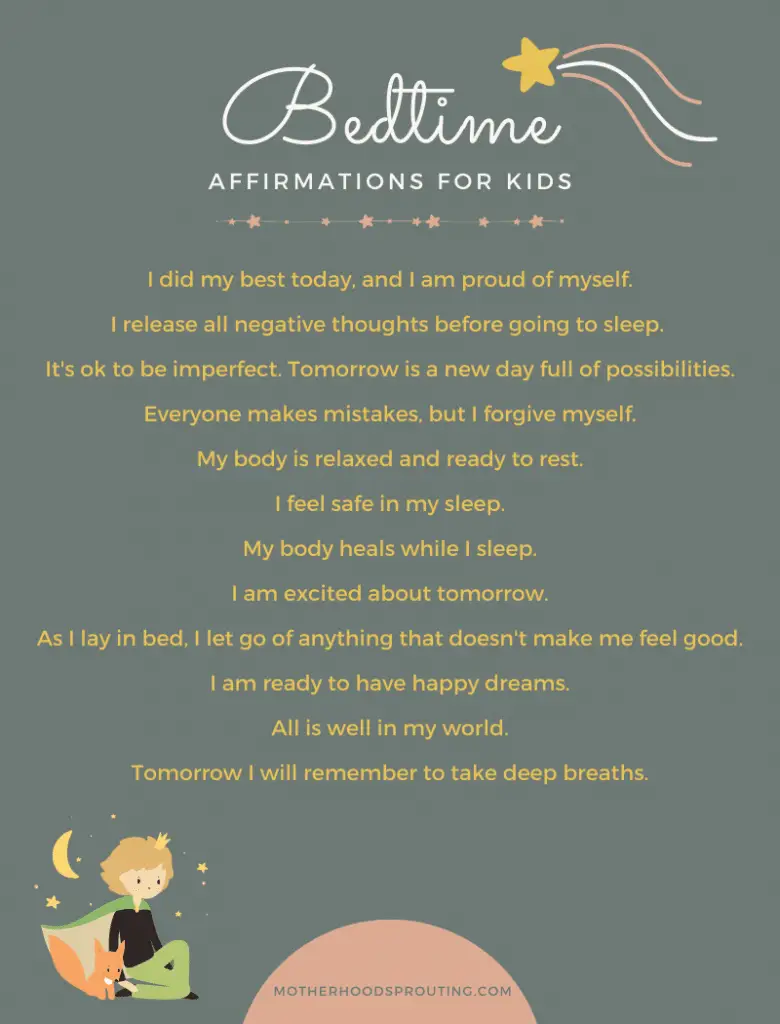 Bedtime Affirmations for Kids
I did my best today, and I am proud of myself.
I release all negative thoughts before going to sleep.
It's okay to be imperfect. Tomorrow is a new day full of possibilities.
Everyone makes mistakes, but I forgive myself.
My body is relaxed and ready to rest.
I feel safe in my sleep.
My body heals while I sleep.
I am excited about tomorrow.
As I lay in bed, I let go of anything that doesn't make me feel good.
I am ready to have happy dreams.
All is well in my world.
Tomorrow I will remember to take deep breaths.
I am thankful that tomorrow I have a fresh start.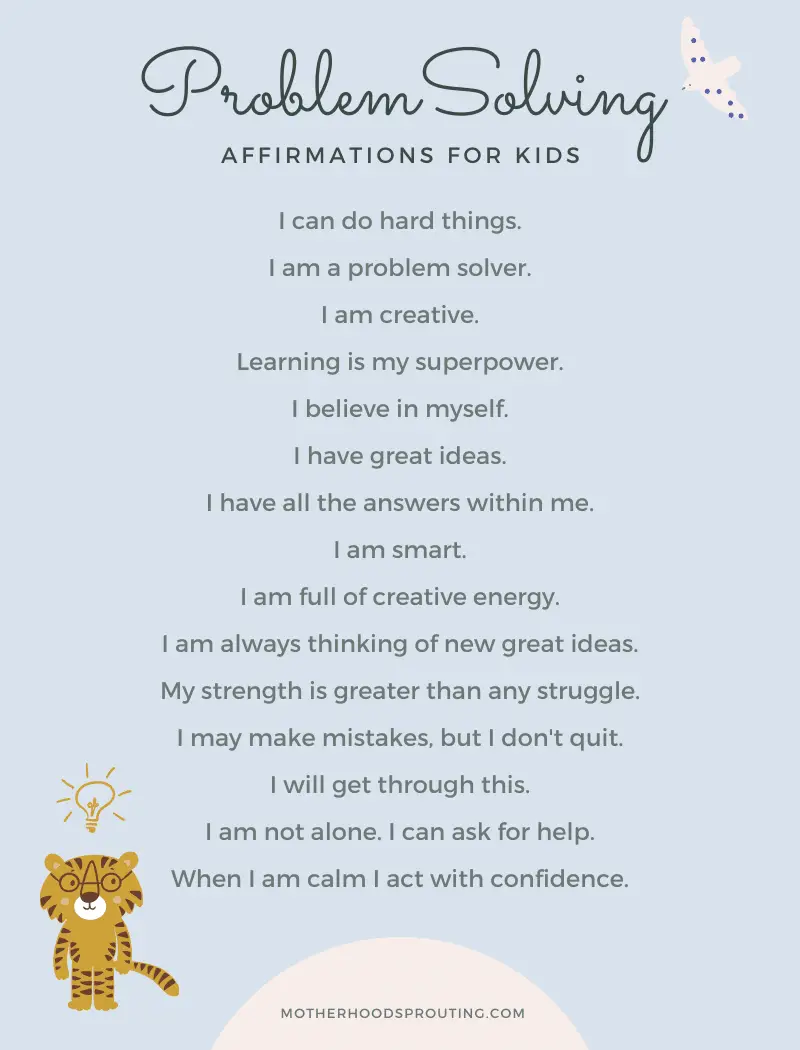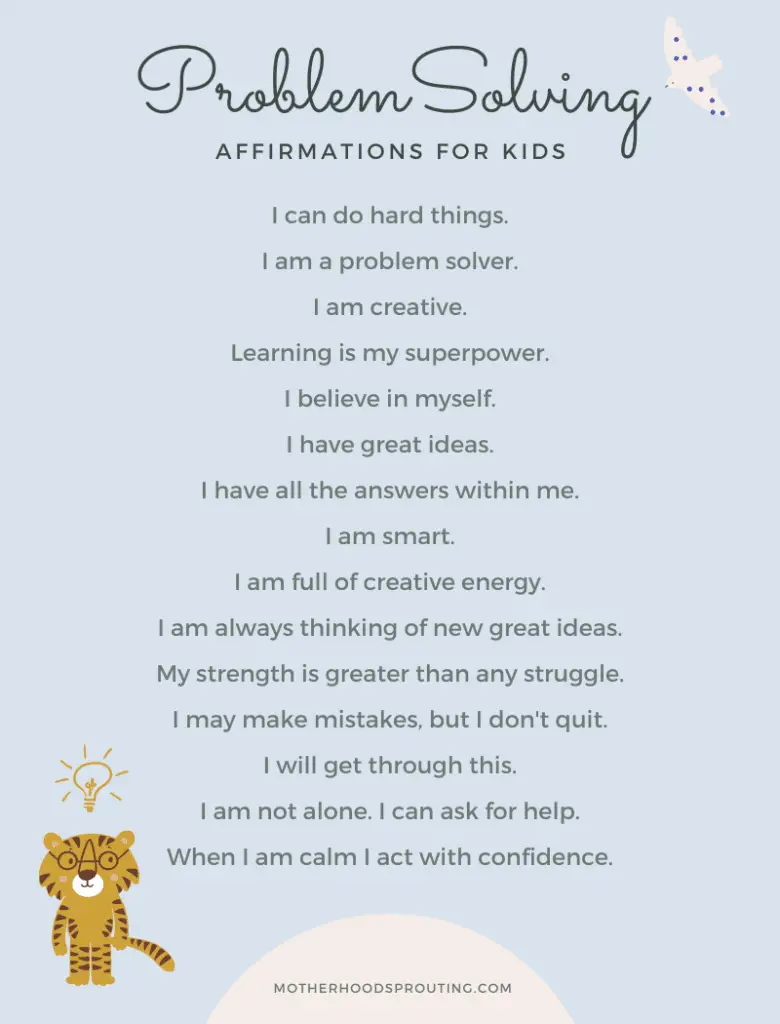 Problem Solving Affirmations for Kids
I can do hard things.
I am a problem solver.
I am creative.
Learning is my superpower.
I believe in myself.
I have great ideas.
I have all the answers within me.
I am smart.
I am full of creative energy.
I am always thinking of new great ideas.
My strength is greater than any struggle.
I may make mistakes, but I don't quit.
I will get through this.
I am not alone. I can ask for help.
When I am calm, I act with confidence.
I have the skills to solve problems.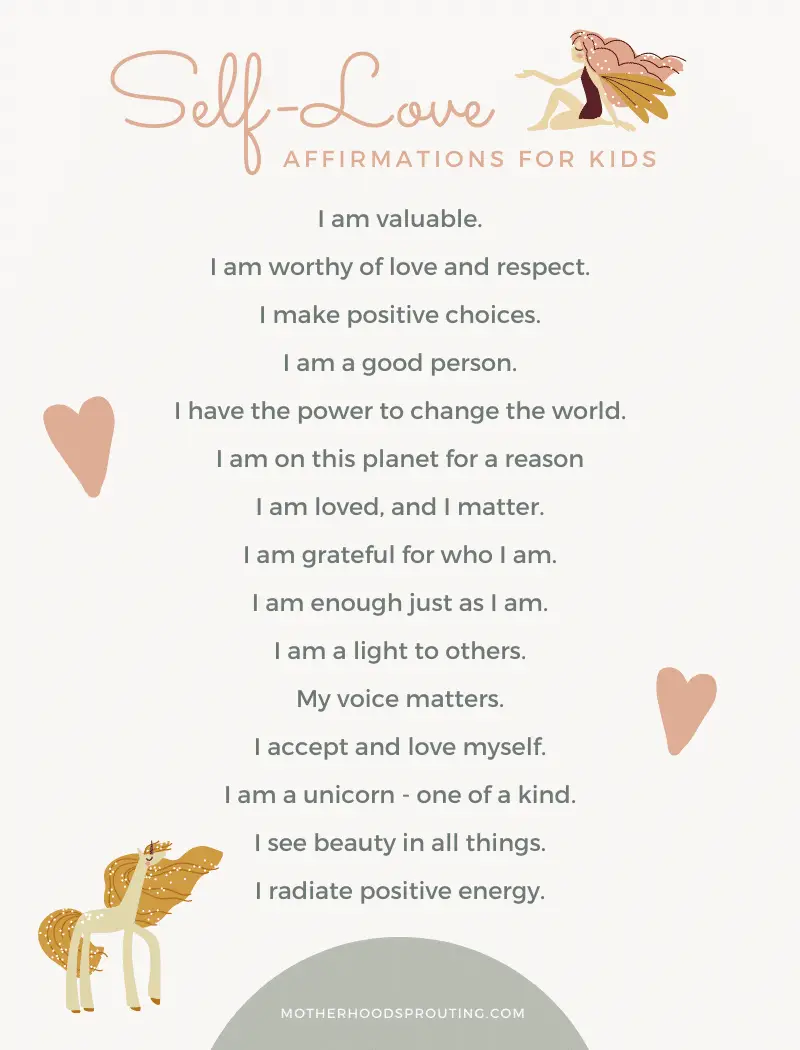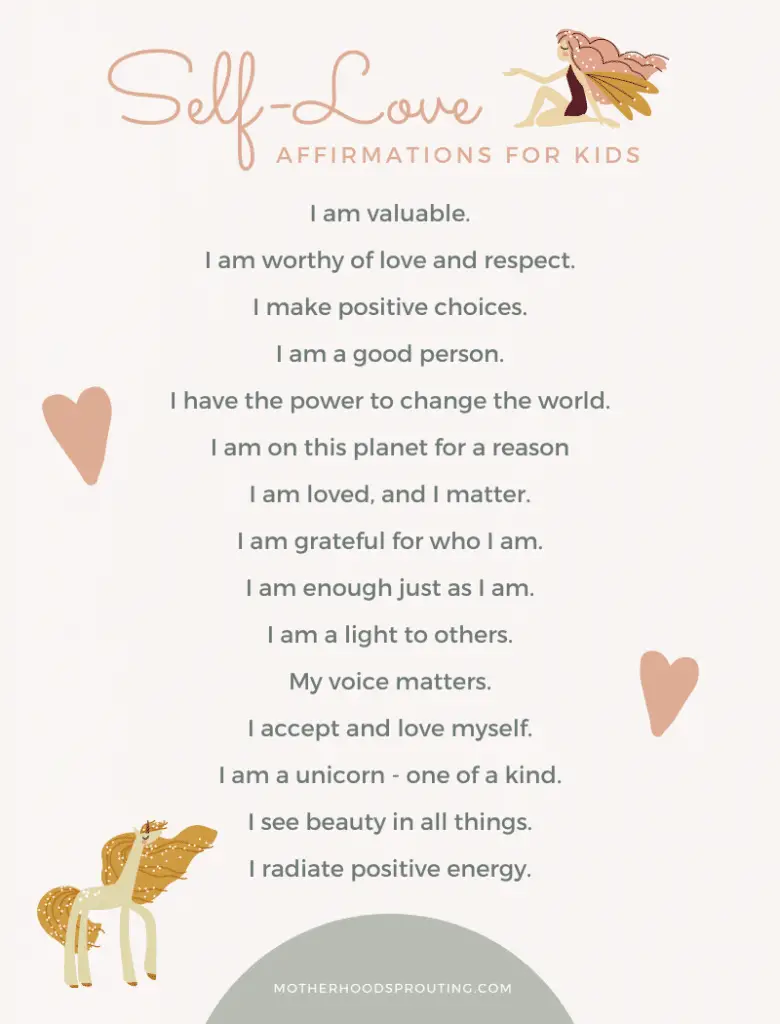 Self-Love Affirmations for Kids
I am valuable.
I am worthy of love and respect.
I make positive choices.
I am a good person.
I am on this planet for a reason
I am loved, and I matter.
I am grateful for who I am.
I am enough just as I am.
I am a light to others.
My voice matters.
I accept and love myself.
I am a unicorn – one of a kind.
I see beauty in all things.
I radiate positive energy.
I have the power to change the world.
I have many talents.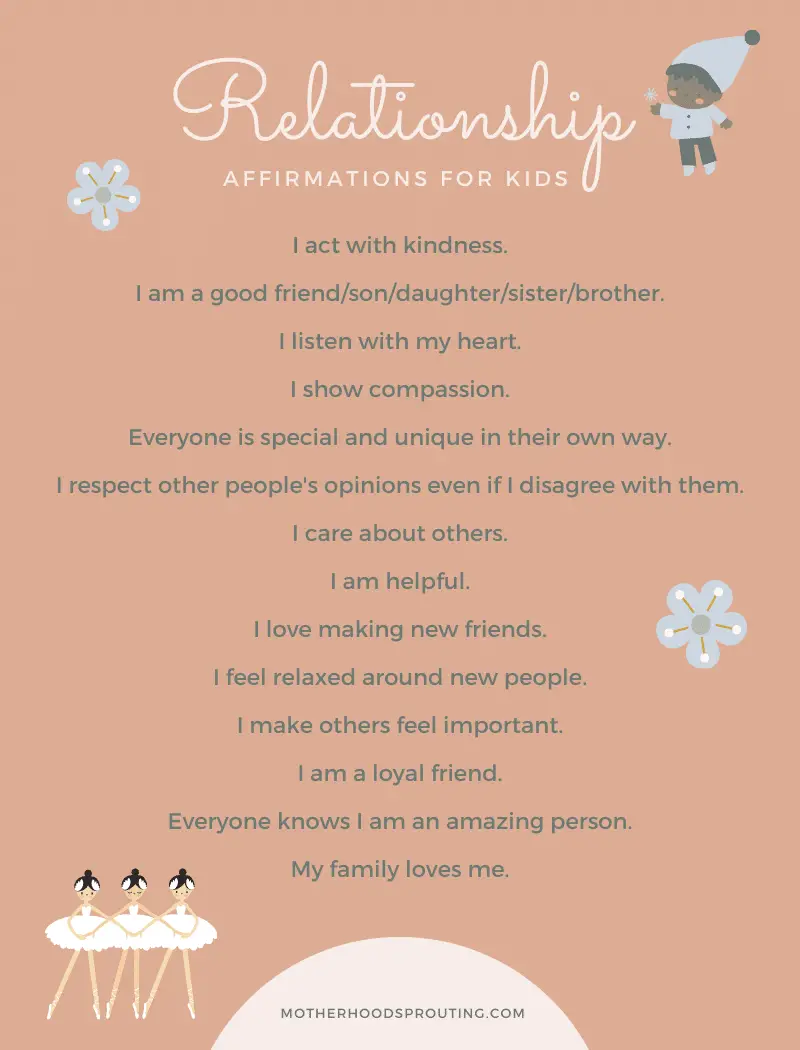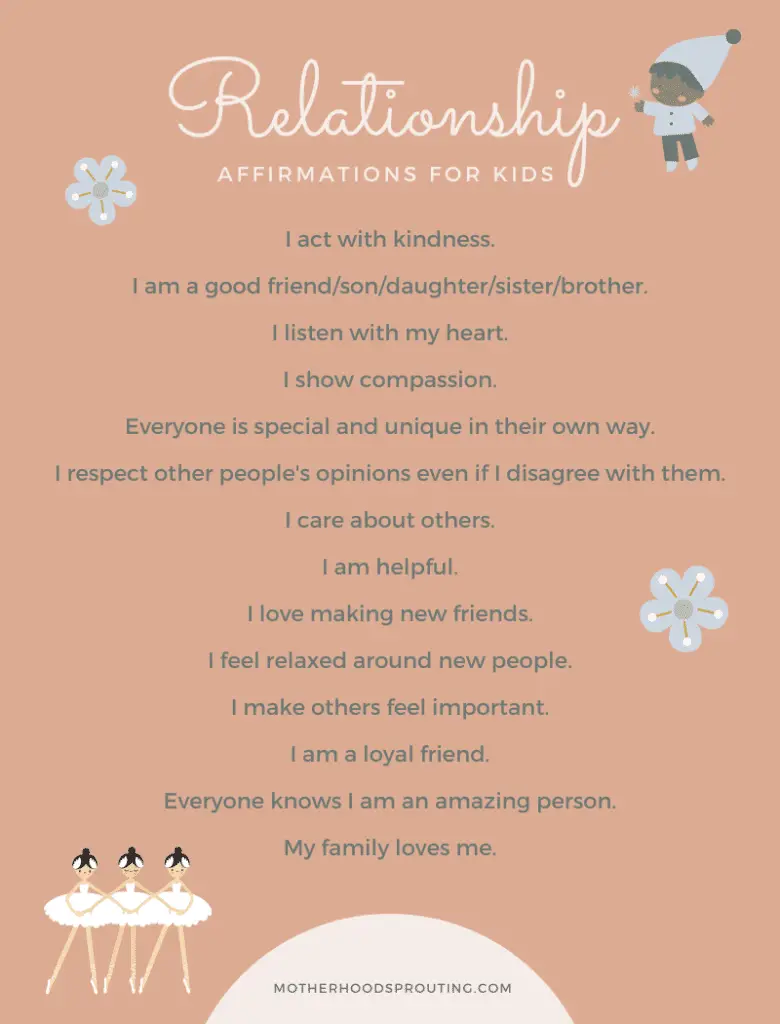 Relationship Affirmations for Kids
I act with kindness.
I am a good friend/son/daughter/sister/brother
I listen with my heart.
I show compassion.
Everyone is special and unique in their own way.
I respect other people's opinions even if I disagree with them.
I care about others.
I am helpful.
I love making new friends.
I feel relaxed around new people.
I make others feel important.
I am a loyal friend.
Everyone knows I am an amazing person.
My family loves me.
I spread positivity and encourage others.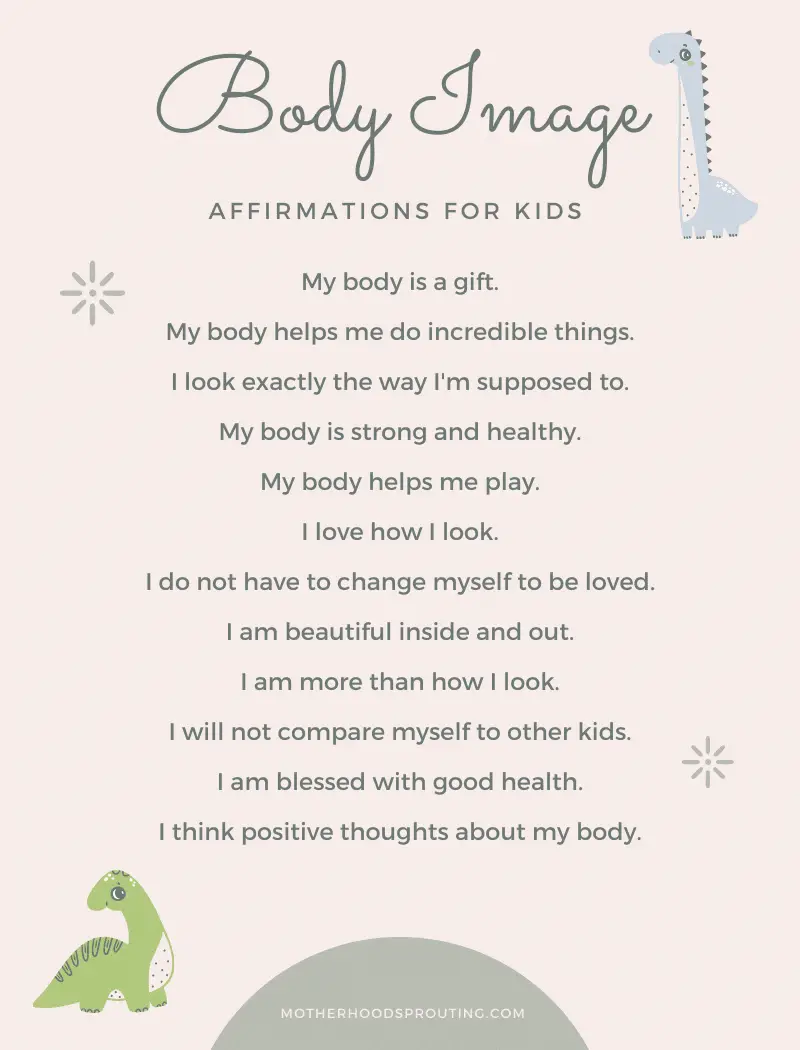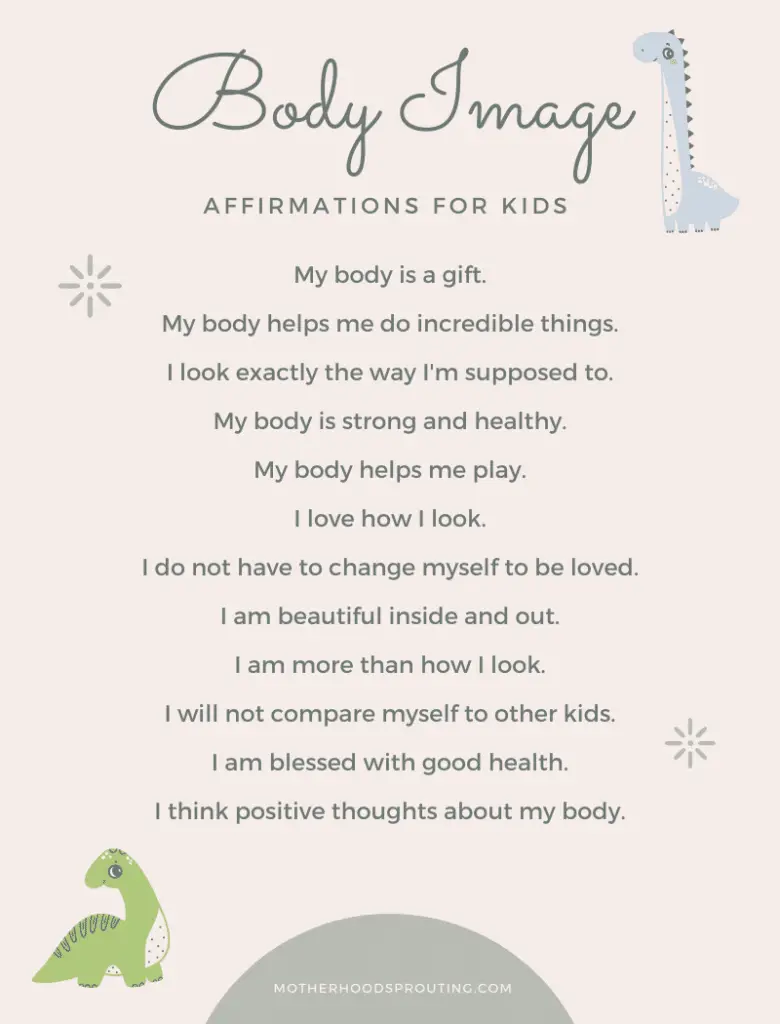 Body Image Affirmations for Kids
My body is a gift.
My body helps me do incredible things.
I look exactly the way I'm supposed to.
My body is strong and healthy.
My body helps me play.
I love how I look.
I do not have to change myself to be loved.
I am beautiful inside and out.
I am more than how I look.
I will not compare myself to other kids.
I am blessed with good health.
I think positive thoughts about my body.
My inner beauty shines every day.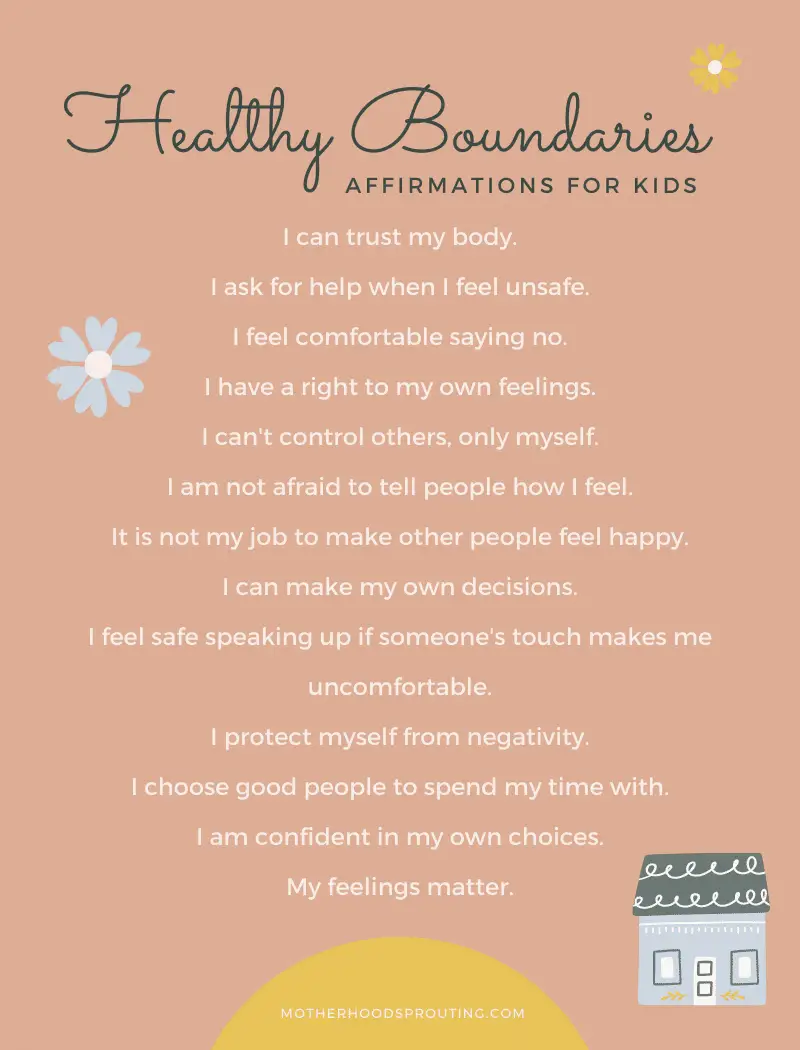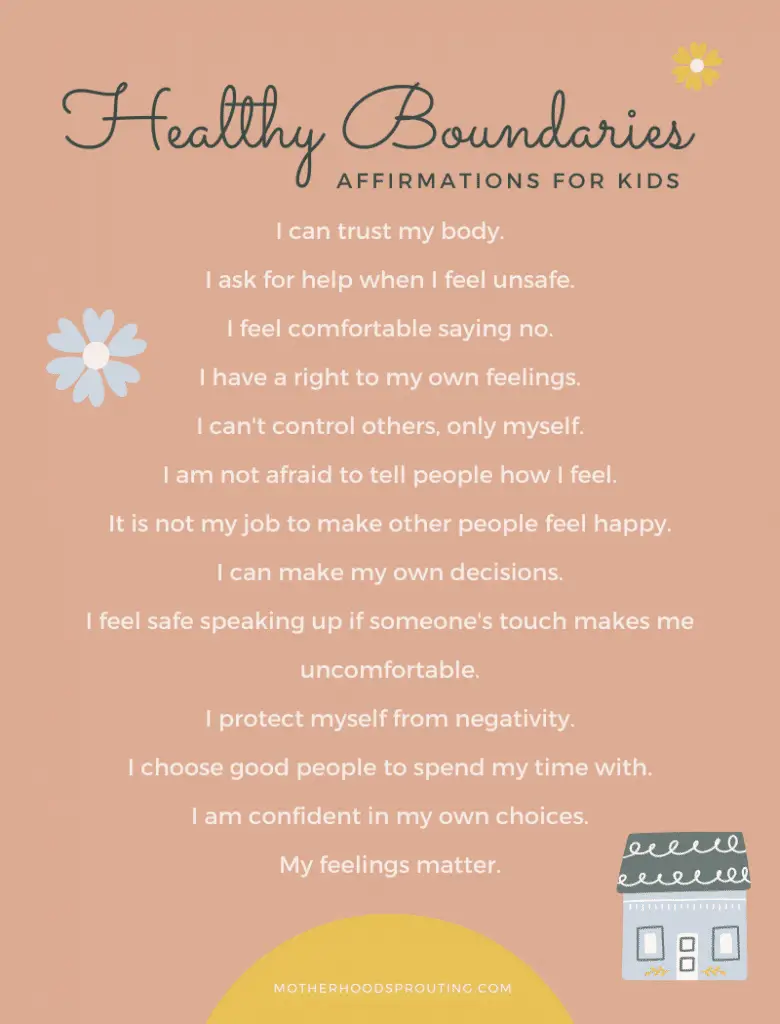 Healthy Boundaries Affirmations for Kids
I can trust my body.
I ask for help when I feel unsafe.
I feel comfortable saying no.
I have a right to my own feelings.
I can't control others, only myself.
I am not afraid to tell people how I feel.
It is not my job to make other people feel happy.
I can make my own decisions.
I feel safe speaking up if someone's touch makes me uncomfortable.
I protect myself from negativity.
I choose good people to spend my time with.
I am confident in my own choices.
My feelings matter.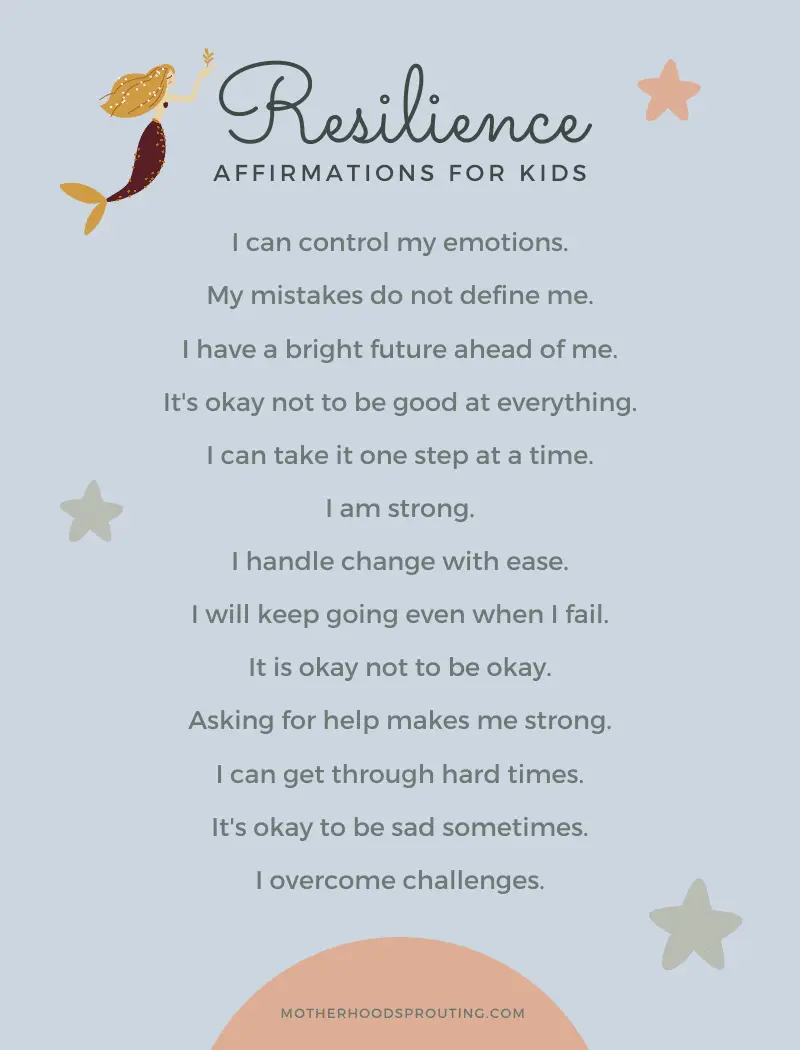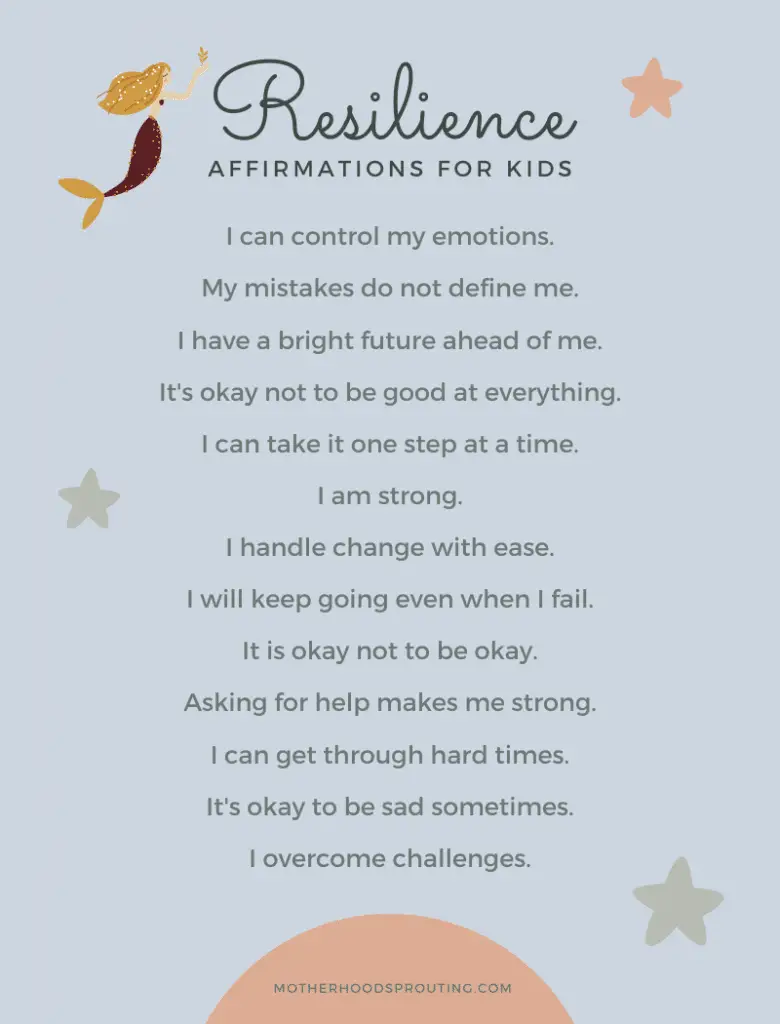 Resilience Affirmations for Kids
I can control my emotions.
My mistakes do not define me.
I have a bright future ahead of me.
It's okay not to be good at everything.
I can take it one step at a time.
I am strong.
I handle change with ease.
I will keep going even when I fail.
It is okay not to be okay.
Asking for help makes me strong.
I can get through hard times.
It's okay to be sad sometimes.
I overcome challenges.
I bring joy with my words.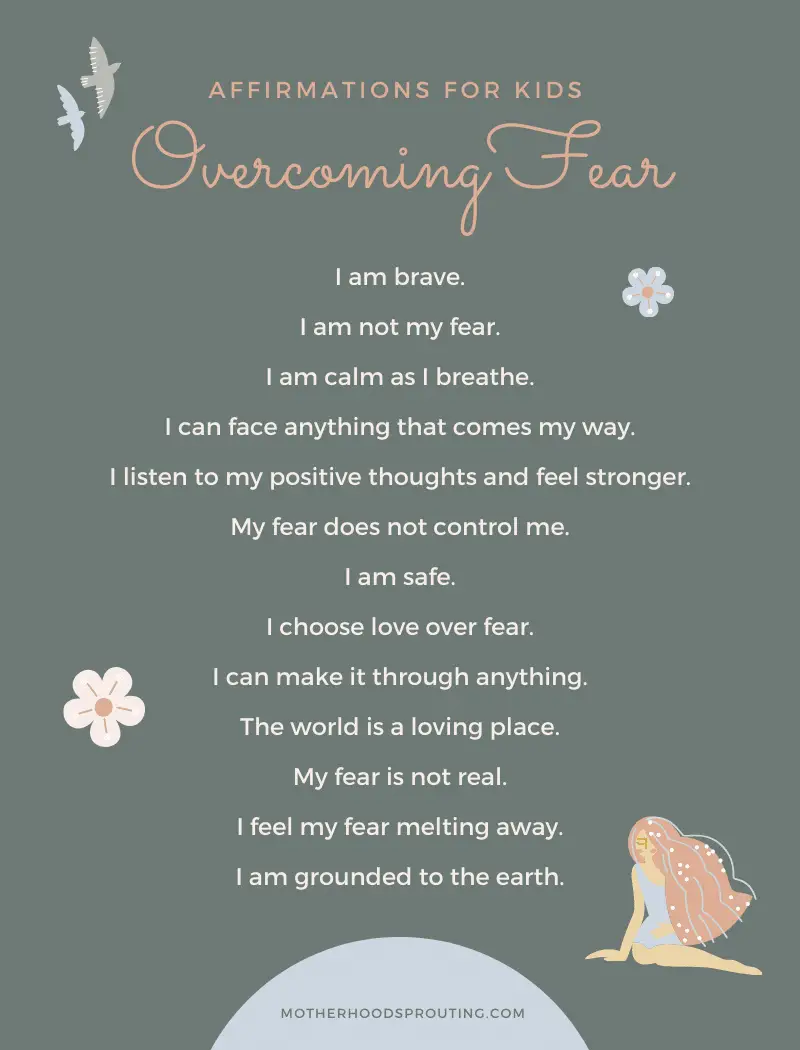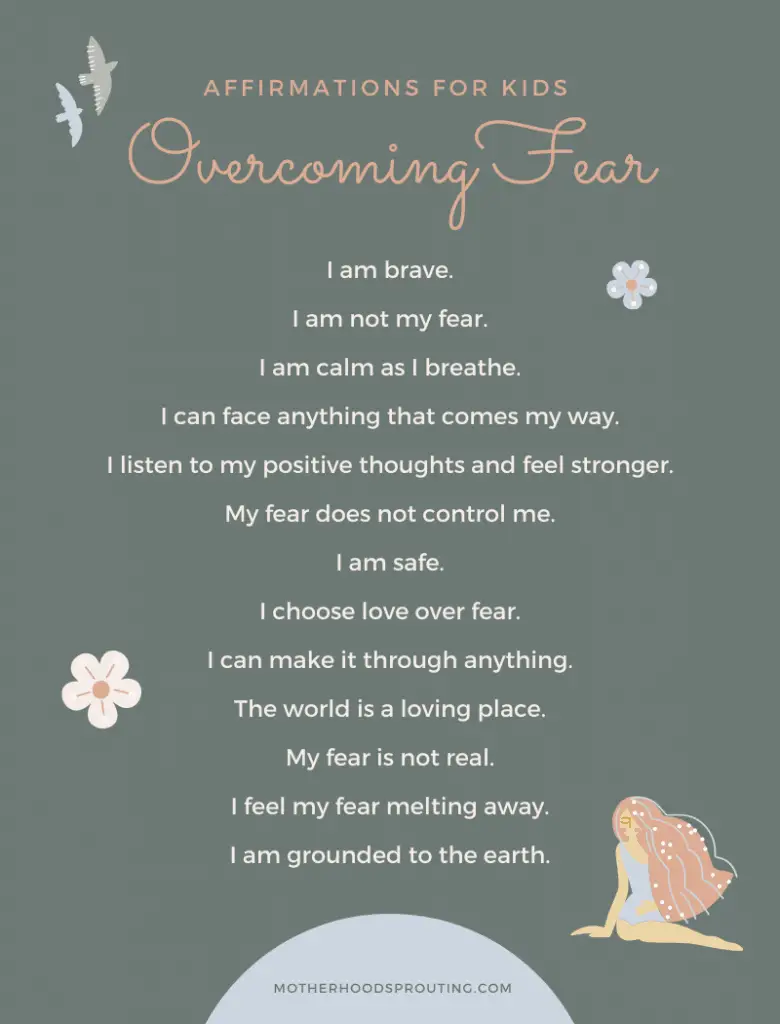 Overcoming Fear Affirmations for Kids
I am brave.
I am not my fear.
I am calm like a still pond.
I can face anything that comes my way.
My fear does not control me.
I am safe.
I choose love over fear.
I can make it through anything.
The world is a loving place.
My fear is not real.
I feel my fear melting away.
I am grounded to the earth.
I listen to my positive thoughts and feel stronger.
I have the inner strength to let go of my fears today.
What are positive affirmations?
Positive affirmations are statements that help you focus on your strengths and remind you of your worth. They allow you to practice thinking better, happier thoughts and are a potent tool for improving one's self-talk.
For example, instead of thinking, "I can't do this," you would tell yourself, "I can do this."
Or, if you are feeling overwhelmed, you might say, "I am in control of my emotions, and my feelings matter."
Positive affirmations for kids are just simpler, easier-to-understand phrases and ideas.
How can positive affirmations help kids build self-esteem?
Using affirmations might seem oversimplified and almost too easy. However, simple as they may be, many scientific theories show the power of affirming encouraging words to one's self.
One theory is that these positive statements help to "rewire" your brain. When you say good things about yourself, it changes how your brain processes information. In other words, they can help people see themselves in a more positive light, leading to improved actions and results.
Another theory is that repeating these helpful statements can increase self-efficacy. Self-efficacy is a person's belief in their own ability to succeed. The more self-efficacy someone has, the more likely they will take on challenges and persevere when things get tough.
A third theory is that these optimistic phrases help people focus on their goals. When you remind yourself of your goals, you are more likely to take action to achieve them.
Regardless of the cause, positive affirmations have repeatedly demonstrated beneficial results.
Why is positive thinking a powerful tool for kids?
Positive thinking might be even more important for kids than adults. That's because kids are still developing their sense of self and beliefs about themselves. Kids are especially prone to negative thinking.
They are bombarded with messages from movies, shows, playmates, and even well-meaning parents that can lead them to believe they are not good enough.
Positive affirmations help counter these messages by reminding kids of their positive qualities. Children who talk to themselves kindly program their subconscious minds with wonderful things instead of hurtful things.
You can help your child develop positive thinking and a confident self-image early on that will serve them well throughout their life.
What are the benefits of positive affirmations for kids?
When children learn positive self-talk they reap numerous mental health, emotional, and social benefits.
For starters, these positive statements can help boost self-confidence, assisting kids in feeling good about themselves and their abilities.
Additionally, they also promote healthy thinking patterns in young minds, building resilience against negative thoughts or experiences that come their way.
Furthermore, they can help children form positive relationships with friends and adults by teaching them critical social skills like empathy and compassion.
And finally, using them every day has been shown to improve mental and physical well-being by reducing stress levels and improving overall health.
In short, when children practice using positive affirmations every day, they are cultivating the foundations for a happy and healthy life!
Some more benefits of positive affirmations for kids include:
Improved academic performance
Increased confidence
Increased self-love
A more positive outlook on life
Greater resilience in the face of challenges
Improved relationships
Increased self-awareness
Greater sense of control
Improved mental and physical well-being
How do you explain positive affirmations to children?
As a parent, it can be essential to help our children understand affirmations and their powerful effects on the mind and body. This can be especially true for kids struggling with feelings of insecurity or self-doubt.
However, especially with younger kids, affirmations might be a confusing concept.
Children do not need to understand the scientific reasons why positive affirmations for kids work. They need to know that they do work and can make them feel better.
Here are a few tips for explaining positive affirmations to kids:
Use simple language that they will understand
Give examples of positive affirmations that they can use
Make it fun!
If you want a script to make it simpler, here is an example:
"Positive affirmations are nice words we say to ourselves to make ourselves feel better. We say these things to change the way we think. When we have bad thoughts, positive affirmations help us focus on the good things instead."
How can you incorporate positive affirmations into your kid's daily routine?
Many parents are familiar with affirmations and may even use them in their own lives. Still, they may not be sure how to incorporate them into their children's routine every single day.
Once you have explained the concept, your kids can practice positive thinking daily in various ways. By taking the time to incorporate positive affirmations into your child's life, you will help them to develop a positive mindset that will serve them well throughout their lives.
Here are a few ideas for adding affirmations into your child's day to day routine:
Help your child choose 1 or 2 positive phases to focus on each week.
Add them to your child's morning routine. For example, they can recite them at the table during breakfast or at the door before leaving for school.
Write them on index cards or sticky notes and place them around the house for your child to read throughout the day.
You can also write some on notes and put them in your kids' lunchboxes or school bags.
Make them part of their bedtime routine. For example, before reading a bedtime story, you can have your child say their affirmations to you. Or, you can say positive affirmations to your child as they are falling asleep.
A lot can be gained from having a positive mindset
Children need positive reinforcement to boost their confidence and help them through difficult times. These positive affirmations for kids will help them feel loved and supported.
You can use them in the morning to start the day off right or anytime your child needs a pick-me-up. Just tailor them to your child's specific needs and situation to have the most positive impact.
What are some of your favorite positive affirmations for kids? Share in the comments below!
Did you find this post helpful? Share it with a mom friend who you think would like these positive affirmations for kids! And be sure to check out our other blog posts for more tips and tricks on parenting.
Resources: