Were you ever one of those people who saw a kid in a store having a toddler tantrum and thought to yourself, "When I have kids they will not act like that."
If you were, you're not alone.
It is so easy to imagine the parent you think you'll be and a completely different story when you are a parent and experiencing it firsthand.
The thing is, nothing can prepare you for parenthood. You don't know how you'll react in certain situations until you are in those situations and forced to make decisions.
My daughter has toddler tantrums
I was one of those people looking in from the outside judging parents for their crazy kids having tantrums. Now I have a toddler and although I am doing my best to raise her…she does in fact have a toddler tantrum every once and a while.
Now, she has yet to throw a tantrum in public but that's probably just because we don't get out much. But when we are home, she has them almost daily. I don't want to over-exaggerate though, her tantrums are not very intense. They mostly consist of crying, stomping, and thrashing and usually don't last too long.
Still, as my daughter's tantrums became more frequent I started to question my parenting, especially my way of disciplining. Not in a "pity myself I've failed and I'm a horrible mom" kind of way, but more of a "constructive criticism how can I do better and be better for my child" kind of way.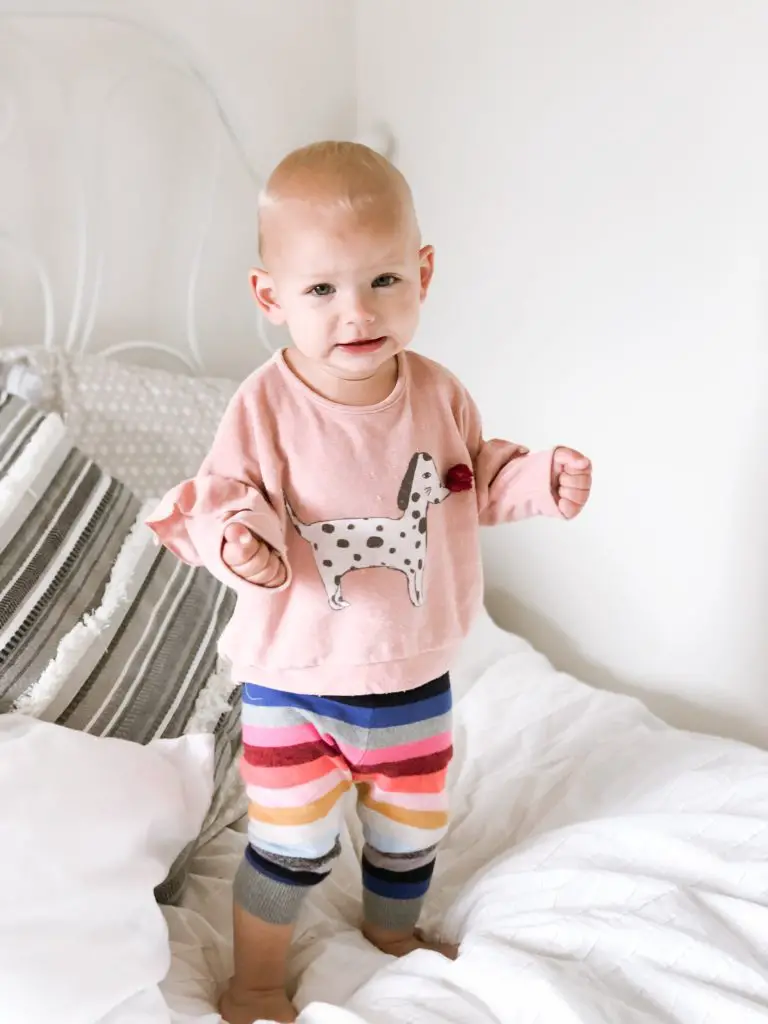 It's not too late to change your parenting tactics
People always say parenting doesn't come with an instruction manual. That's one hundred percent true. So it's up to us to grow, change, and learn along the way. If you feel like you are not parenting the way you always thought or wished you would, it's not too late to make a change.
Personally, that is what I am doing and the reason I am writing this post. I am far from a perfect mother and there are so many things I need to work on and improve in regard to my parenting style and the way I discipline. Anytime I feel like I need to improve something whether it's my diet or my blog I start by doing research. Lots of research. So I thought I would do some research about toddler tantrums and share everything I learn with you all!
You need to know your limits
One thing I want to say before I get into the toddler tantrum tips is that every family is different, every parent is different, and every child is different. Before you take anyone else's advice or try someone's tips or tricks, you need to decide the kind of parent you want to be. You need to know what you feel comfortable with and what you don't. You need to know your limits.
For example, I recently read an article about timeouts. This article was pro timeouts and taught how to use them to discipline your child. They made it sound like it was the perfect solution and that if you didn't use timeouts your child would never learn discipline and their meltdowns would spiral out of control.
Obviously, it was well written because even though I never had a timeout in my life and generally didn't agree with them, I decided to try it with Lily. Well, long story short it didn't work out.
Lily is too young to know what I mean when I say sit in the corner and don't move. Every time I would put her back in the corner after she walked away from it she would laugh because she thought it was a game.
So I ended up shutting her in my room alone while I stood outside the door to make sure she knew I meant business. Which instantly made her run to the door crying and I would just stand there with knots in my stomach.
It didn't feel right. Punishing her for not "obeying" me and literally putting a wall between us was in stark contrast to the way I was parenting her in areas other than discipline. We sleep together, we shower together, she's still breastfeeding, I haven't left her for more than a few hours at a time.
Basically, I practice attachment parenting to the highest degree. Timeouts just don't align with those principles and from Lily's perspective, it was probably quite a shock with how she's come to know our relationship.
Always do what feels right to you
If certain disciplinary principles don't align with your core beliefs, that's okay! If you feel comfortable giving timeouts then give them. If you don't feel comfortable with them then don't! It's that simple.
All that I am trying to say is that I am about to share a lot of tips and advice on how to gently prevent and handle toddler tantrums. If something doesn't feel right to you, that is perfectly fine. We all have to find our own groove.
We can learn new things and try them out but ultimately we have to do what we feel is best for our children. You are allowed to cherry-pick what works for you and ditch the rest!
How do you gently handle toddler tantrums?
Below are tips I have collected on how to GENTLY handle toddler tantrums. Do I do all of this? Nope. But I'm working on it. We are all learning together!
Prevention – Lay a good foundation
The best way to handle a toddler tantrum is to prevent it from happening in the first place. In order to do this, you must lay a good foundation!
What are some things you need to remember about your children?
1.
Children learn by example
The way you treat your child is the way they will treat you. If you yell at them, disrespect them, dictate to them, or ignore them, they learn that those behaviors are acceptable and therefore it's okay for them to yell at you and disrespect you in return.
On the other hand, if we talk to our children kindly, treat them with respect, and show them patience they will learn those healthy behaviors and that is the way they will treat you.
2.
Remember your child is human
Sometimes what we see as our children misbehaving or acting out is just them being human. We all have moments of weakness and moments where we are not our best selves. It's called being human.
We cannot expect our children to be perfect every second of the day or punish them for feeling those human emotions we all feel from time to time. We need to learn to identify when our children are being deliberately disobedient or just having a human moment.
3.
Remember that your child is their own person
We need to remember that our children are not our clones, they are not our property, and they are not ours to control. They will have their own thoughts, ideas, preferences, likes, and dislikes. All of which may be completely different than our own. I have to admit that this has been one of the biggest hurdles for me in parenthood.
I am a safety freak and a germaphobe. My daughter, on the other hand, is an adrenaline junkie who loves playing in the dirt. My constant need to control her actions causes her to feel frustrated and angry.
I need to realize that just because being dirty makes me uncomfortable doesn't mean it makes her uncomfortable. Allowing her to be free to do what makes her happy and be independent will go a long way in preventing her from having tantrums fueled by feelings of frustration.
4.
Have love, respect, understanding, and patience
I know it's hard to admit, but a big cause of our toddler's tantrums comes from the way WE are acting toward them. Children, even toddlers, are highly observant and intuitive. They can sense when we are feeling stressed, agitated, or losing our patience. Many times they are having a tantrum just as a reflection of what they are feeling from us.
In order to help prevent tantrums from happening we need to be aware of how we are acting toward our toddlers and their actions. Are we showing them love and understanding? Are we respecting them and having patience? Taking a look at honest look at ourselves and our actions is an important step when trying to prevent tantrums. 
5.
Make sure to spend quality time
One of the most common reasons for a toddler tantrum is them just trying to get our attention. I know in my case, it's 95% of the reason Lily has tantrums.  She hates when I am on my computer because that means I am not playing with her. So every time I sit down to work she starts crying, stomping, and freaking out.
How can we prevent attention-seeking tantrums? We have to spend quality time with our children. The time when we are actively engaged and tuned in and not multitasking or on our phones.
What are some
tips to help prevent a toddler tantrum?
1.
Limit t

he

use of the word "No"

One of the best things we can do to teach our toddlers by example is to limit how often we tell them no. There is nothing more frustrating or discouraging to a toddler trying to explore their surroundings and constantly being told to stop what they are doing. Not to mention we are creating little "no" monsters who are going to scream that word to us over and over as soon as they are able.

I am really bad at this and find the word "no" slipping out of my mouth all the time. Some days I feel like that's all I say to my daughter over and over again. Something that has helped me is to remind myself every morning to watch out for how often I say no to Lily.

When I have it in the forefront of my mind I can more easily catch myself saying it and try to rein it in. If you can't remember to remind yourself write it on a sticky note or in a dry erase marker on your bathroom mirror.

Should you never say no to your toddler? No! (lol) Make a mental or physical list of all the "hard no's" that you will not comprise on. For example, anything that would put your toddler in danger would be a hard no.

Choose a hand full of hard no's, not too many, and only say no for those few things. This also helps your toddler to know when you mean business when you do say no. Otherwise, they will just ignore it because they hear it too often to take it seriously.
2.
Give choices
No one, not even toddlers, wants to feel like they are being controlled. Toddlers are extremely determined to do things their own way. When you dictate to them and make them feel like they have no power it can make them very frustrated, which can obviously lead to a tantrum.
If you have a toddler you've most likely experienced one of those "You can't make me!" tantrums. They suck. But can we really blame them? I would hate it if someone was constantly telling me what to do.
However, they are still toddlers. We can't let them completely take the wheel. So how can we let them feel like they are in control while still maintaining the upper hand? It's the oldest trick in the book and I don't know why I don't do it more often. Give them a few choices and let them choose! Just make sure that every choice you give them is an option you are also happy with.
For instance, Lily likes to pick out her own clothes and shoes but they are not always appropriate for the weather that day. Instead of forcing her to wear the outfit I choose I can give her appropriate options and let her make the final choice. She will feel like she has some control but won't end up wearing a sherpa-lined coat on a 90-degree day.
3.
Pick your battles
This is one lesson I've learned recently and it's helped a lot with easing my parental stress levels. You have to pick your battles! The quickest way to create tension and cause a toddler tantrum is to turn everything into a war.
If you are constantly reprimanding your child, telling them not to do this or that, or making too many things off limits you are just asking for meltdowns and tantrums.
Whenever I feel like I'm about to lose it (i.e yell, reprimand, get angry, etc), I'm trying to get into the habit of asking myself, "Does this really matter that much? In the big scheme of things is this going to harm my child or anyone else? Is this going to cause any irreparable damage?" If not, I let it go.
Lately, that means letting my toddler run around naked, pee everywhere, and take all my underwear out of my drawer and sprawl them all across the room.
There will be a lot of instances where you will need to take control of the situation or discipline your toddler. Save your battles for those instances. Don't make everything into a war.
4.
Plan ahead
Sometimes toddler tantrums are completely logistical. We all get a little on edge when we are hungry or tired. Does your toddler usually have tantrums when your daily routine has been altered? Maybe they just need a nice long nap and a meal.
One way to avoid a logistical toddler tantrum is to plan ahead! Do everything you can to avoid changing up their routine too much or causing unnecessary hunger or exhaustion. If you have plans for the day, try to plan it around their nap time. If you're going out for a long period of time make sure you bring snacks or have a meal planned.
5.
Keep off-limit objects out of sight
One way to keep your toddler from having a tantrum is to keep off-limit objects out of sight. If you want to avoid having to say no to your toddler too many times or cause them to have a power struggle tantrum, remove off-limit objects from the equation.
I have had to do this quite a few times with my daughter. For example, she recently discovered how to open her diaper rash cream that she found in my side table drawer and squeeze it out all over the floor. After telling her not to play with it a million times I finally decided to move it to a higher location. Until I get a child lock for that drawer it just wasn't worth the constant struggle and mess.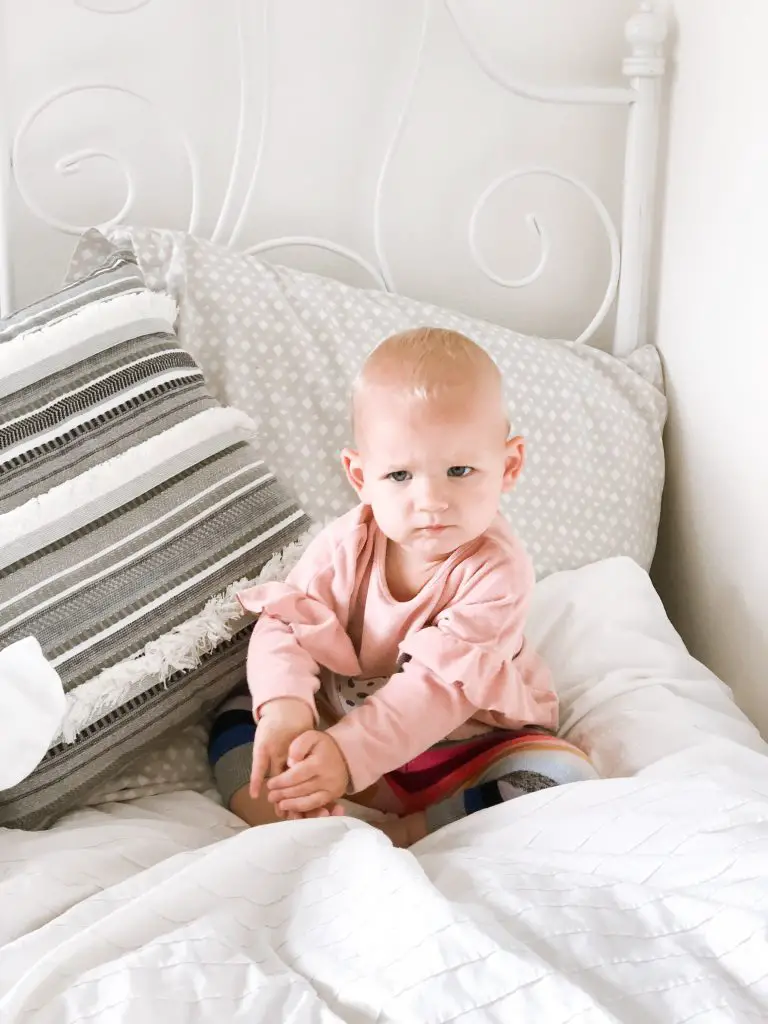 Reaction – How to handle a toddler tantrum in the moment
If you've done everything you can to prevent a toddler tantrum but one still happens, below are some things to remember and tips for handling a tantrum in the moment.
What should you remember when your toddler is having a tantrum?
1.
Stay calm
The most important thing to do when your toddler is having a tantrum is to stay calm. Getting angry, yelling, and reacting negatively in any way will only make the situation worse. As hard as it is, and trust me it's really hard, you need to remain emotionally neutral.
Your toddler needs to see that you are not being affected by their behavior and they will learn from your ability to stay in control and not let anger and frustration take over.
2.
Have empathy and give comfort
When your toddler is misbehaving or pressing all your buttons it's very difficult to have empathy for them. You're irritated that they are not listening and you're wrapped up in all your own anger and frustration. It's very easy to forget the fact that they are just as frustrated as you are, if not more.
During a toddler tantrum, it is your job as the parent to be empathetic and provide them with the comfort they are practically begging to receive from you. You are the adult who knows how to identify and handle your emotions, they are just children who have yet to develop that skill. Show them you understand their frustration and let them know you are there to help guide them through it.
3.
Never give in and be consistent
Toddler tantrums are powerful, especially if you are in public and feeling the piercing eyes of judgmental strangers. But whether you are in public or not, you cannot give in to the temptation to obey your toddler's demands just to shut them up.
It is of the utmost importance that you never give in to a tantrum; you have to be consistent. You can't give in sometimes and not others. You have to treat every tantrum the same no matter where or why it happens and you have to hold your ground.
When you give in to a tantrum you are validating the effectiveness of their bad behavior. You are teaching them that tantrums heed results. That is not a lesson we want to teach our toddlers. We have to gently communicate to them that their tantrum is not going to get them what they want.
What

are some tips for dealing with a toddler tantrum while it's happening?
1.
Don't give your toddler too much attention
When your toddler is having a tantrum, don't give them too much attention. Obviously, you shouldn't ignore them, that will probably just make your child more frustrated. But you need to let them know that throwing a fit or yelling is not how to get your attention.
Maybe say something like, "When you stop yelling Mommy will help you figure out what you want." or "Mommy can't help you when you're whining and stomping, as soon as you're done I'll help you." If they continue with the tantrum, wait a moment and ask them again a minute or so later.
2.
Stay with them until they are calm
One thing you should never do is abandon your child during a tantrum. There is really no further explanation. Your child should never feel abandoned by you! But especially during a moment of weakness such as a tantrum. That means don't walk away from them to leave them alone in a room.
Sometimes your toddler just needs to show you that they are frustrated or angry and nothing you say or do can stop the meltdown in its tracks. If that is the case, sit somewhere near them and let them know that you will be there for them whenever they need you.
3.
Think twice about giving a timeout
Giving your toddler a timeout for a tantrum is punishing them for feeling uncomfortable or frustrated. Toddlers don't have tantrums just for the sake of having a tantrum. They are trying to communicate and deal with their emotions. Could you imagine being punished every time it was that time of the month and you were acting a little emotional and unstable?
Instead of giving a punishment such as a timeout, it's better to work through the situation and get to the root of the problem that ignited the tantrum in the first place.
4.
Remove them from the situation
Sometimes the best thing you can do during a toddler tantrum is to remove your toddler from the situation. Not only does it teach them consequences, but simply moving your child to a different location can help ease possible overstimulation.
For example, anytime I was at a restaurant when I was a child and started acting out my mom would let me know that I need to calm down or she would have to take me outside. One of two things usually happened. Either I calmed down because I didn't want to have to leave the restaurant or I didn't calm down and my mom took me outside. Once outside it was quieter and calmer and it allowed me to cool down away from the hectic restaurant.
Next time your toddler has a tantrum consider just removing them from the situation and see how much more quickly the tantrum passes.
5.
Speak softly
Speaking softly is an actionable tip for how to appear calm in the middle of a toddler tantrum. The tone of voice you use when your toddler is having a tantrum is so important. If you yell or have a tone of anger or frustration, you will be adding more fuel to the fire and your toddler will only feel more uncomfortable.
This was one of my weaknesses when it came to my daughter having tantrums. I would often find myself raising my voice and speaking with anger. Because Lily is so used to having me speak to her lovingly this would scare her and make her cry even harder, which made me feel horrible.
Now I consciously remind myself to speak softly and I swear it has made a huge difference in how quickly we can diffuse the tantrum.
6.
Give a distraction
This is probably one of my favorite ways to stop a tantrum in its tracks, especially if the tantrum originated from me telling my daughter not to do something.
For example, if my daughter throws a tantrum after I tell her not to climb up the side of the bed, I'll quickly say, "Do you want to go outside and look at the ducks?" or "Should we read a book now?"
Sometimes the easiest and most simple way to stop a tantrum is to distract your toddler from the source of the tantrum. It never fails to amaze me how easily toddlers can switch gears from one thing to the next, but in this case, it really works to our advantage.
7. Give
hugs
Don't ever underestimate the power of physical affection when it comes to your toddler's behavior. Stopping a toddler tantrum can be as simple as giving them a hug! Now, this will not always work.
Actually, if your toddler is having one of those epic thrashing tantrums they might push you away if you try to hug them. Still, maybe they won't and maybe that physical reassurance that tells them you're there for them no matter what is all they needed. So while hugs might not be miracle meltdown stoppers every time, it's nice to have them in your toddler tantrum tool belt just in case.
8.
Shake it off and laugh
This tip is specifically for those embarrassing public tantrums. In the wise words of Taylor Swift: Shake it off! No matter how epic your toddler's tantrum is or how many glaring judgmental gazes you feel you have to shake it off and laugh about it.
The worst thing you can do if your toddler is having a public tantrum is to get tense, yell, or create a scene. Use the tips from above like speak softly, give a distraction, or simply leave the situation. Remain calm and realize that people will judge you much more harshly if you scream at your kid in frustration rather than remaining in control of the situation and showing your patience and understanding.
Also, who cares what other people think! If your toddler is having a tantrum in public don't feel ashamed or embarrassed. Just focus on dealing with the tantrum using all the tips from above and keep a lighthearted view of the situation.
If someone is judging you for your child having a tantrum that is their problem and not yours. Shake it off and just laugh!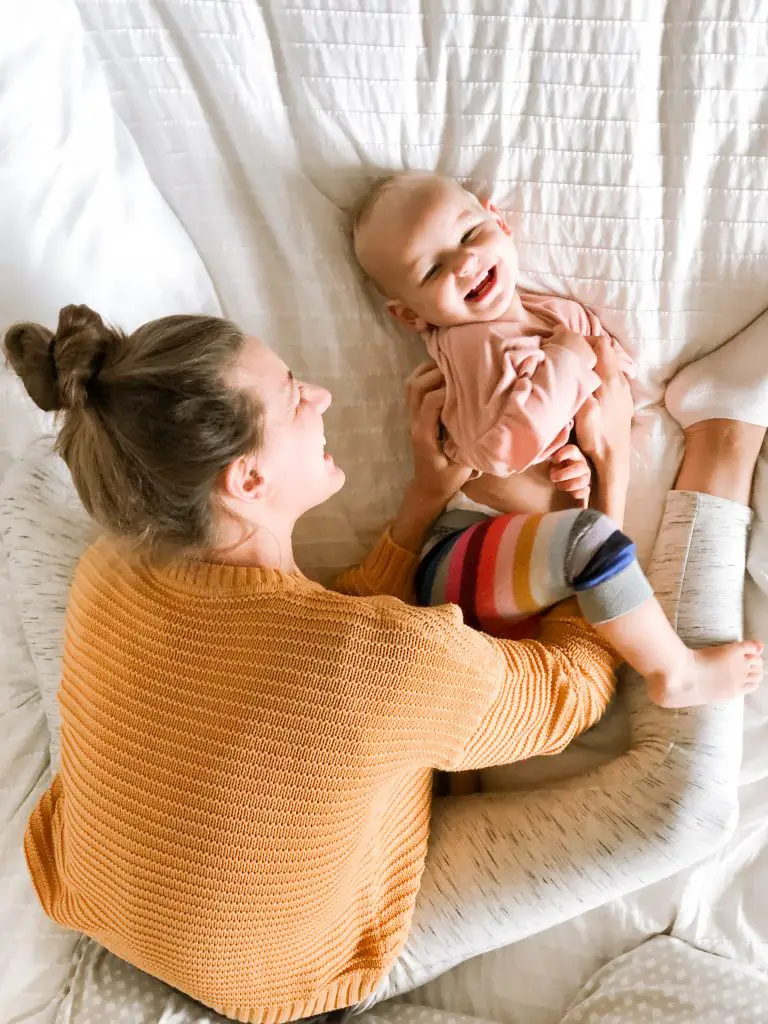 Communication – What to do in the aftermath
In the aftermath of a toddler tantrum, you can't forget to communicate with them. Below are some things to remember and tips for communicating with your toddler after their tantrum to hopefully prevent future tantrums.
What things should you remember after your toddler has a tantrum?
It's over, don't dwell on it
Once your toddler has stopped having a tantrum, it's over. Don't dwell on it. If you are frustrated, annoyed, angry, sad or whatever negative emotions the tantrum brought out of you, let them go to the best of your ability. The tantrum should be minimized in every way possible and continuing to sulk in those unhappy emotions is not healthy for you or your toddler.
What are some tips for after your toddler has a ta

ntrum?
1.
Talk about what happened
After your toddler has a tantrum, while you shouldn't dwell, you do need to view it as a teaching moment. Communicate with them and talk about what happened. Even if your toddler is not talking yet, like my daughter, you can still ask questions and elicit some kind of response.
For instance, I'll go back to the bed climbing tantrum. After she has had a tantrum from me not allowing her to climb the bed I can ask, "Do you know why Mama doesn't want you to climb the bed? It's very dangerous and you can fall down and get hurt. I know you are frustrated because you really want to climb the bed and I am so sorry. But I promise we can find other things to do that are safe and fun. Do you wanna play a different game?"
You can't just leave a tantrum open-ended or it is destined to happen over and over again. Quickly take a moment to communicate with them and hopefully avoid future tantrums.
2.
Comfort and show love and acceptance
This is probably the most important step in toddler tantrum aftermath. You have to comfort your toddler and show them that you love and accept them even in their worst moments.
You have to always remember the true essence of a tantrum and why your toddler has meltdowns in the first place. Either they want your attention, they want something and can't communicate it, they are feeling uncomfortable for some reason, they are feeling out of control, they are tired or hungry, etc.
Rarely is a toddler having a tantrum just to piss you off. They are having trouble processing their emotions, which is hard enough without feeling like they've disappointed or failed you in some way. Show them that you understand and love them regardless.
3.
Move on
The final step, move on! Hopefully, by implementing all the tips on preventing tantrums you won't be dealing with them very often. However, if they do happen, deal with them gently, communicate, and move on.
After you've affectionately and lovingly talked the tantrum through with your toddler move on to bigger and better things. Don't talk about the tantrum, don't let them overhear you telling your spouse about the tantrum, basically pretend the tantrum didn't happen.
You've already taken the time to communicate with them and hopefully teach them a lesson. That is all that is needed. Don't give it any more time or attention.
Okay, if you read through all of that and came this far, wonderful!
Of course, it is important to remember that no one is perfect, I am certainly not, and implementing a gentle approach to tantrums takes time and patience. But I truly believe it will be worth it when you have built a relationship with your toddler based on mutual respect and understanding and not fear and punishment.
Also, remember it's not too late to change how you parent. If you feel like you're not the parent you hoped you would be, you can always make different choices and move in a different direction. None of us will ever be experts on parenthood. We can only learn day by day, grow from our mistakes and do our best!
If you implement any of these strategies with your own toddler, please share your experience in the comments below!