In this post, you'll discover my favorite personal growth books that I think every mother needs to read right now to kickstart their self-development journey with a bang!
My number one tip for any mother who wants to improve their life in a positive way is to start reading personal growth books every chance they get!
If you're reading this right now and hoping to change yourself and your life for the better — start reading. And then read some more!
There is definitely a stigma around "self-help" books that I think, unfortunately, scares a lot of people away. There's a belief that only people who are failing at life in some way need to read self-help books and if you pick one up it's like admitting to the world that you're weak, broken, or desperate. Something about the phrase self-help just got a bad rap at some point.
That's why I love that most self-help books are now being categorized under "personal growth" or "self-development". They are exactly the same kind of book, but because they are categorized differently people are more willing to reach for them without feeling embarrassed.
And listen to me right now —whatever you decide to label these types of books doesn't matter one bit — just don't ever be embarrassed for reading them! There is absolutely no shame in taking proactive steps towards becoming a better version of yourself and wanting to create a better life.
Why did I choose the 7 personal growth books below?
There are literally hundreds of personal growth books that I would love to read and are currently on my reading list; however, I thought sharing my top seven picks with you would be more than enough to get you started on your own self-development journey.
Even though I have read many personal growth books over the last few years, there was a handful that completely changed the trajectory of my life forever and those are the books that I list below. It was really important for me to only recommend books that I have actually read and loved. I just wanted to be able to speak from personal experience, which is why I chose the books below.
How do I find time to read as a mom?
Finding the time to read as a mom is like finding the time to pee. You just have to make it happen when you can and with a kiddo at your feet. There is no secret or magical formula you can use to create more time in your day to read, you just have to make it a priority like any other self-care ritual. That might mean reading in ten-minute intervals throughout your day when you're not busy doing one of the other millions of things you need to do. Just get creative!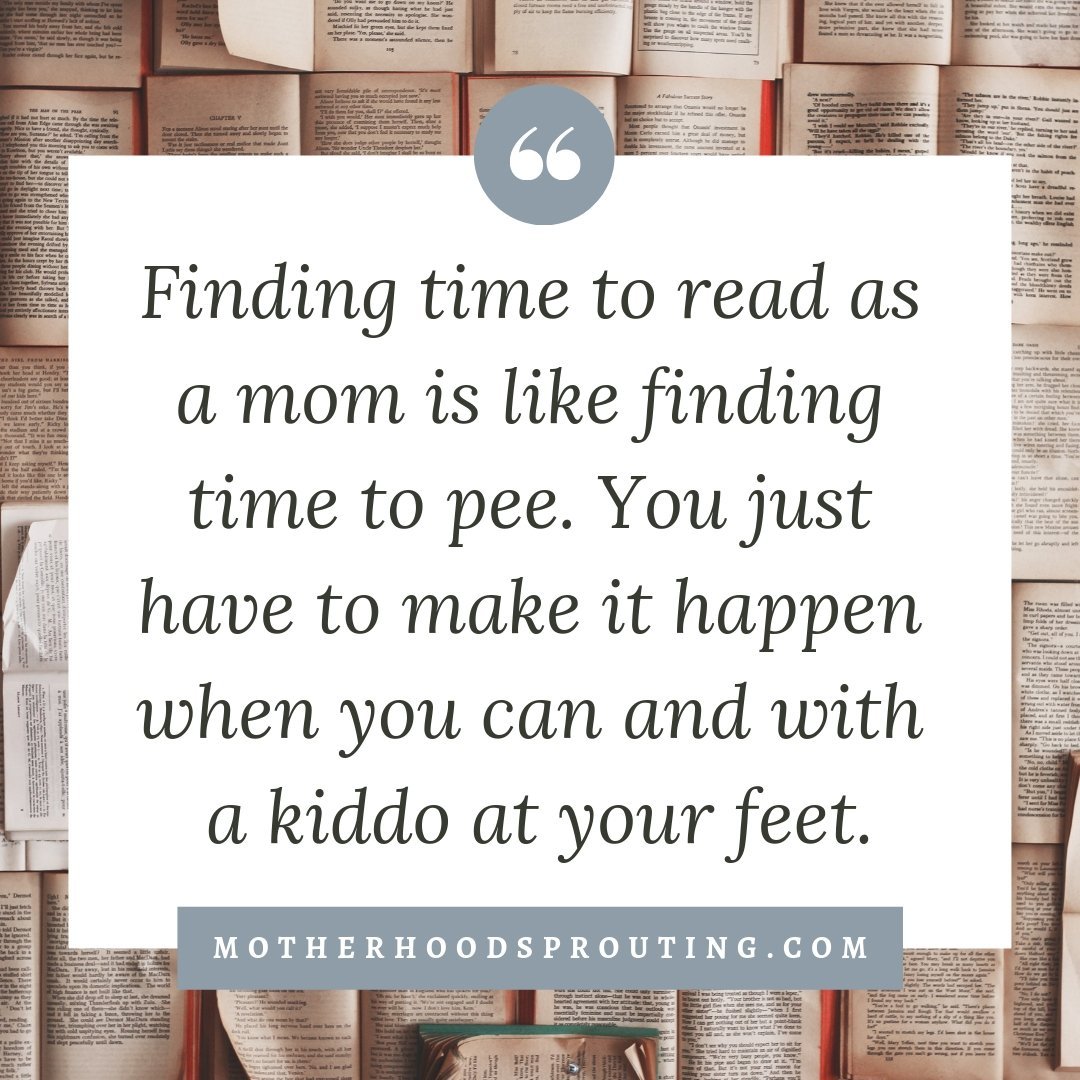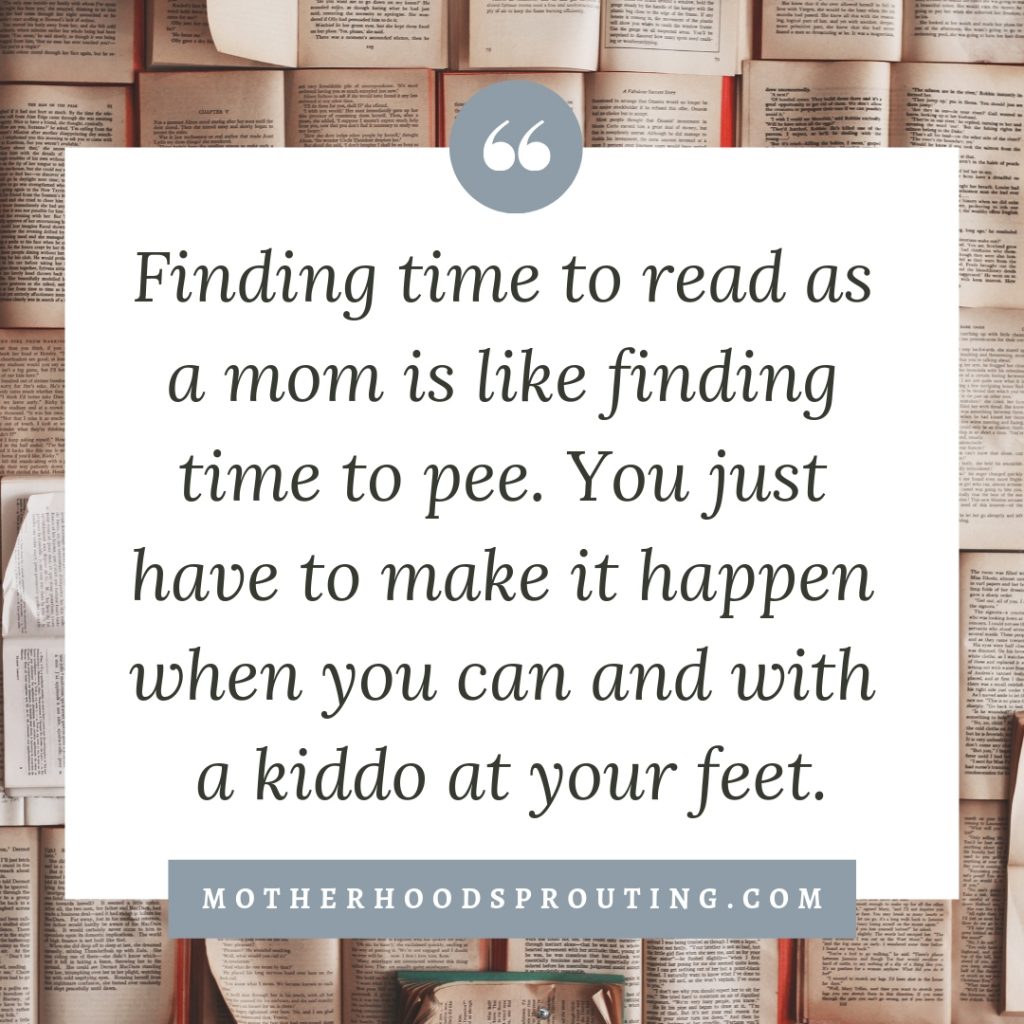 Personally, one of the times I squeeze in some reading is at night with a cup of tea. So while my daughter gets out her last spurt of energy for the day, instead of doing chores or getting work done, I'll sit down and read while she plays.
I also love reading outside. There's just something so relaxing about the sun on your face, a cool breeze, birds chirping, and a good book. Every morning, weather permitting, I like to go spend time outside for about an hour with my daughter. While she explores the yard, I can get a couple of pages in before I get to work. Do what you can to discover those little moments in your own day when you can drop everything else and give yourself the gift of reading.
What about audiobooks?
Now, if you can't seem to find the time to actually sit down and read a physical book, you can always listen to an audiobook while you drive, work out, do the dishes, etc. Personally, I'm not a huge fan of audiobooks because I end up zoning out and missing pieces of the book. When I'm reading a self-development book that is going to require me to understand the message enough to apply it to my life, I like to be able to re-read and fully absorb everything. But if you have no problem listening to audiobooks, that may be a great solution for you!
7 Personal Growth Books You Need to Read Right Now
I am adding this book as number one nearly three years after I originally wrote this post. There is no way I could recommend books and not have this book as the first one! As you will probably notice as you read this list, I am a personal development book addict. I love learning, growing, and discovering new things about myself. How to Do the Work was just another book I had on my reading list. I never could never have known how much it would change my life and even my family's life.
Dr. Nicole LePera has taught me how my childhood trauma is affecting my current relationships and how it has informed my decision-making and personality my entire adult life. It has enabled me to change the way I function on a day-to-day basis. Even having read all the personal growth books I have, this book opened my eyes in so many ways and taught me things about myself I never knew. The best part, though, is how it has made me a better mother. I have been able to see all the choices my parents made and now have the power to change generational patterns for good. This is an absolute MUST READ for parents!
If you need a little kick in the butt and a reminder that the only way you are going to fail is if you give up, then this is the book for you. Hal gives great actionable tips and a lot of structure to follow if you are someone who needs or wants that right now. This book will give you the tools you need to start taking your life into your own hands and finally start creating some miracles!
The Miracle Morning found its way into my life when I really needed it the most. It's kind of a long story, but I got an email one day from a blogger with a link to an interview with Hal Elrod. It was obviously a great interview because I went and got his book right away. I read it in less than two days and instantly started asking my family to read it too. I had been feeling really lost, hopeless, and pretty down in the dumps to be honest. Hal lifted me up and reminded me that I had the power to change my life if I really wanted to. It reconnected me to my belief in a higher power and set me down a path of truly rediscovering myself.
This book is really funny, but also hits so close to home it almost hurts — like in a good way! In an eye-opening, I need to see this thing for what it really is so I can move forward kind of way. Jen is a genius at adding humor to serious topics and making you feel like we are all a part of the same team. She really tells it like it is and isn't afraid to use colorful language to do it.
My favorite thing about You are a Badass is how Jen explains self-sabotage and how to differentiate whether it's your higher self or your ego trying to lead the way. I think one of the more difficult parts of creating lasting positive change in your life is not knowing when your ego starts to take control and lead you backward again. She helps you hear the sound of your ego so clearly, that you can hear it and make a better choice instead of letting old habits take over on autopilot.
I have read a few Gabby Bernstein books and this is my favorite by far. I think some people are a bit turned off by the concept of the book because no one wants to be accused of nor admit to the fact that they are judgmental. However, if that is you, I urge you to read it anyway. I learned a lot about myself through the exercises in this book. Gabby helps you dig into your subconscious and uncover limiting beliefs about the world, people, and yourself. When you start realizing why you see things the way you do or act the way you do, it completely changes your perspective on everything. This book can also help you see the people in your life in a whole new and beautiful way.
Another reason I love this book is that Gabby teaches you how to use Tapping or Emotional Freedom Technique to clear those negative and limiting beliefs after you expose them. Being aware of your limiting beliefs isn't as good as being aware of them and also having the tools to actually change them. After learning EFT in this book, I became addicted. I now do Tapping/EFT any time I'm feeling blocked, anxious, or stressed. It's truly amazing.
If you feel like you are disconnected from your creativity or dream of living a more creative life then this book is for you. Elizabeth teaches you to find and take ownership of your gifts and how to build a strong, respectful relationship with your creativity. If you don't think of yourself as a creative person, don't let that scare you away. Big Magic shows you how to find the creative part of yourself that lives inside everyone.
One of the things I love most about this book is the way Elizabeth talks about ideas. She says ideas are like little balls of light flying around and looking for the perfect soul to bring them to life. All we have to do is be open to receiving them and respect them enough to give them our time and attention. Something about that imagery just speaks to my mystical, magic-loving soul. If that's something that resonates with you too, you should definitely read this book.
Reading She Means Business was the catalyst for changing the entire direction of this blog. If you've ever dreamed of starting your own business, I highly recommend starting your journey by reading this book. The reason I love it so much is that Carrie places enormous emphasis on the fact that you have to master your mindset and practice self-development before you can create a successful business. It's basically Business 101 for women who believe in the "woo woo" stuff. Carrie teaches you how to use mindfulness, visualization, meditation, etc. in order to prime your mind and body for greater success in business and life in general.
If you feel like you're not different enough, unique enough, smart enough, special enough, skilled enough, or talented enough to have a successful business, Carrie will motivate you right past those fears. I don't even know if I can put my finger on why, but I felt insanely inspired and ready to take action and make my dreams come true after reading this book. Maybe it's the way she words things or maybe I just read it at the right time, but Carrie convinced me that I was enough and that I did have it in me to become "a wildly successful entrepreneur"!
This book is way more than a personal growth book, it's a beautiful code of conduct to live by. Don explains how we've all been negatively conditioned since birth to view the world a certain way and only through practicing the Four Agreements that he covers in the book can we break free and finally see the truth. It's a short and very easy read, even as a busy mom you could probably finish the whole thing in a couple of days. But even in its simplicity, it is extremely powerful. Having these Four Agreements at the forefront of your mind as you go through life is like having a compass that always points you in the most beautiful and loving direction. It's just up to you to follow it or not!
I think every parent in the world should read this book and gain a good enough understanding of the Four Agreements to pass on to their children. If we can gently condition our children as they grow up to embody the Four Agreements, I think we would be setting them up for a future full of self-awareness, confidence, compassion, and love.
Okay, this is a bonus because it is technically not a personal growth book but a personal growth tool. In this book, Emily teaches a version of her meditation method called the Ziva Technique. It's a super stripped-down type of meditation with no frills — or crystals for that matter — that's perfect for busy people who want the results meditation can give without too much "woo woo" attached. I think this meditation is a mother's dream meditation. I only recently started practicing the technique, but let me tell you — so far, so good!
Get reading Mama!
If you're feeling like you want to make a change in your life or you're ready to become a better version of yourself, I highly encourage you to check out the books I list above. Make reading a priority and squeeze it in every chance you get! Don't let anyone make you feel embarrassed or ashamed for reading "self-help" books. Know in your heart that you are giving yourself an invaluable gift and everyone in your life will benefit because of your growth. Just start reading! And you never know, one of the books above might just be the book that changes your life forever!