This post may contain affiliate links. If you click on a link and purchase the item, I will receive a commission at no extra cost to you. All opinions remain my own. Thank you for supporting this blog!

Did you know over 60% of what you put on your skin is absorbed into your body?
60%! And have you ever read the ingredients on your shampoo or lotion bottles? I mean half of the words are like 14 syllables and completely unpronounceable. So what the heck are we putting on our bodies?! And more importantly…
What the heck are we putting on our babies bodies?!
So the one very important reason I only use natural baby products is to avoid unnecessary exposure to icky chemicals! Most of the products we put on our skin every day are filled with toxic chemicals. Chemicals that are known carcinogens and affect the reproductive, endocrine, and immune systems. If that sounds scary, its because it is!
I realize we live in a very toxic world. There are chemicals in the air we breath and the water that comes through our faucets. We cannot escape it. And trying to could quite possibly drive you insane. However, there are some things we can do to limit our exposure to these toxins as much as possible. One of those things is to use organic, natural products that are free of toxic chemicals.
As soon as I found out I was pregnant, I became concerned with every little thing I ate or put on my body. I'm sure every other mother can relate to this instant protective instinct. But did you know that unborn babies are exposed to hundreds of chemicals before they are even born? That's really scary. So when it came time to decide on what baby products I wanted to use, I was hell-bent on going as natural as possible.
In a perfect world, I would use cloth diapers and make my own soaps and all that jazz. But I know for me and my lifestyle that is not realistic. And that's okay!
Choosing natural products doesn't have to mean sacrificing convenience!
There are so many great baby products on the market that are natural and chemical free. Just don't be fooled by the word "natural" or "organic". Companies are just trying to sell products with trendy words. The only thing you can trust is the ingredient lists. So do your research before choosing the best product for your baby.
Below are the products I have chosen to use for Lily. There are literally three brands listed here. I don't think babies need to use a ton of products. Simple is always best!
Diapers, Wipes and Rash Cream
I chose The Honest Company for all of these products. You can buy these products at Target, on the Honest Company website, and on Amazon. I chose to use Honest because they contain the least amount of chemicals for a conventional baby product at the best price.
**I believe Bambo Nature diapers are the most natural disposable diaper out there, but they are a bit more expensive than Honest Co. If anyone knows where to get Bambo Nature diapers for a good deal, let me know in the comments below!
I also used a different natural diapers and wipes brand for a while (I don't want to name the company and get in trouble!). However, I learned they contain some questionable ingredients. For example, their wipes contain polyethylene indicating the of the presence of 1,4-dioxane, which is a breast carcinogen and linked to organ toxicity. That's definitely not an ingredient I want to mess with!
***UPDATE 12/01/17***
After dealing with some serious blowout problems with Lily, I switched over to Bambo Nature diapers and I love them! Also, after Honest Company recalled their wipes, I switched to Joonya Eco Wipes and they are amazing! I also now only use Babo Botanicals Diaper Cream. You live and you learn, right? For an updated list of the best natural diapering products and the ones I currently use click here!
Baby Powder
I was originally using The Honest Company baby powder. However, it was recalled. So that went straight into the garbage bin. After doing some research I found Eraorganics Honey Buns Baby Powder. It has like 6 total ingredients, all natural, and is talc-free.
***UPDATE 12/01/17***
I don't really use baby power on Lily anymore because I learned that if your baby has a yeast infection the cornstarch in the powder can cause yeast overgrowth (BabyCenter). However, if you still like using baby power Eraorganics is still the best choice!
Shampoo/Body Wash and Lotion
I chose to go with Babo Botanicals for Lily's shampoo/ body wash and lotion. They contain certified organic ingredients, are dairy-free, soy-free, fragrance-free, and most importantly contain "No Icky Chemicals"!
I had been using The Honest Company shampoo/wash and Babyganics lotion. However, Lily had a weird rash of small little bumps all over her body that cleared up significantly when we switched to Babo Botanicals. The doctor had told me that the bumps were heat rash. Now I am wondering if it was one of those products or a combination of the two that were causing the rash. Either way, I'm loving Babo Botanicals. I've even been using it as a face lotion for myself! It smells delicious and is very gentle on Lily's sensitive skin.
***UPDATE 12/01/17***
I still use Babo Botanicals for Lily and I am more in love with it than ever!
I hope this little post inspires you to reevaluate the products you are using for your baby. Going chemical free doesn't have to break the bank or be an inconvenience. If you need some guidance choosing natural baby products, go to this website! It's an incredible resource and has so much information regarding natural baby products.
If you already use natural baby products, share in the comments below! Any great brands I should know about?!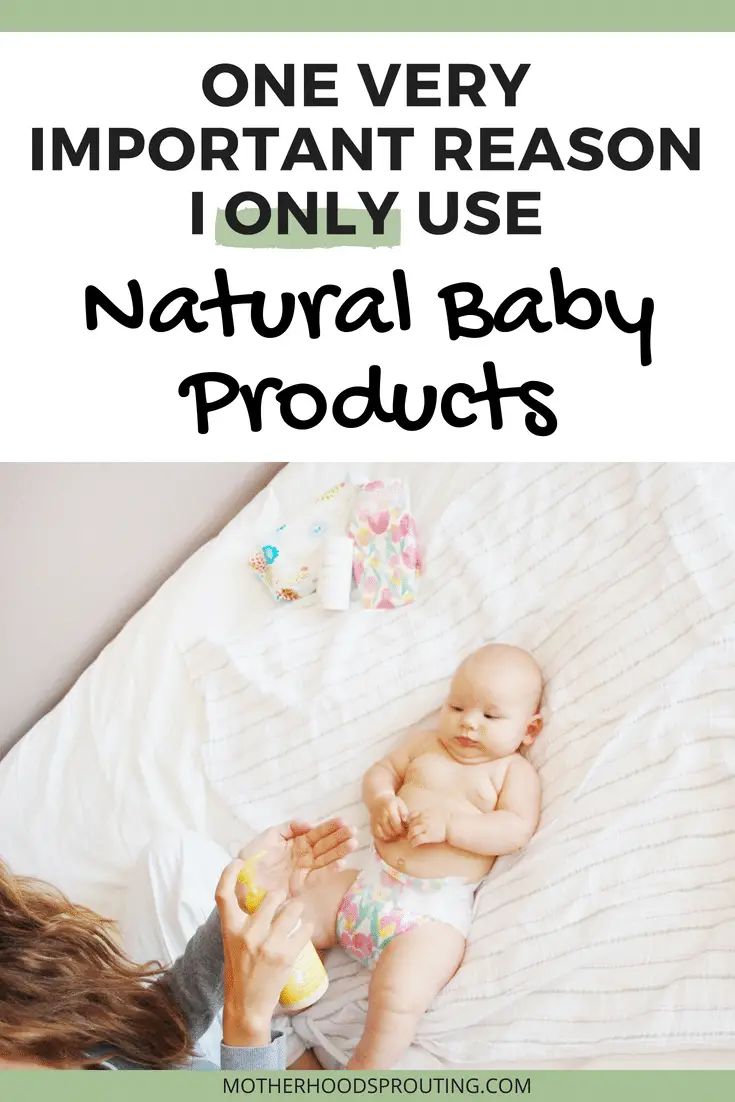 Resources used for this post:
Putting It on Your Skin Does Let It in
Chemicals in Your Beauty Products
17 Chemicals to Avoid in Cosmetic and Personal Care Products
***All content provided on this blog is for informational purposes only. The owner of this blog makes no representations as to the accuracy or completeness of any information on this site or found by following any link on this site. The owner will not be liable for any errors or omissions in this information nor for the availability of this information. The owner will not be liable for any losses, injuries, or damages from the display or use of this information. These terms and conditions of use are subject to change at any time and without notice. For further information, please visit our Terms and Conditions page.