This post may contain affiliate links. If you click on a link and purchase the item, I will receive a commission at no extra cost to you. All opinions remain my own. Thank you for supporting this blog!

The fact that Lily's 1st birthday party has come and gone is a crazy thought and makes me so emotional! How do I already have a one-year-old?!?
That being said, I had such a blast planning her party. Of course, it was incredibly stressful and I didn't even send my guests the location until a week before the party. Luckily, I did an Evite, which made it easy to update guests. Plus, 98% of the "guests" were family members and they were pretty understanding of my very unprofessional party etiquette. lol
Sidenote about the guests:
You might wonder why I went all out for a party that mostly family was attending. And the answer is: I did it for Lily. I wanted her to look back at her 1st birthday and know that I truly cared enough to throw her a beautiful party. She will look back at these photos and hopefully be happy to see that her Mama put a lot of love and effort into her very first birthday party. If you are in the same boat as me and don't have many non-family members you would want to invite to your child's 1st birthday, I say do it anyway! I think these little angels of ours are worth every bit of effort and every penny. But that's just me. Okay. Rant over.
Anyway…
I decided to go with a Fairy-esque/ enchanted forest theme. I really didn't want it to be a Disney fairy type party so I stayed with a white, gold, green color scheme and kept the colors on the deeper end and the pinks to a minimum. It ended up being a mixture of fairy, enchanted forest, and woodland. I wanted it to look like the fairies were having an elegant little soiree in the middle of the forest.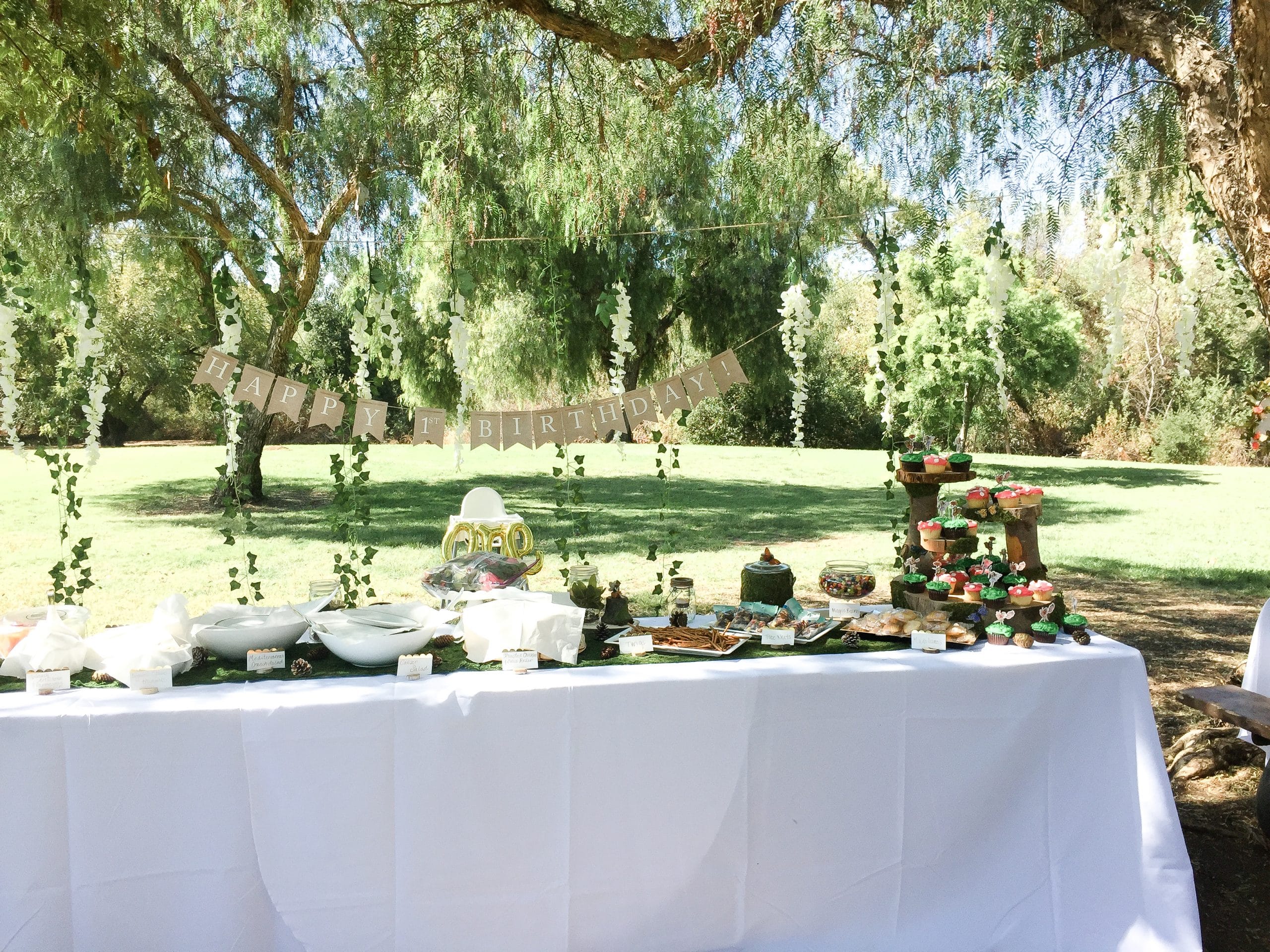 Vines // Wisteria // Birthday Garland // Table Cloth // "ONE" Balloon Garland
The day started calm but then got pretty windy, so I was constantly fixing my wisteria and vine backdrop. So annoying! Also, the tiny leaves from the trees above were all over the table and the food. Luckily, leaves went with my theme! One downside of an outdoor party…bugs! Ugh. Notice the fancy paper napkins covering the food? Totally throwing off the vibe, but necessary to keep the bugs away.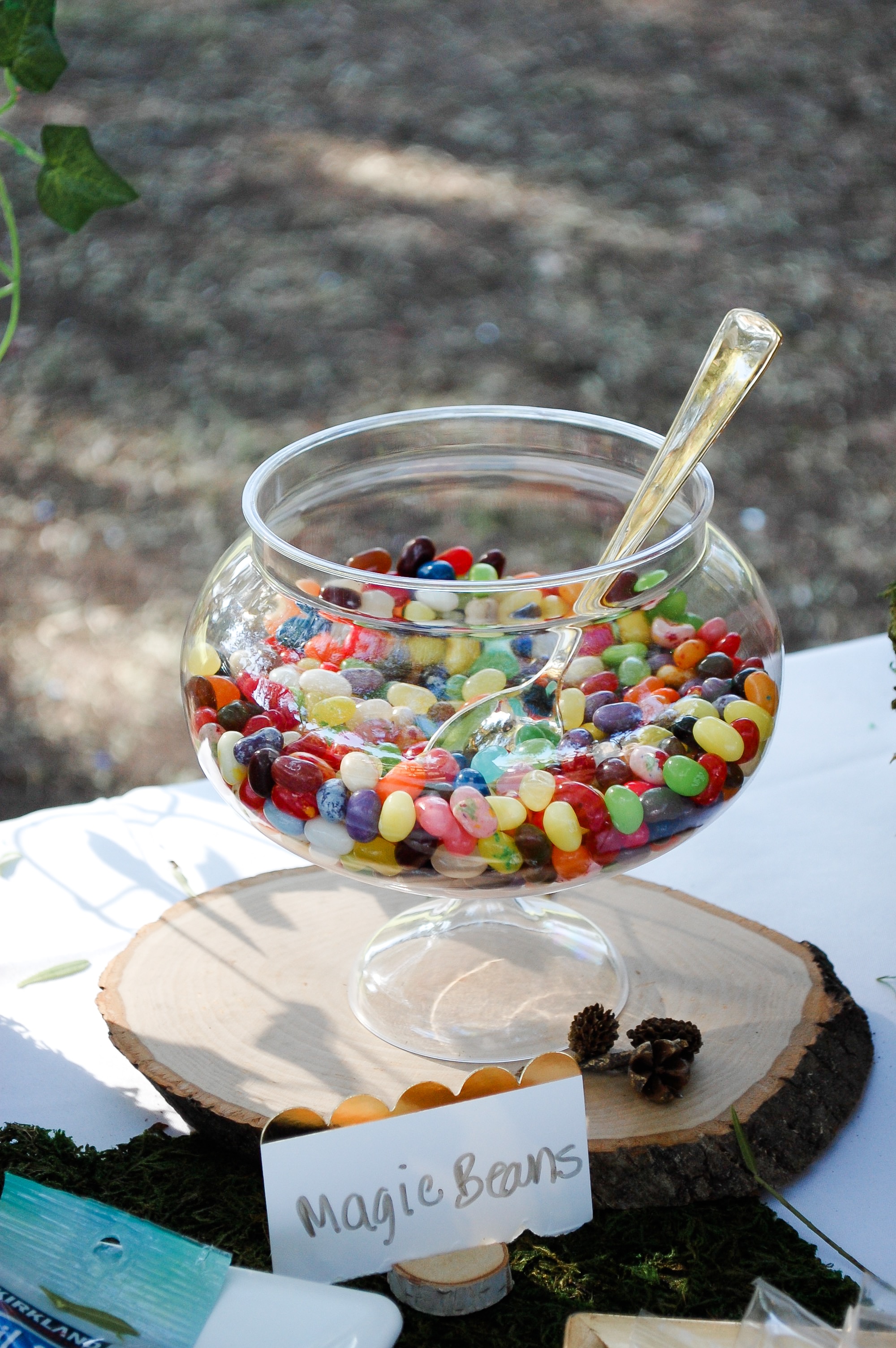 Small Log Slice (card holder) // Large Log Slice // Gold Plastic Cutlery // Plastic Vase
I found some log slices in the craft section at Target and it was a big-time score! All the wood slices I had found elsewhere were super expensive, but these were under $10 each! Then, I saw some log slice card holders at a few places, but they were all pretty expensive as well. So I decided to DIY it and buy some small logs and saw some grooves into them myself. In hindsight, I should've just purchased the pre-done ones! My sister and I couldn't move our hands after sawing those suckers. It was so hard! Also in hindsight, I should've prewritten the cards. That last minute, stressed out handwriting is so embarrassing!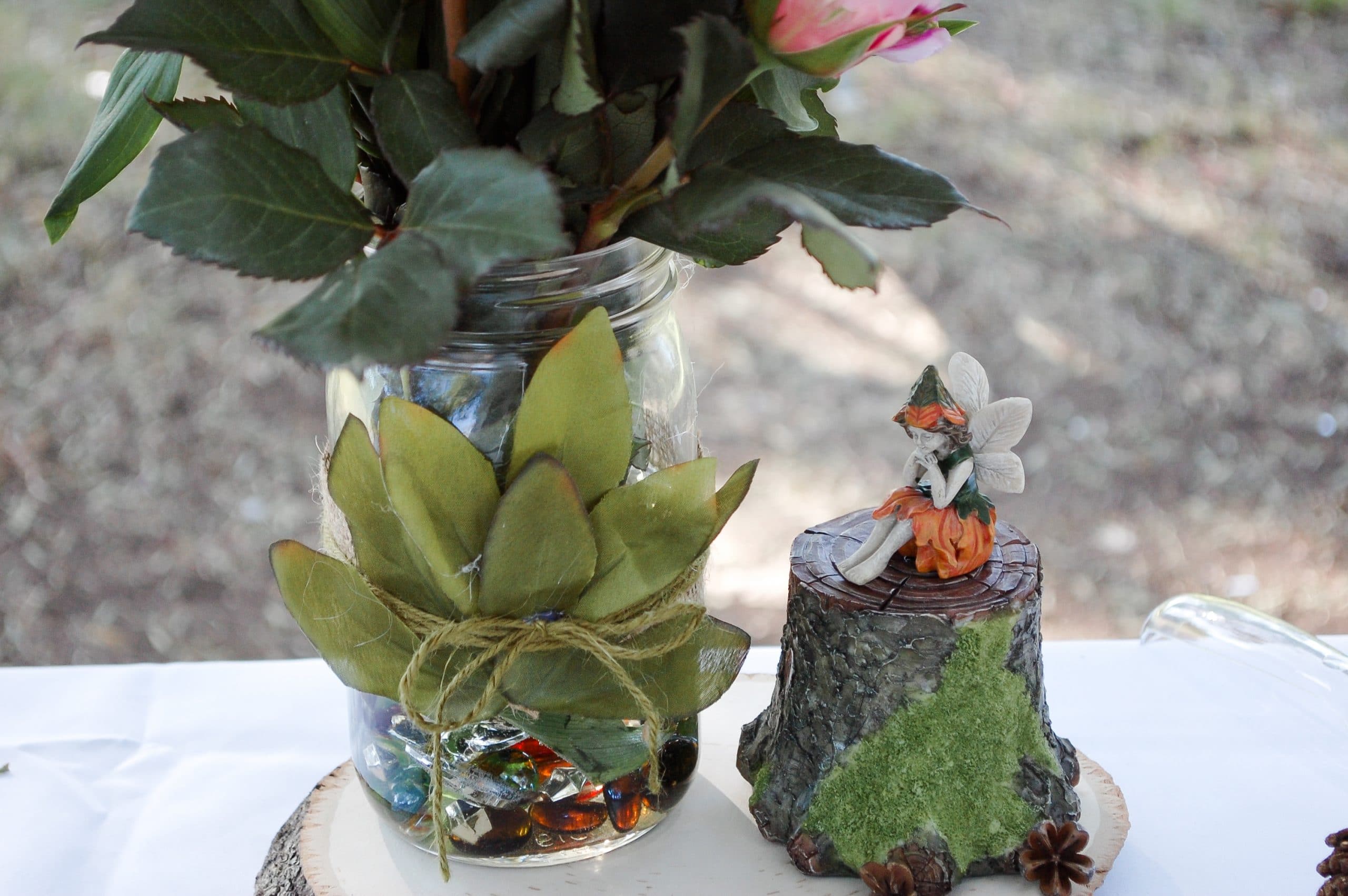 Mason Jar // Fairy // Moss Covered Tree Stump // Artifical Leaves
This little fairy set up ended up being one of my favorite parts of the whole table, even if it kind of came together by accident. When I originally ordered the moss covered stump I thought it was 3 feet by 2 feet. I died of laughter when I opened the box and saw this tiny little 3 inch by 2 inch stump. It turned out to be the perfect place to sit the fairy and taught me a great lesson in reading EVERYTHING before pressing that order button.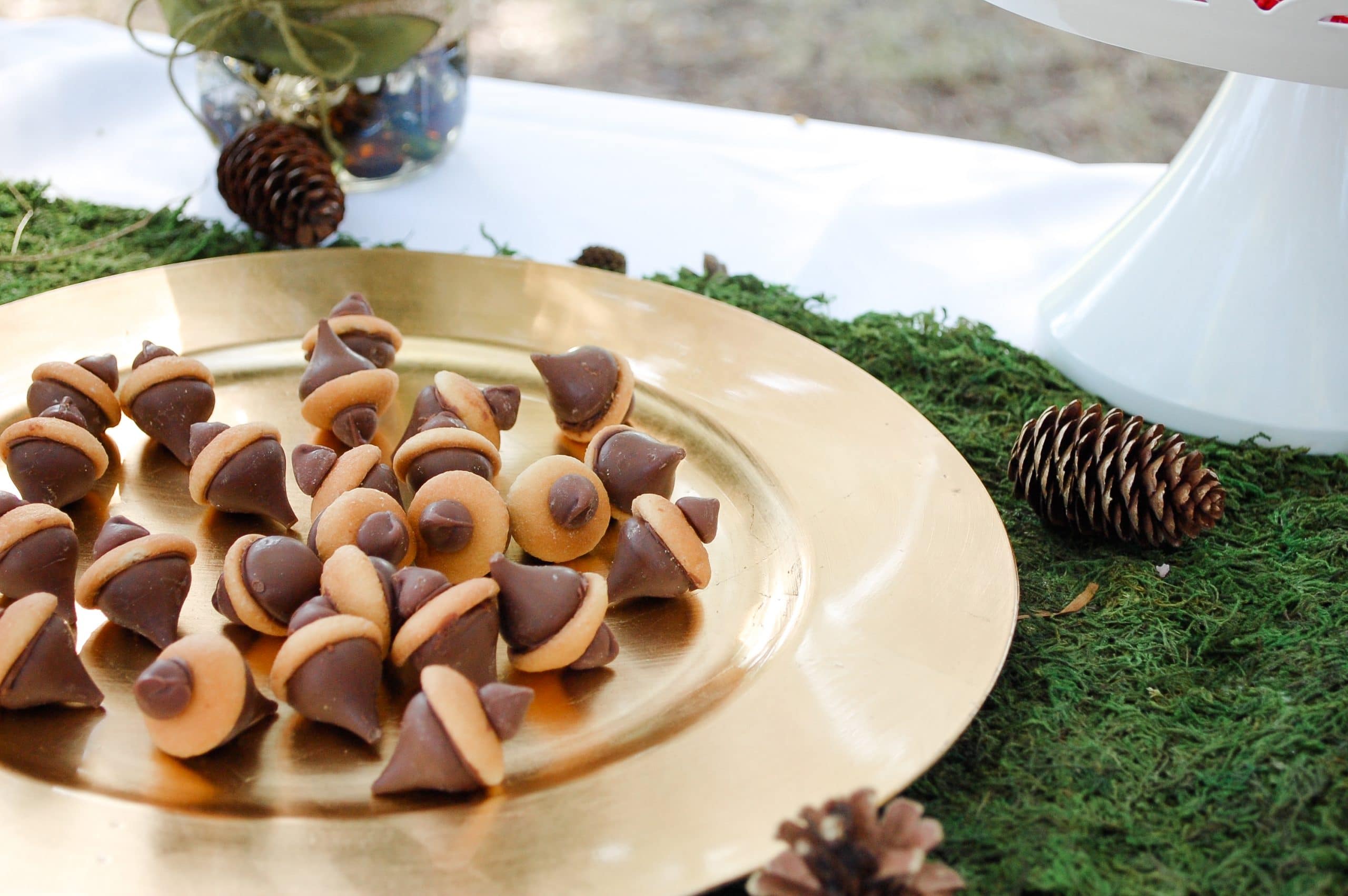 Moss Table Runner // Pinecones (similar) // Gold Tray
My sweet sister spent hours making these little acorns. Unfortunately, we forgot about them in the car and they melted! We ended putting them in the cooler for a bit and got them out on the table just in time to take some pictures and give everyone a taste. They were so YUMMY! (Made from Hershey Kisses, Chocolate Chips, Mini Wafers, and held together with Chocolate Frosting!)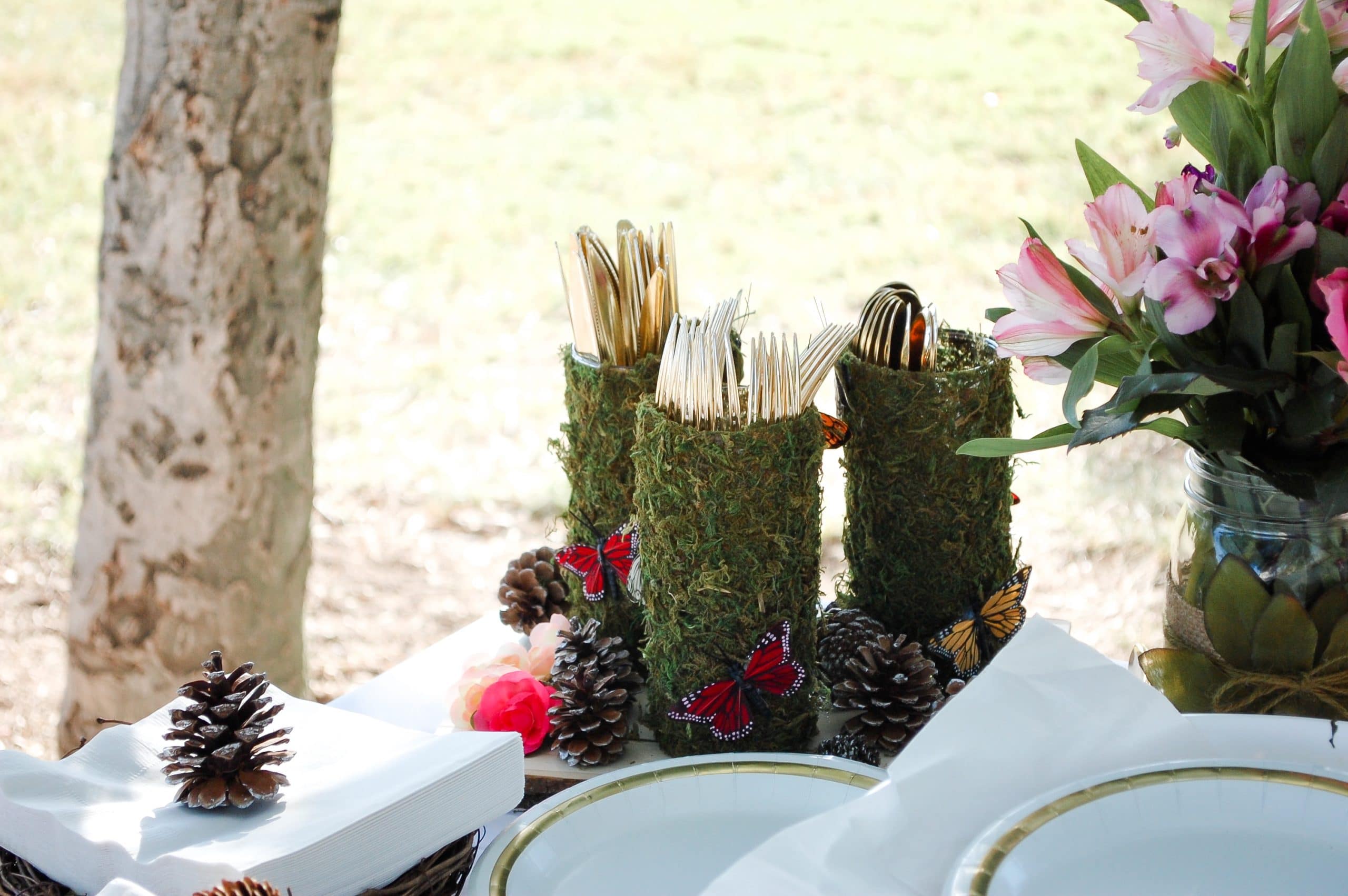 Moss Sheets // Butterflies // Gold Trimmed Plates // White Napkins
I may have gone a tad overboard with covering things in moss, but these awesome moss sheets were so easy to use that I just slapped them on everything I could! I also hot glued those beautiful butterflies on so many things. They added a much-needed pop of color and looked so real!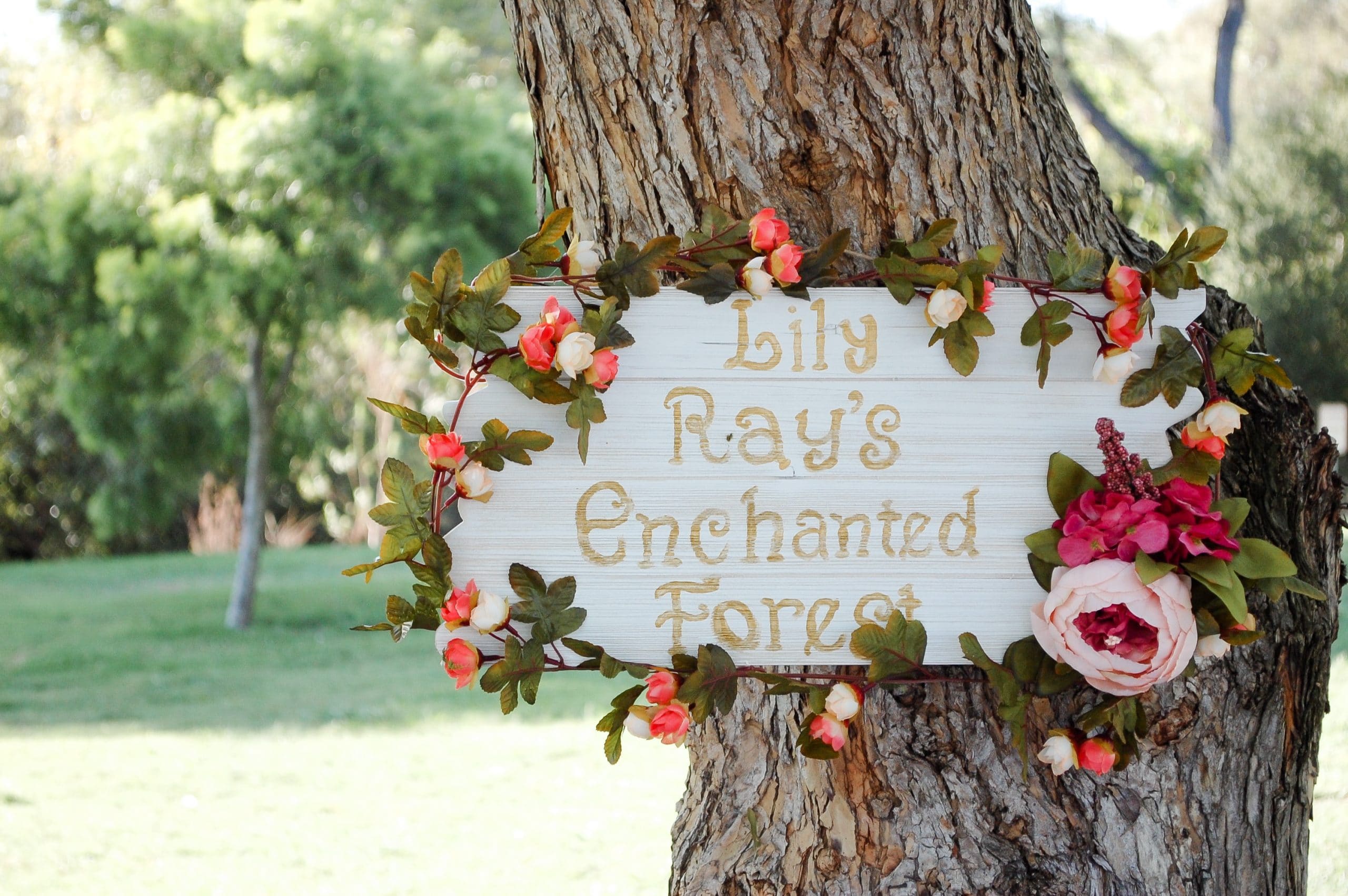 Wood Sign // Flower Garland // Individual Flowers // Gold Paint
When I got the wood sign it was natural wood color, but I wanted it to match everything else so I spray painted it white. My wonderfully talented mother painted on the gold lettering (I did not inherit her amazing penmanship) and then I attached some artificial flowers on the border with hot glue. I decided not to write anything birthday related on the sign. That way she can use it as room decor later on down the line and it won't go to waste!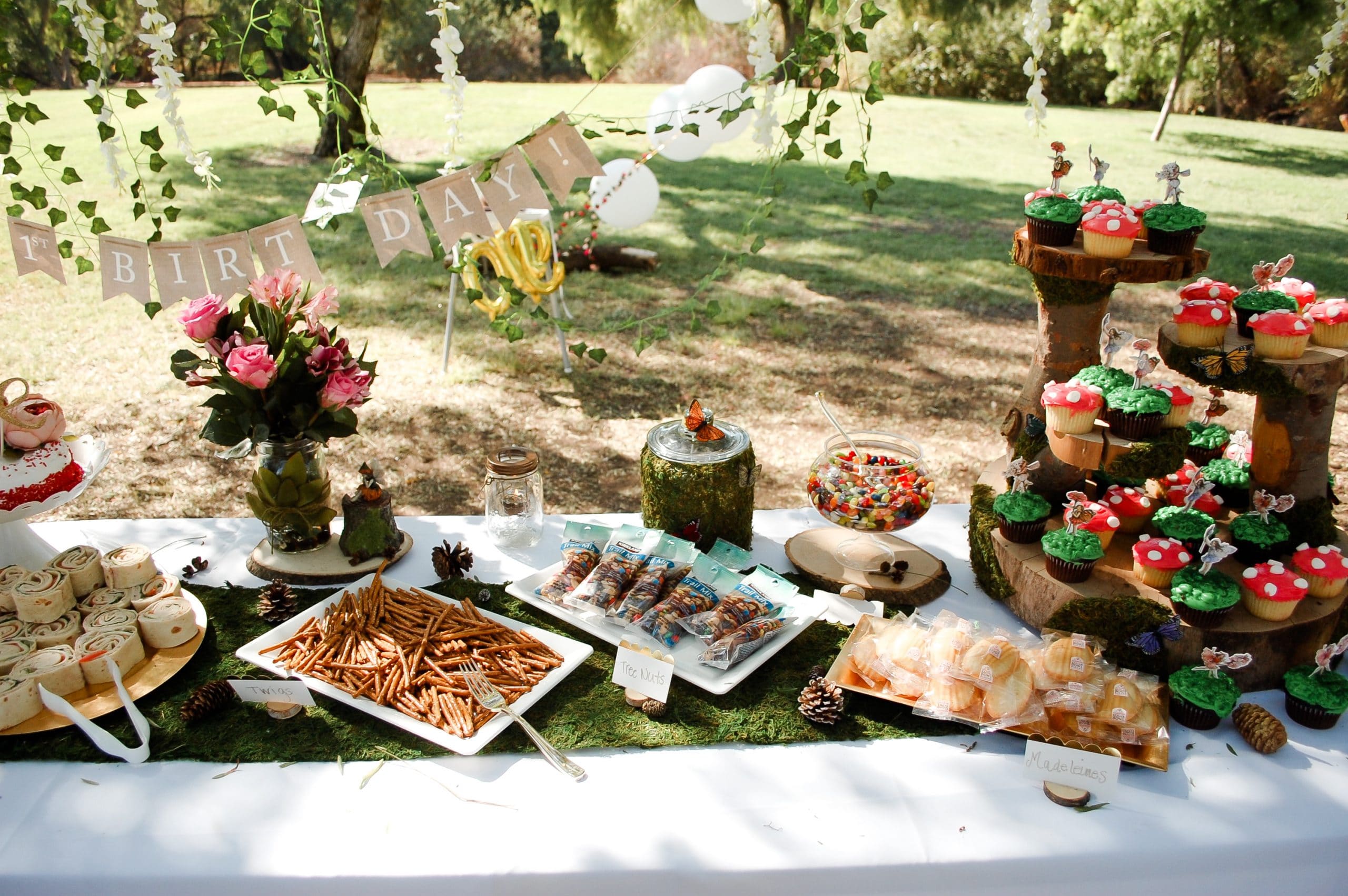 White Table Cloth // Moss Table Runner // White Serving Dishes // Gold Serving Dishes
One of the first things I purchased for the party was the moss table runners. I knew I wanted to do crisp white table cloths but needed to bring in some color and texture. These runners did the trick! They were a bit short, so if I wanted to use them again I would buy a third runner to fill in the gaps. Fortunately, we had our gigantic cupcake stand to fill the empty space at the end!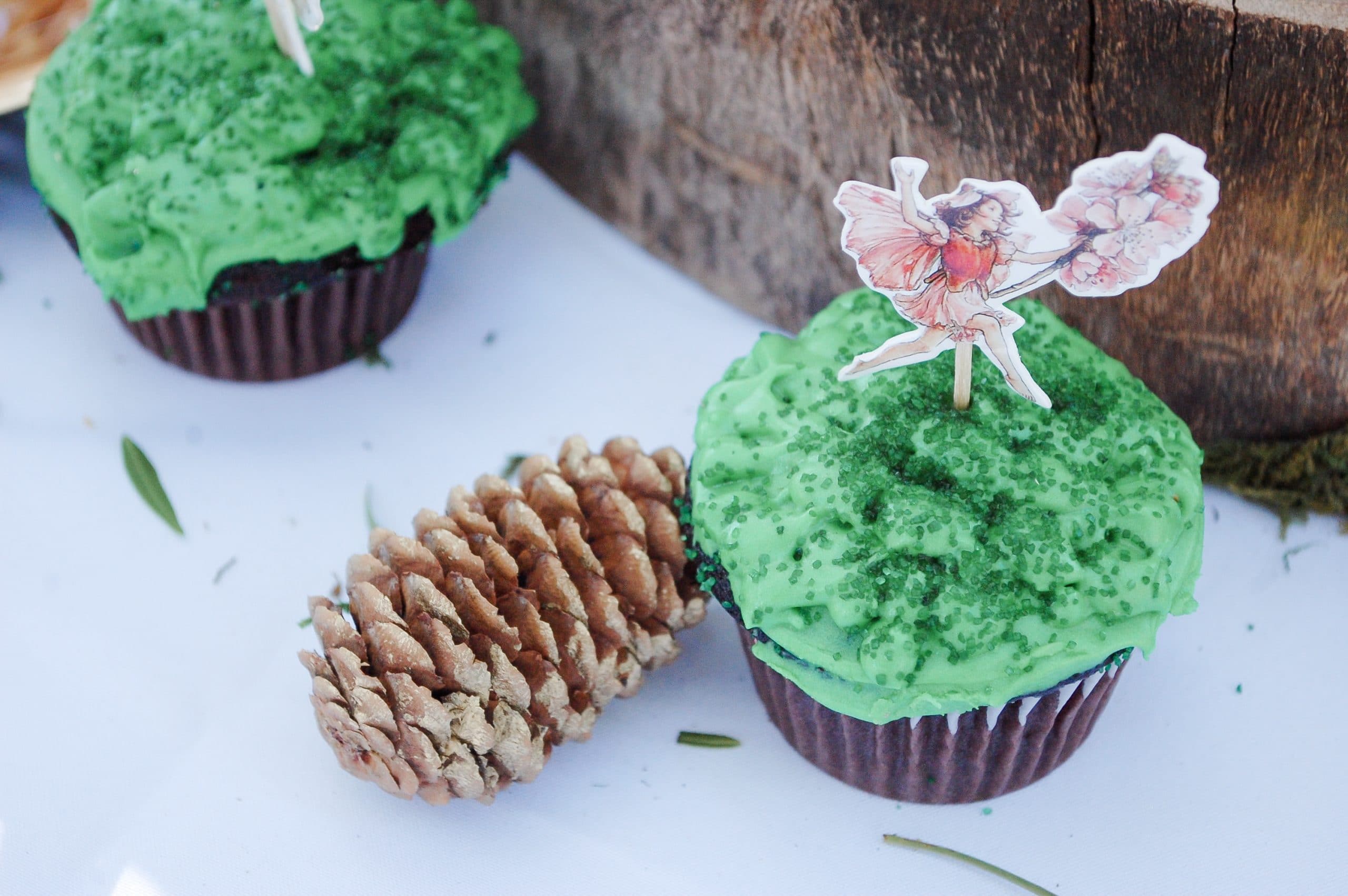 Fairy Cupcake Toppers // Pinecones
I wanted to make sure the table didn't have any super empty spaces, so I bought some pinecones from Target and scattered them around the table. I got them in the home decor section, so they came with decorative gold flecks on them which were perfect for my gold and white theme! I also got these adorable fairy cupcake toppers to add a little more fairy to my quite woodland-y table.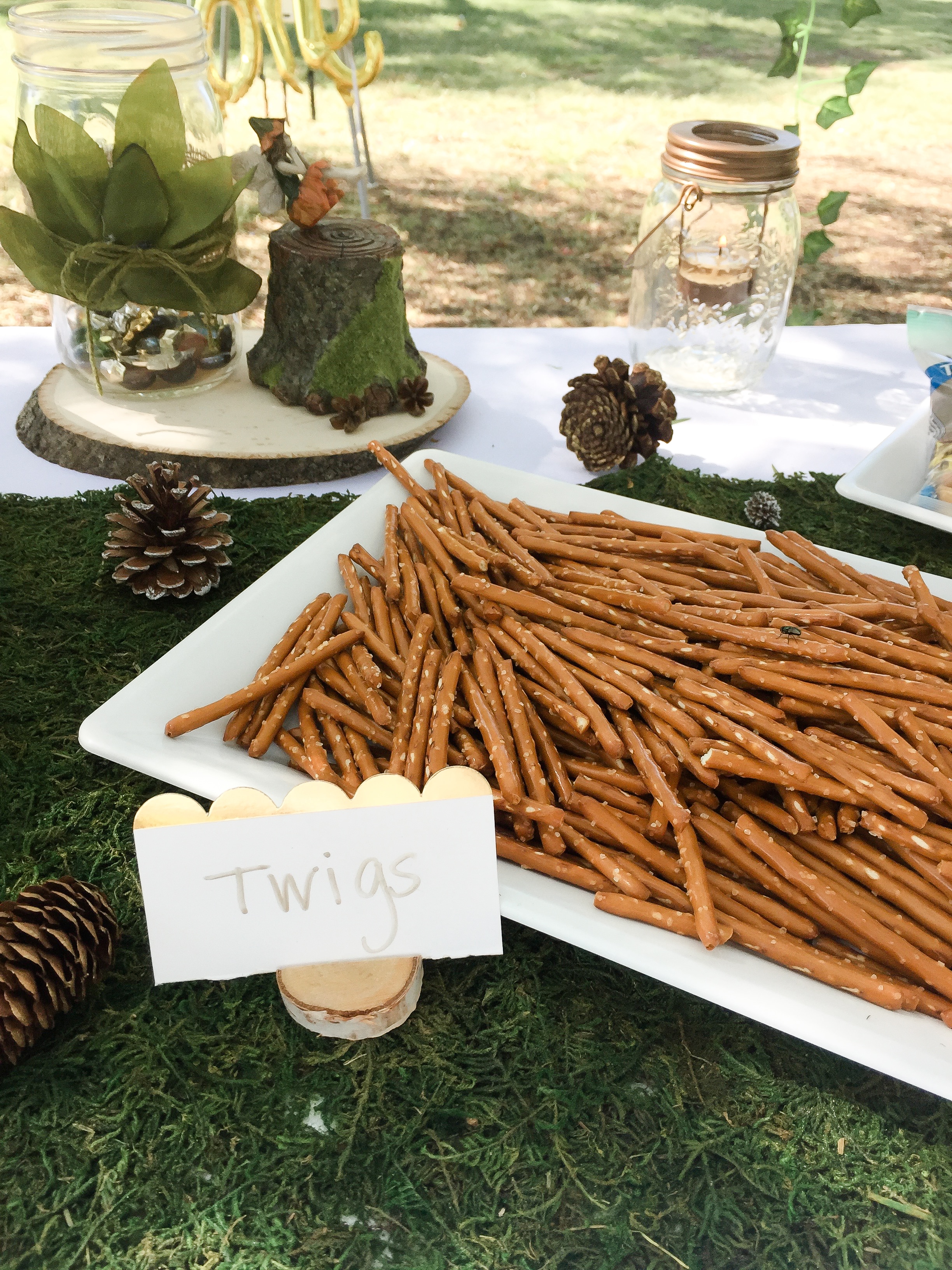 Small Log Slices // White Serving Tray //Moss Covered Log // Mason Jar Candle Holder
I knew no one was going to eat these pretzel sticks, because who really likes pretzel sticks? But I found the idea of calling them "twigs" on Pinterest and loved it! I'm pretty sure no one ate them but it was great decoration! Haha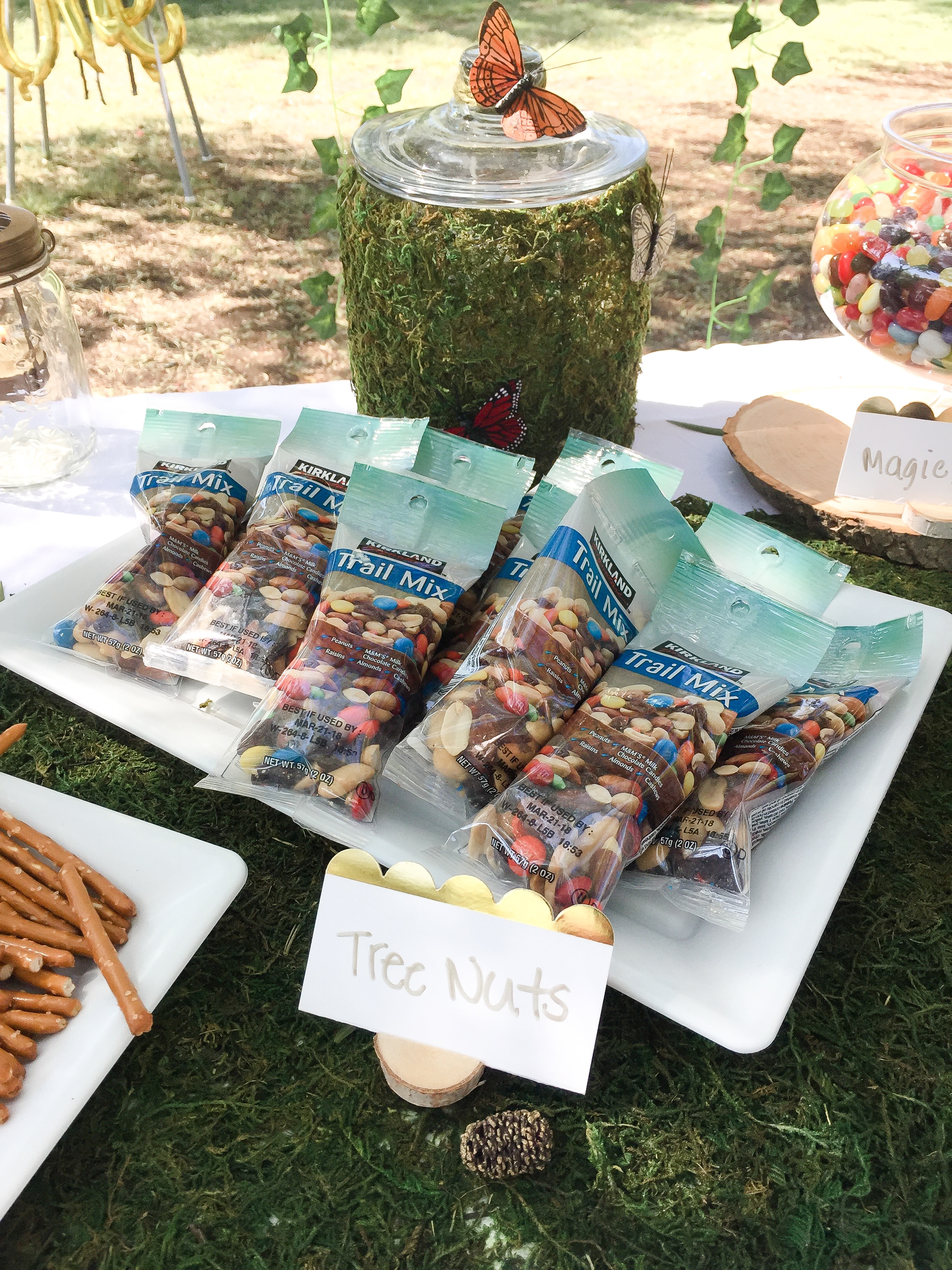 Artificial Butterflies // Large Glass Jar // Moss Sheets // Moss Table Runner
I had the idea to put nuts in a bowl and call them "Tree Nuts". Ya know, like going with that woodland nature theme? Not sure if the idea came across how I intended it to, being that I ended up sticking individually packed Costco trail mix on a platter. It was a stressed out, last minute, that's just how it's going to have to be kind of thing.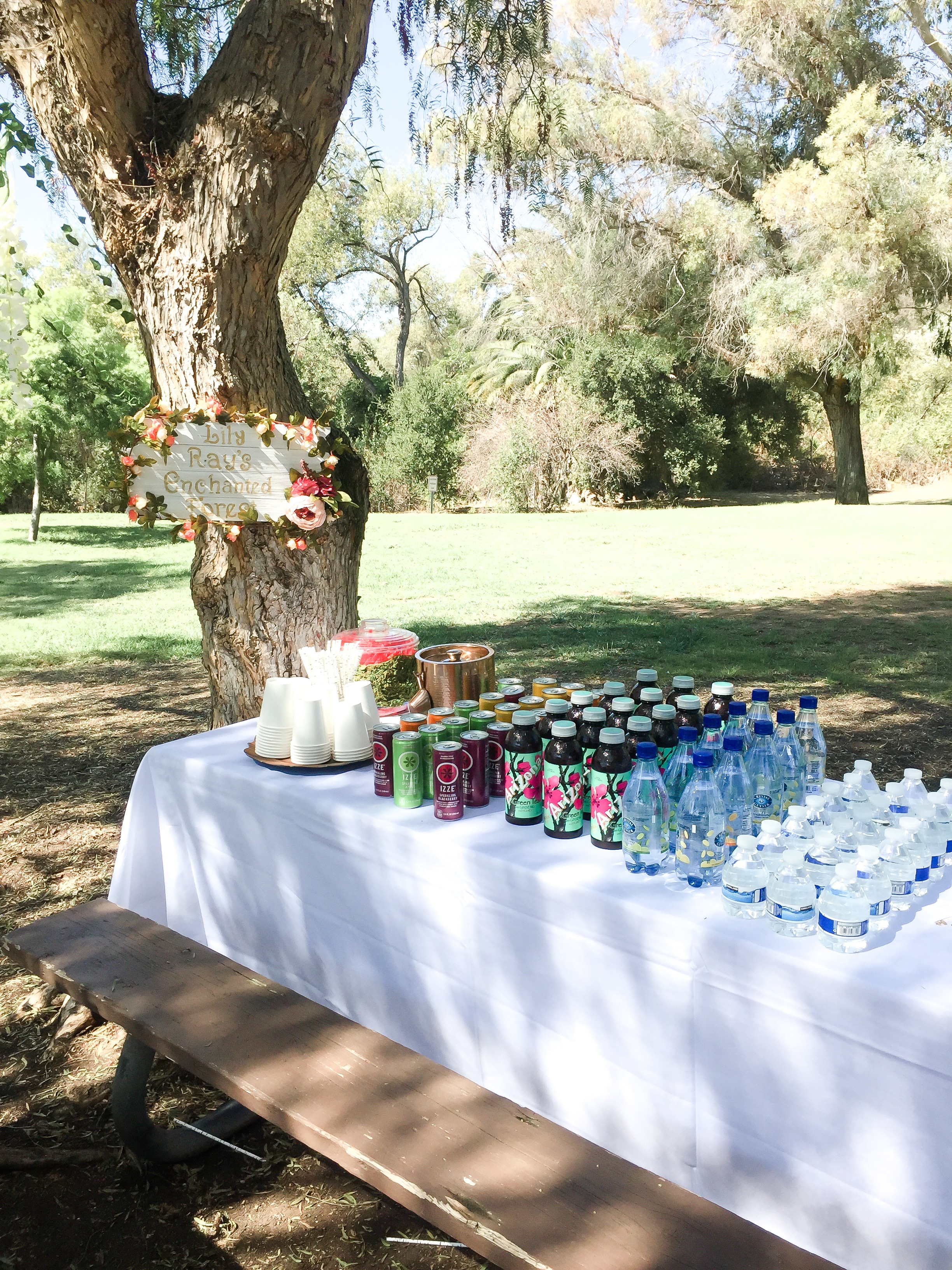 White Paper Cups // Birch Tree Straws // Copper Ice Bucket // White Table Cloth
I originally had all these grand ideas for beverages, like flower ice cubes in lavender infused tea inside beautiful glass pitchers. Great in theory, but not great in a bug-filled reality. I thought individually packaged beverages with tops might be a better idea. I did buy an awesome ice bucket, which people kept asking me where I got it because it was really nice, so my already purchased paper cups could be used if people wanted their beverage a little cooler!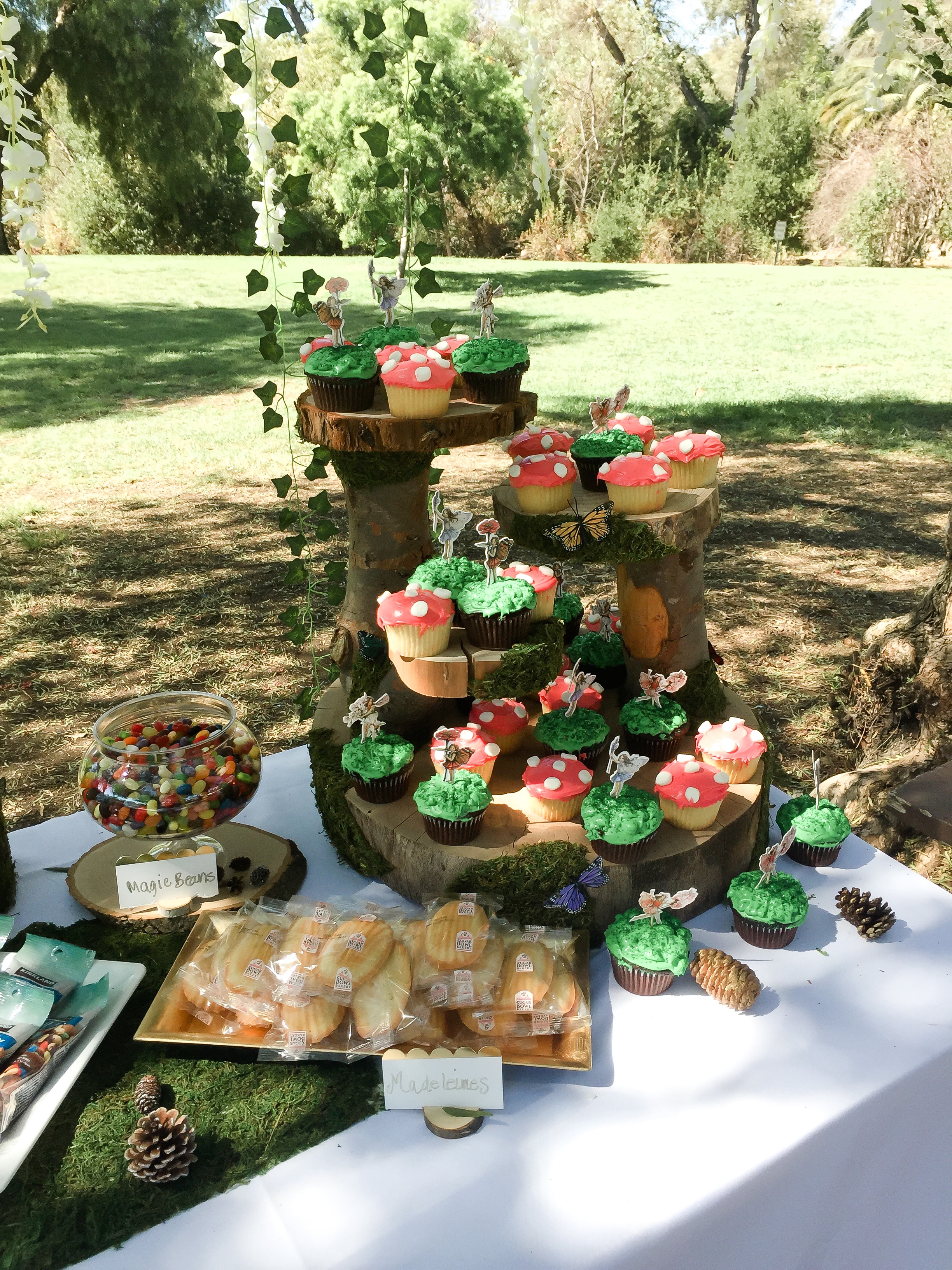 Fairy Cupcake Toppers // Moss Sheets // Moss Table Runner // Artificial Butterflies
The best part of the entire table was this incredible cupcake stand my dad made. I have no idea how he did it, but it was so beautiful! He made the stand itself and then I randomly stuck on some of the sheet moss and hot glued on some butterflies and voila! The most beautiful fairy cupcake stand ever! My sister made the mushroom and moss cupcakes and they turned out so great! I have no clue how she did it, but she made them exactly how I was imagining and they fit so perfectly with the stand.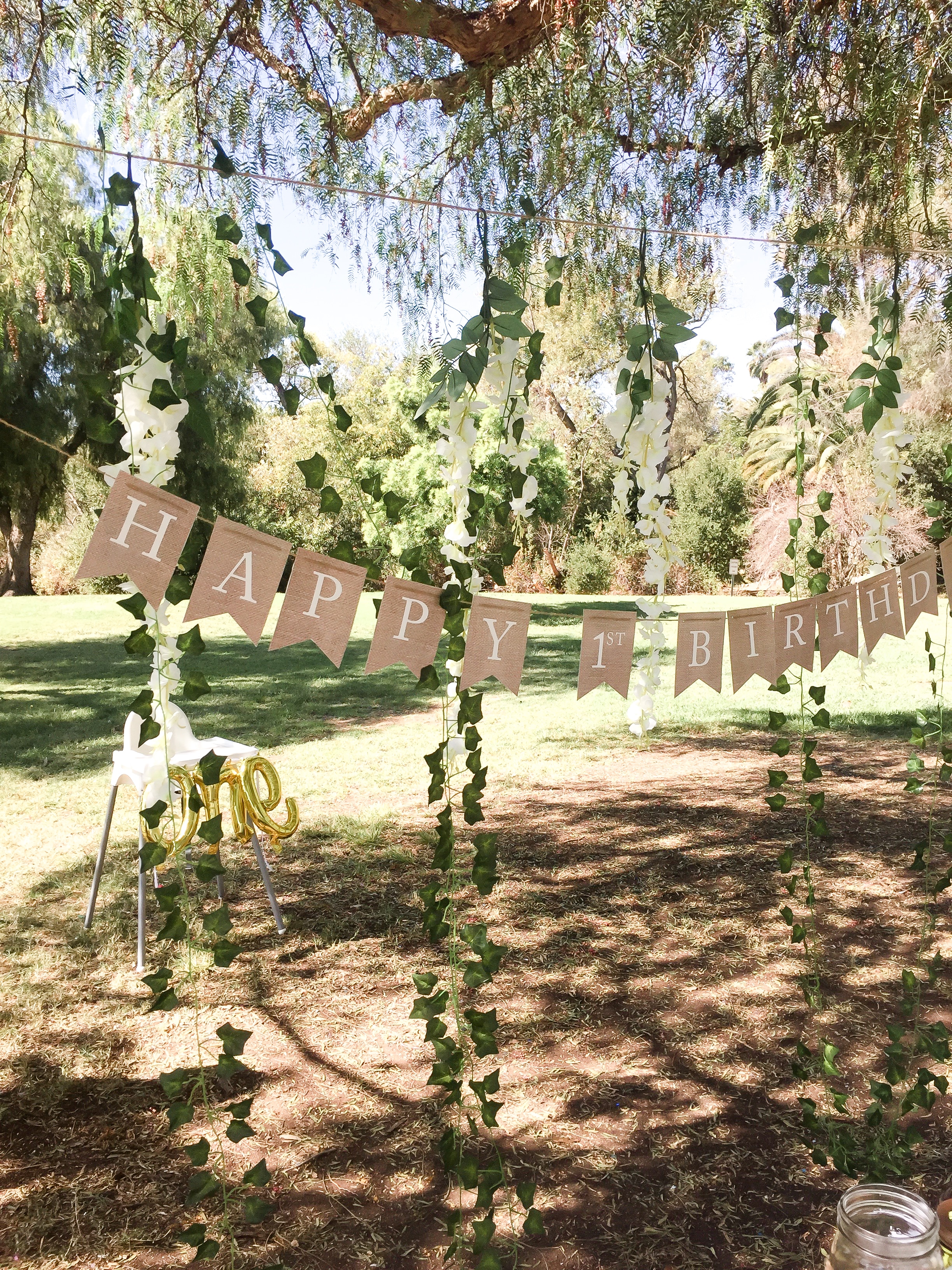 Happy 1st Birthday Sign // Artificial Wisteria // Artificial Vines
I had so many ideas of things I wanted to do for the table backdrop. All of which would be very time consuming and expensive. So I kinda just winged it and strung together some artificial wisteria and vines onto some twine. And I loved it! It was subtle, delicate, and added just the right amount of whimsy. I also added a cheap cardboard burlap printed sign on top to create some layers.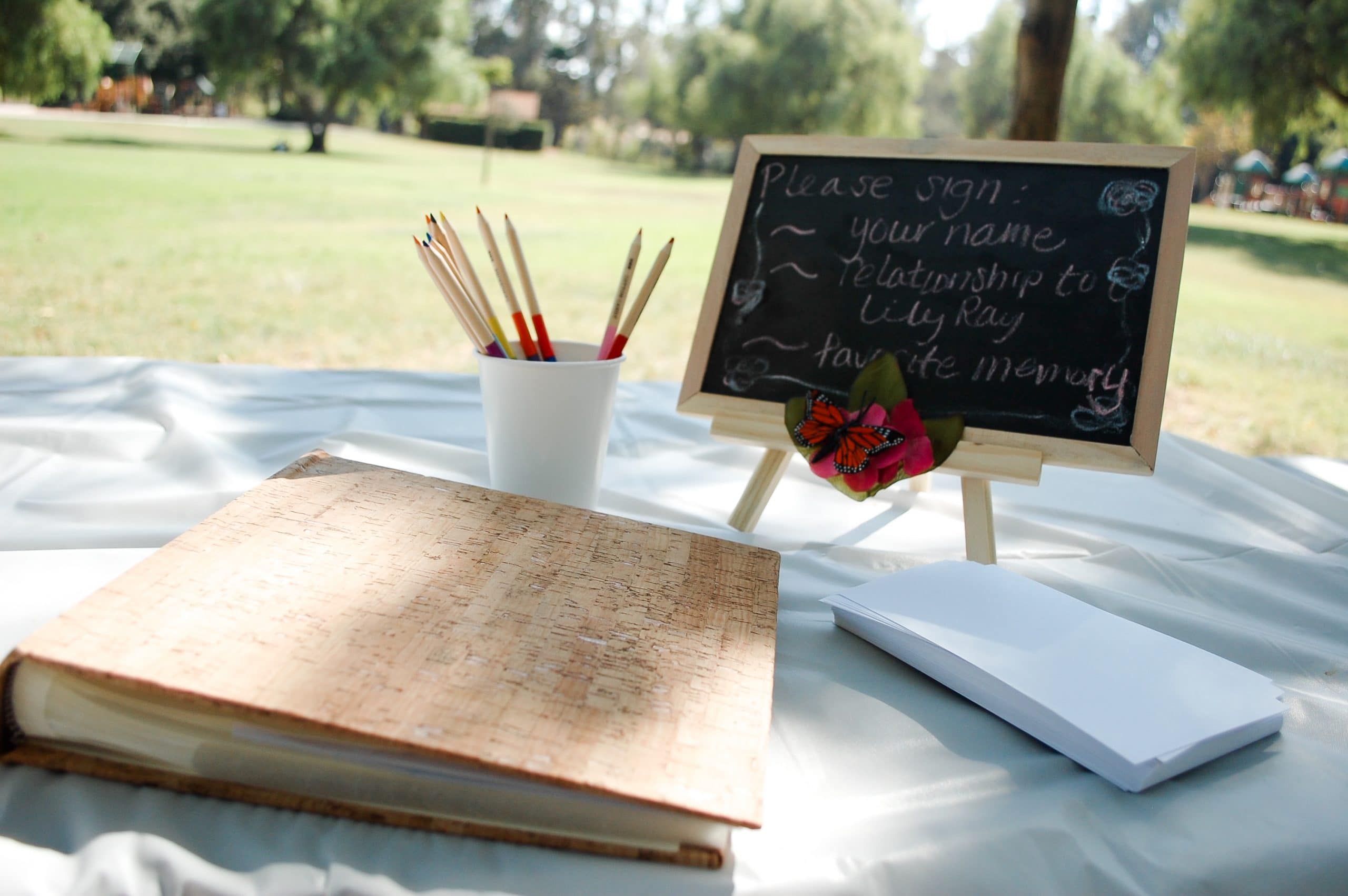 Photo Album // Chalkboard // Colored Pencils
I really wanted to do a guestbook as a keepsake for Lily to have of the day. I couldn't find any guestbooks I liked, so I ended up going with this corkboard photo album. I had everyone decorate a 4×6 index card and slip them right into the photo slots. I plan on decorating the outside to match the party's theme and add photos from the party into the open slots. I think I might actually do that for every party I have for her in the future. That way she will have a collection of books from all her birthday parties!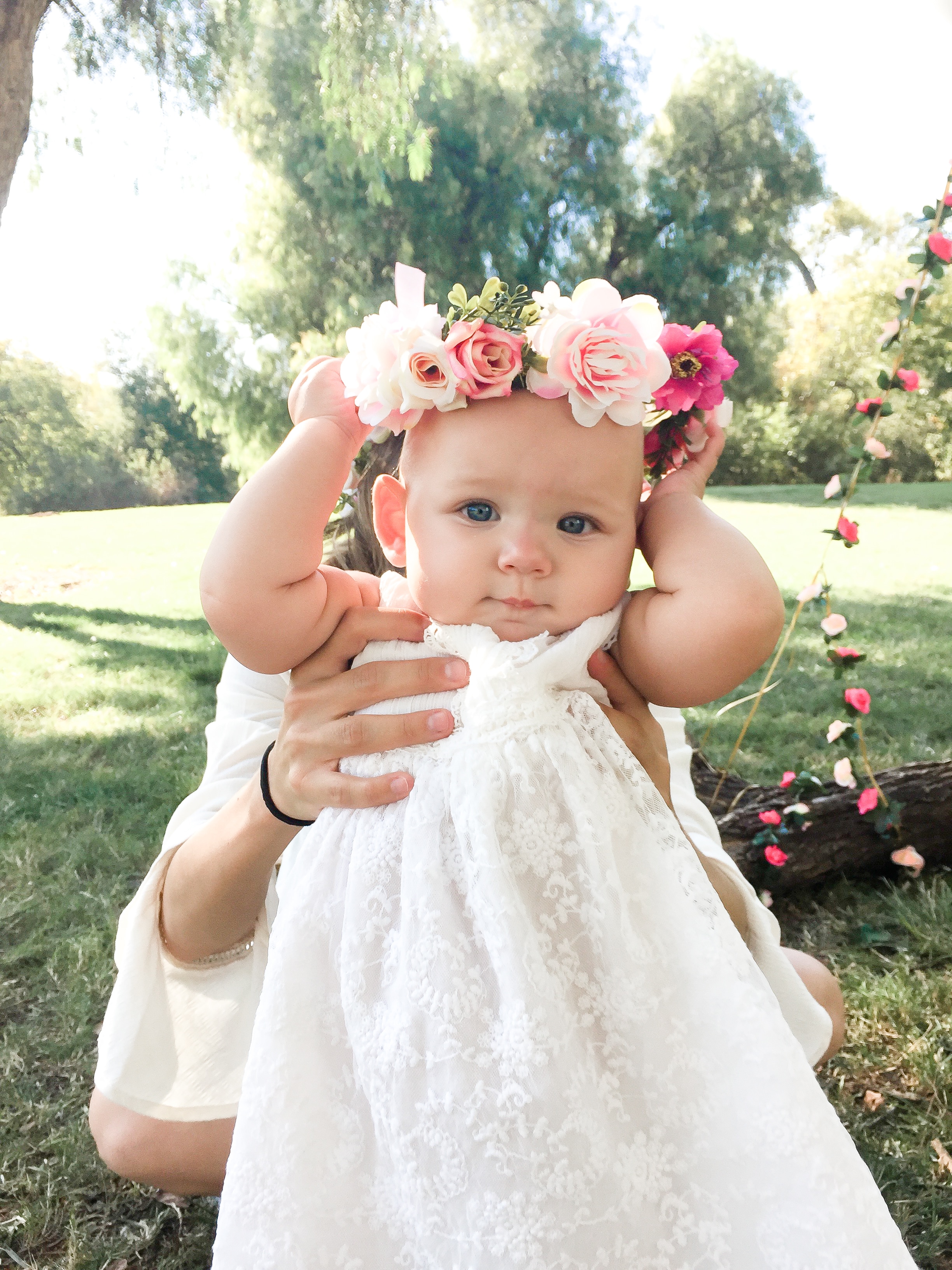 One of the reasons I decided on a fairy theme was because I wanted to get flower crowns. That may sound lame, but I found flower crowns on Amazon and fell in love! For Lily and I, I got the matching mama and baby flower crowns. They were surprisingly great quality and so beautiful. They smelled like hot glue for a while, but that eventually went away, lol. Lily was not a fan of wearing her crown and only wore it for pictures and, even then, only if she had her hands held down or was holding something. But at least we got some photos!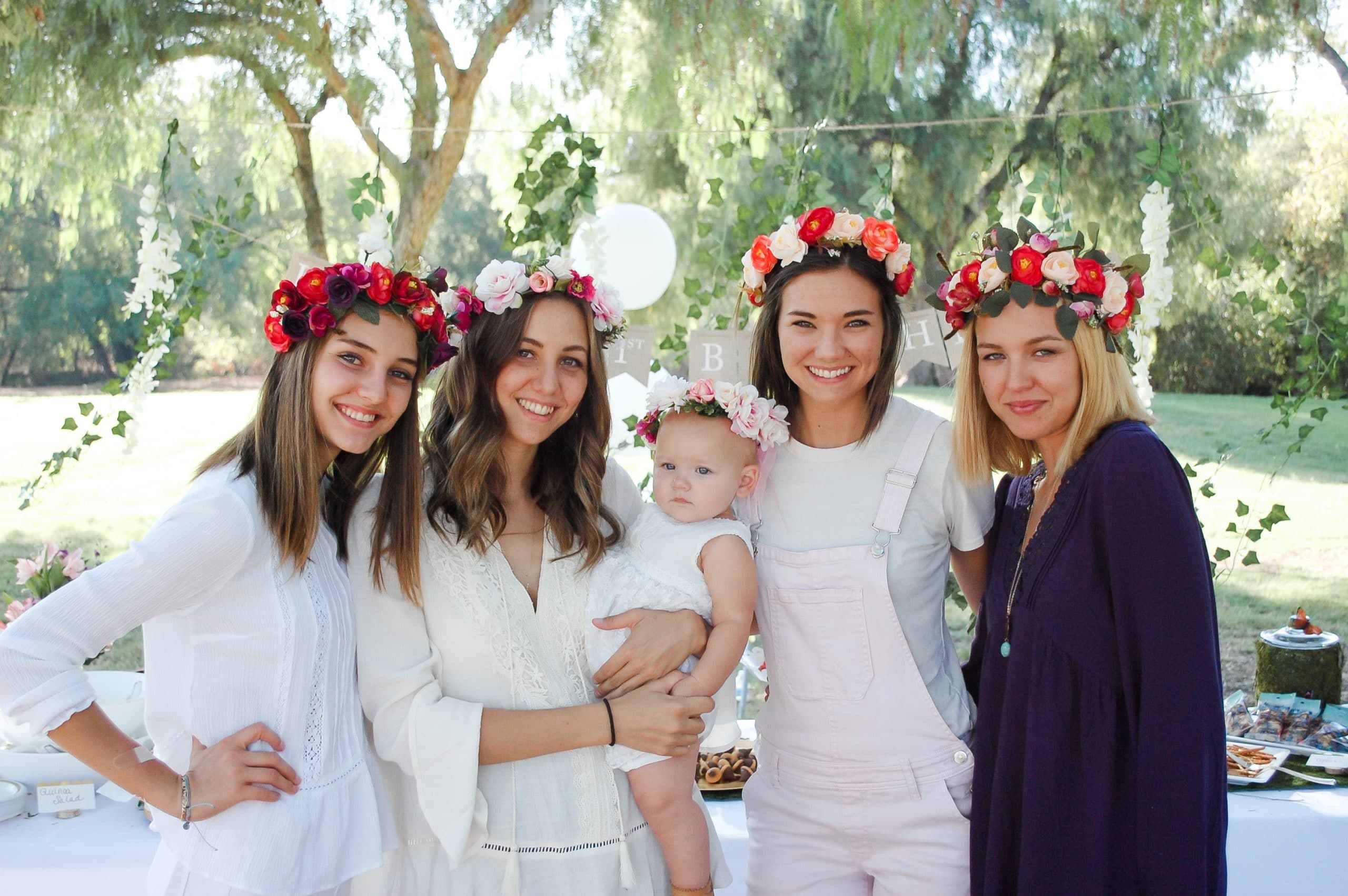 White Peasant Top // Cream Crochet Top // Cream Lace Toddler Dress // Womens Flower Crown
Of course, I had to get my family flower crowns too. These flower crowns were intense! If you fluff and spread them apart they are pretty big. Check out my sister Rachel on the far right side. I loved them though! Also, I have some really beautiful sisters, don't I?!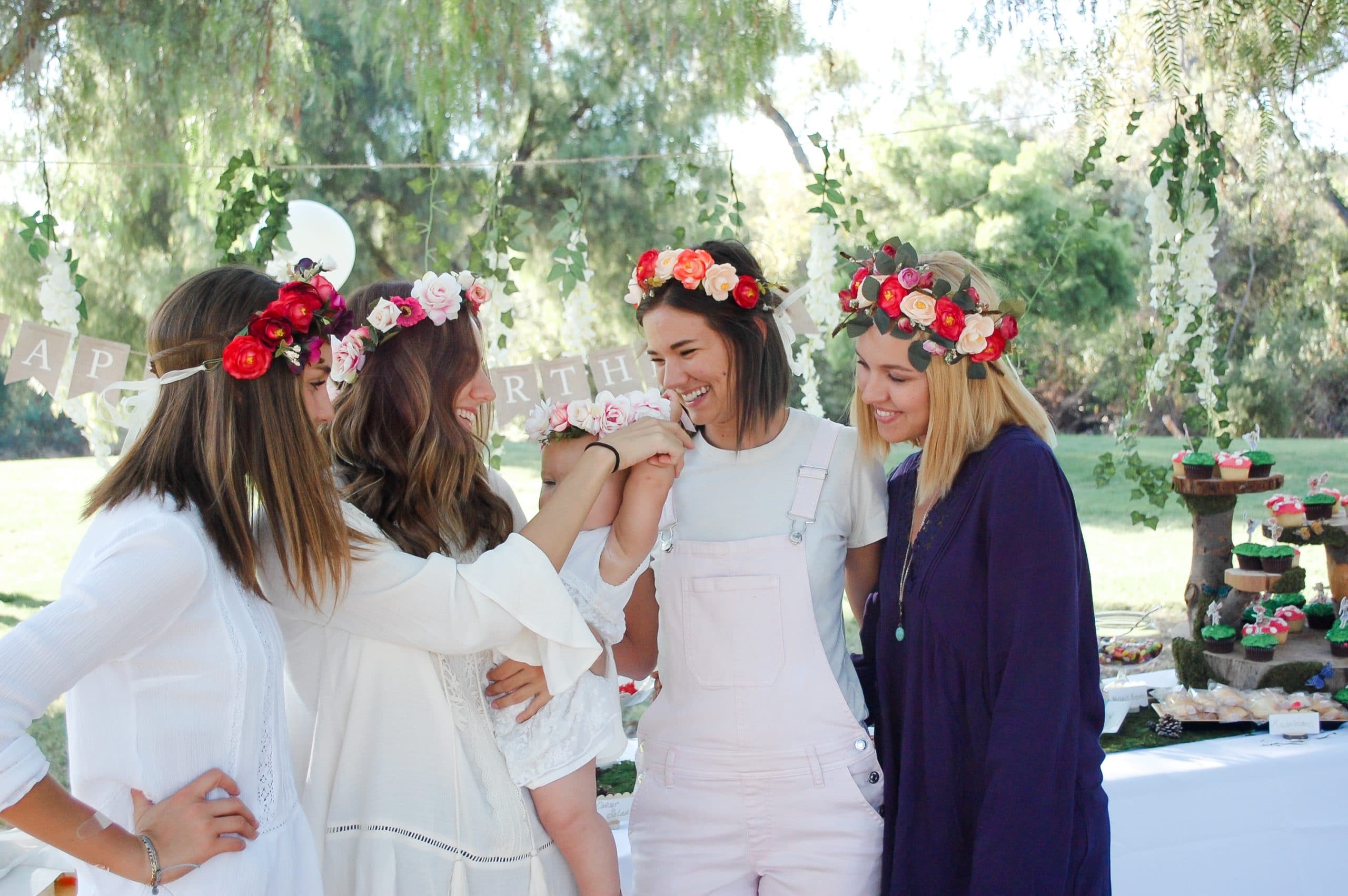 I think it's so funny how staged this photo looks, but it was completely candid! We were all laughing at Lily trying to rip her crown off while we were trying to get some photos. She REALLY did not like her crown!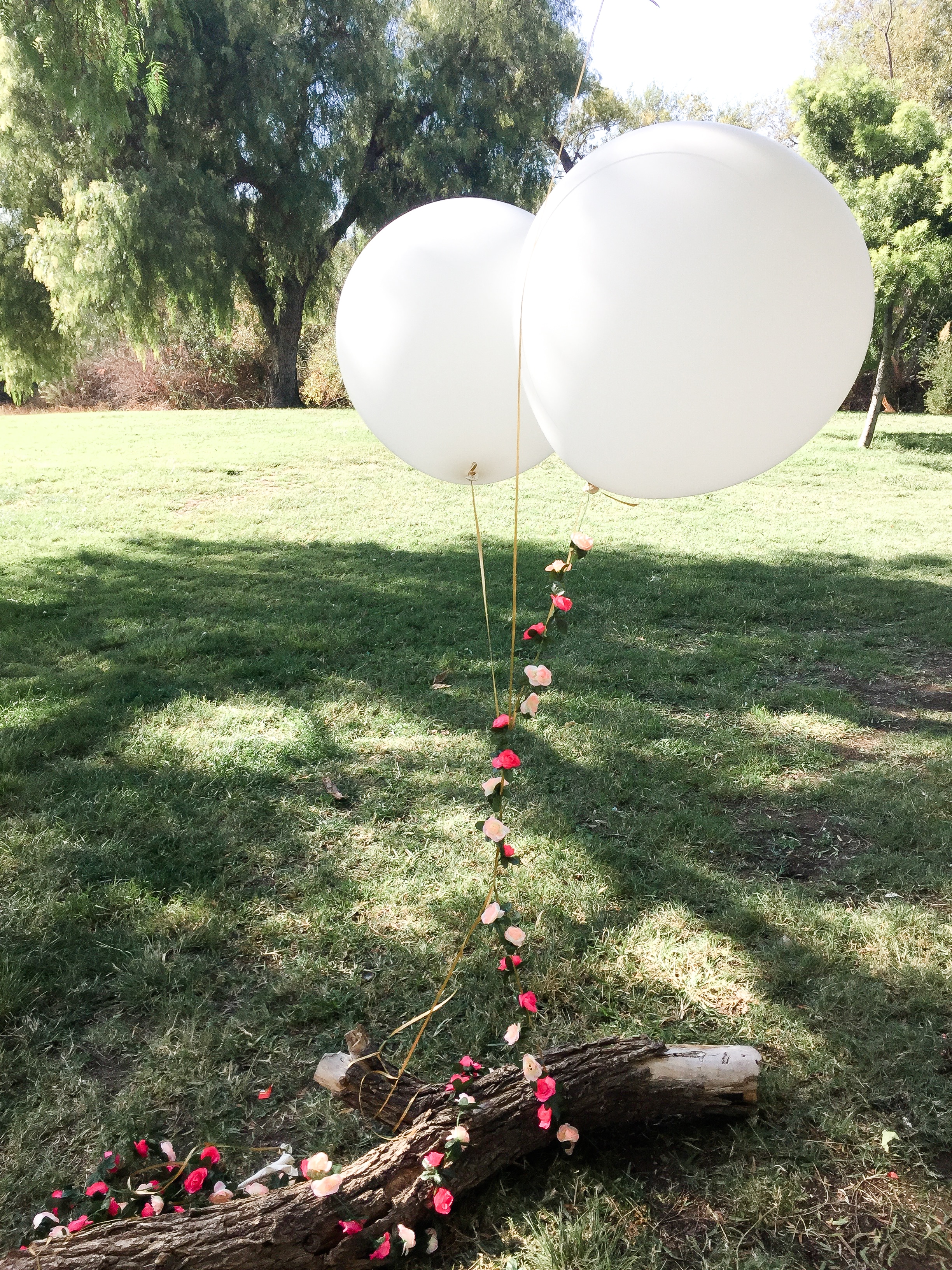 Flower Strands // Giant White Balloons
I got the idea for giant balloons with flower vines as the string from Pinterest of course. I had planned on anchoring them to the ground and scattering them around the perimeter of the party space. However, forgot to get something to anchor them and the wind was so crazy I got all tangled in the flowers while I was trying to put them together. So I ended up only filling three of the balloons and tying them to a log my dad found in the surrounding wooded area. It was not how I intended it to be at all, but it ended up being a good photo op!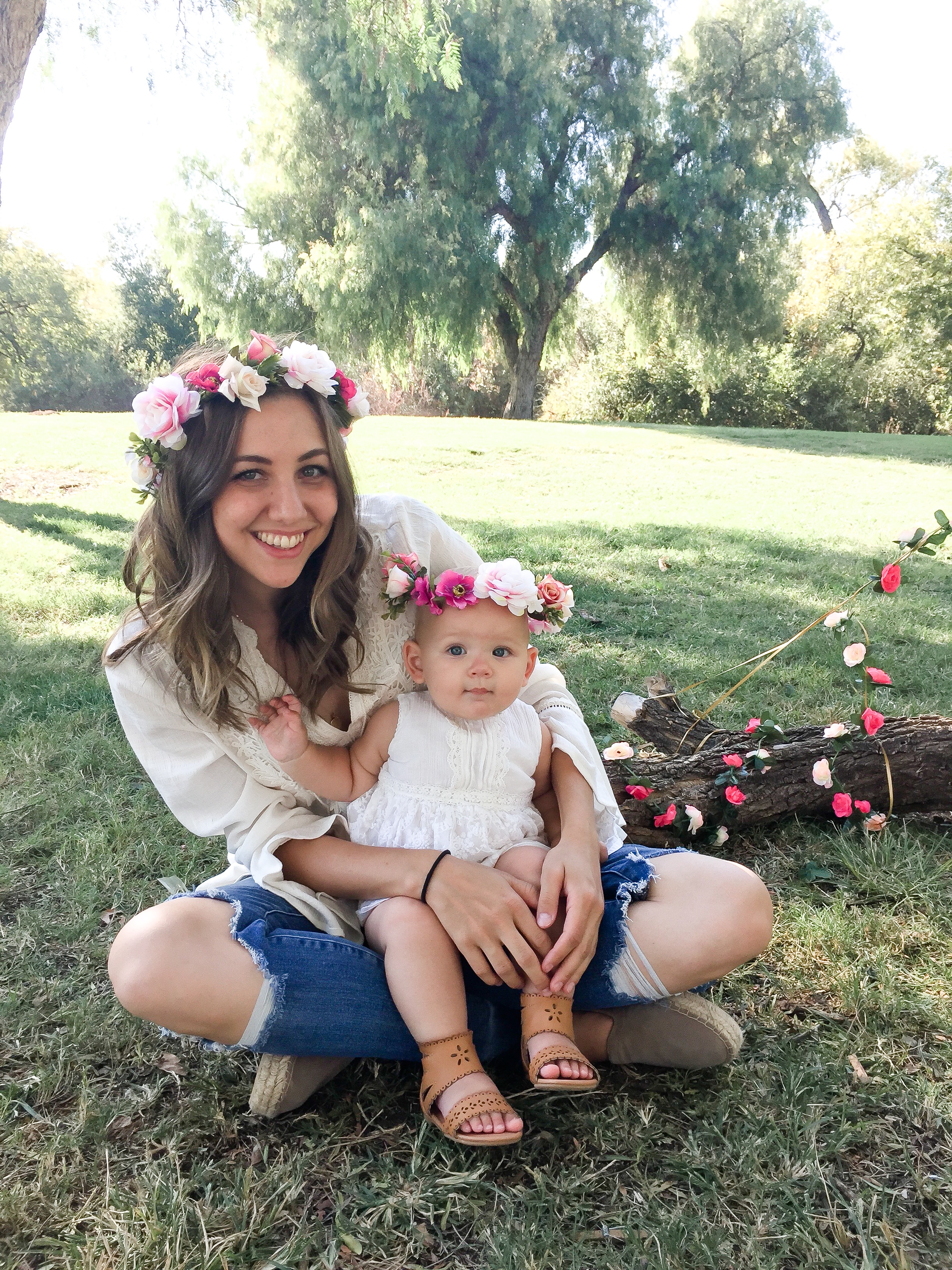 Overall, even though not everything went as I planned, I think Lily Ray's Enchanted 1st Birthday Party was a success. Everything turned out beautiful and everyone had fun! The most important thing is that Lily looks back on this day and knows how much she is loved!
Below are some more of my favorite photos!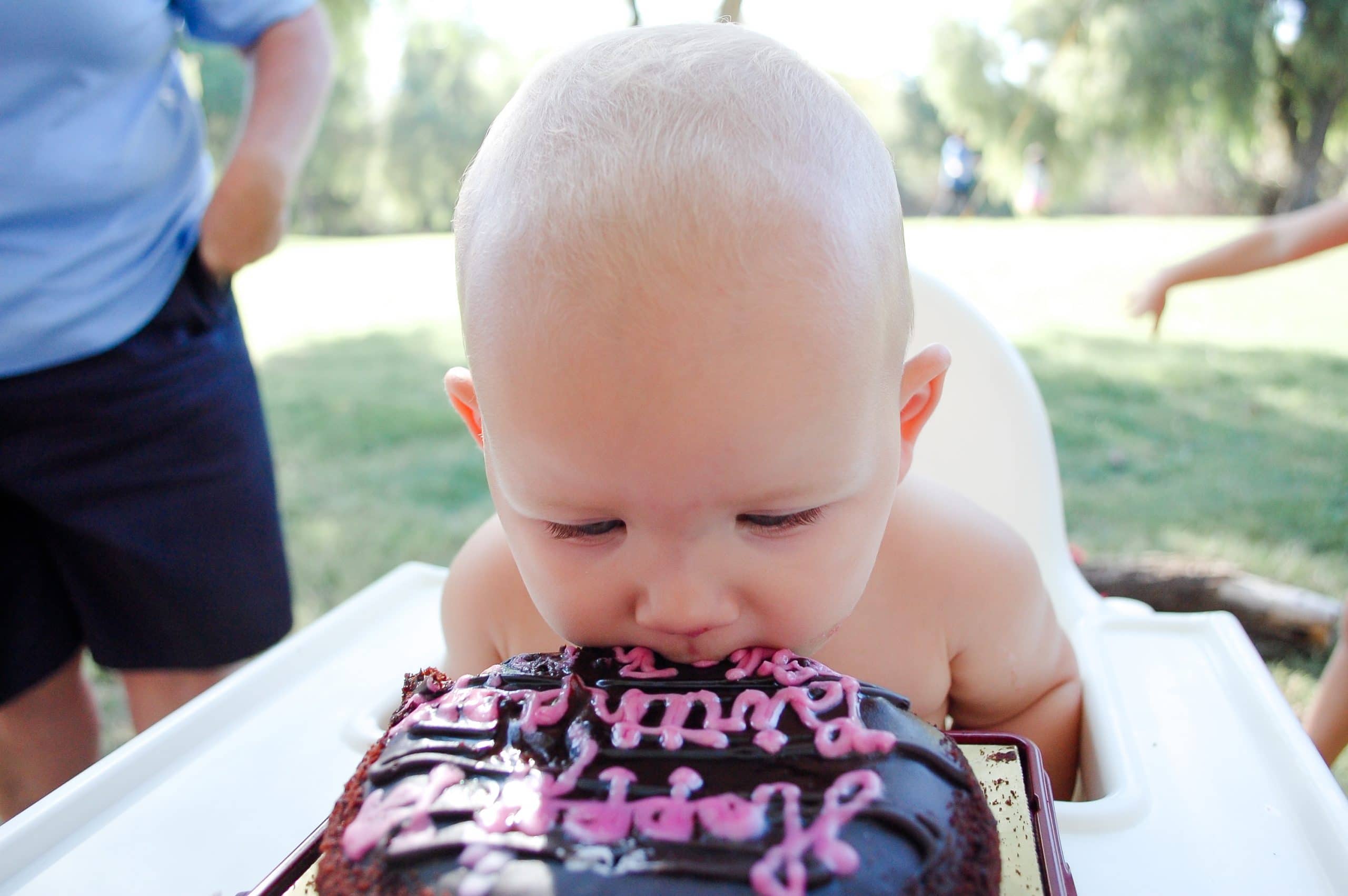 Lily eating cake for the first time! It was vegan of course and so delicious!
She's actually listening to what her card says!
That little profile gets me every time!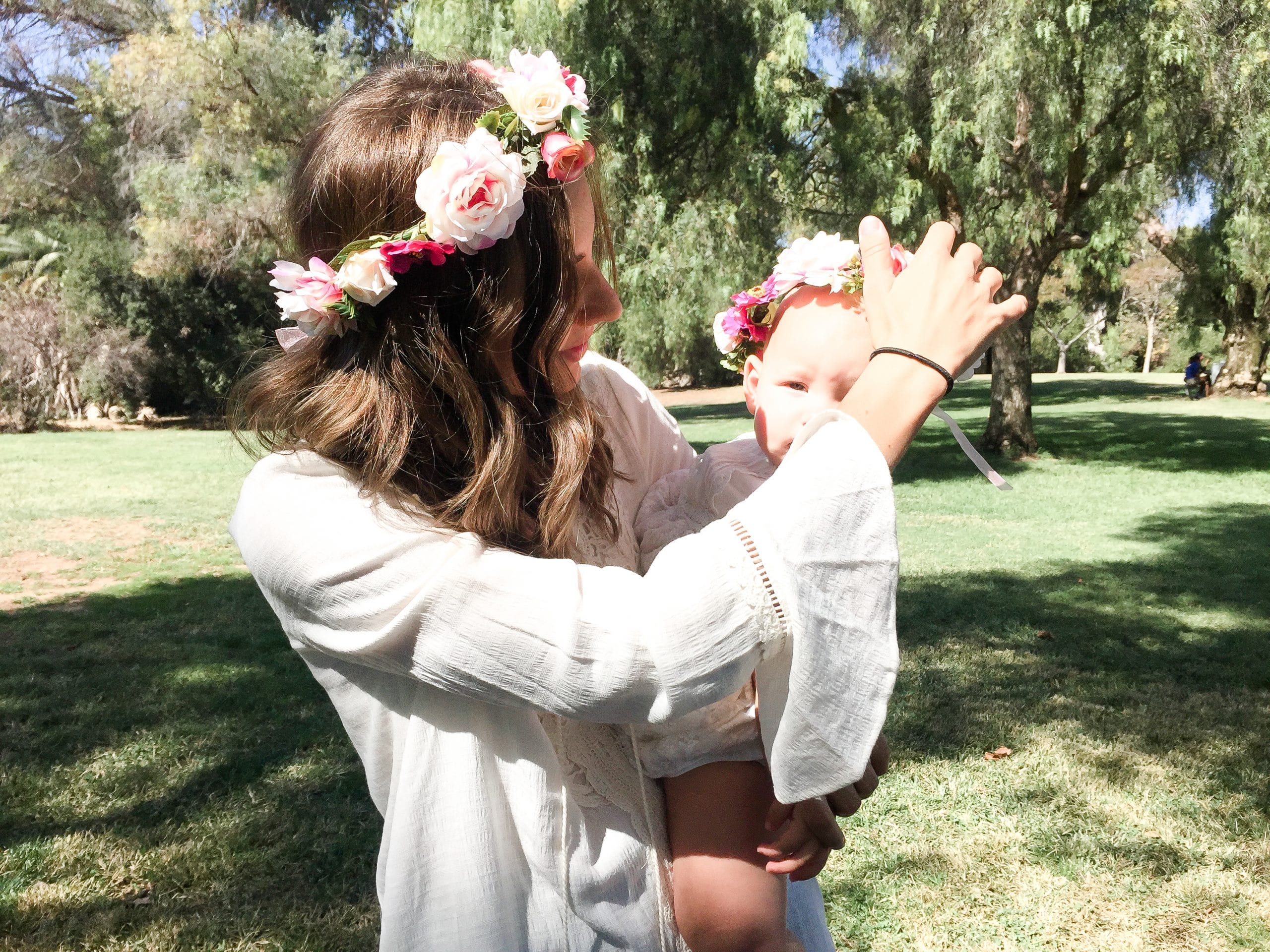 Once again trying to fix her crown after she ripped it off!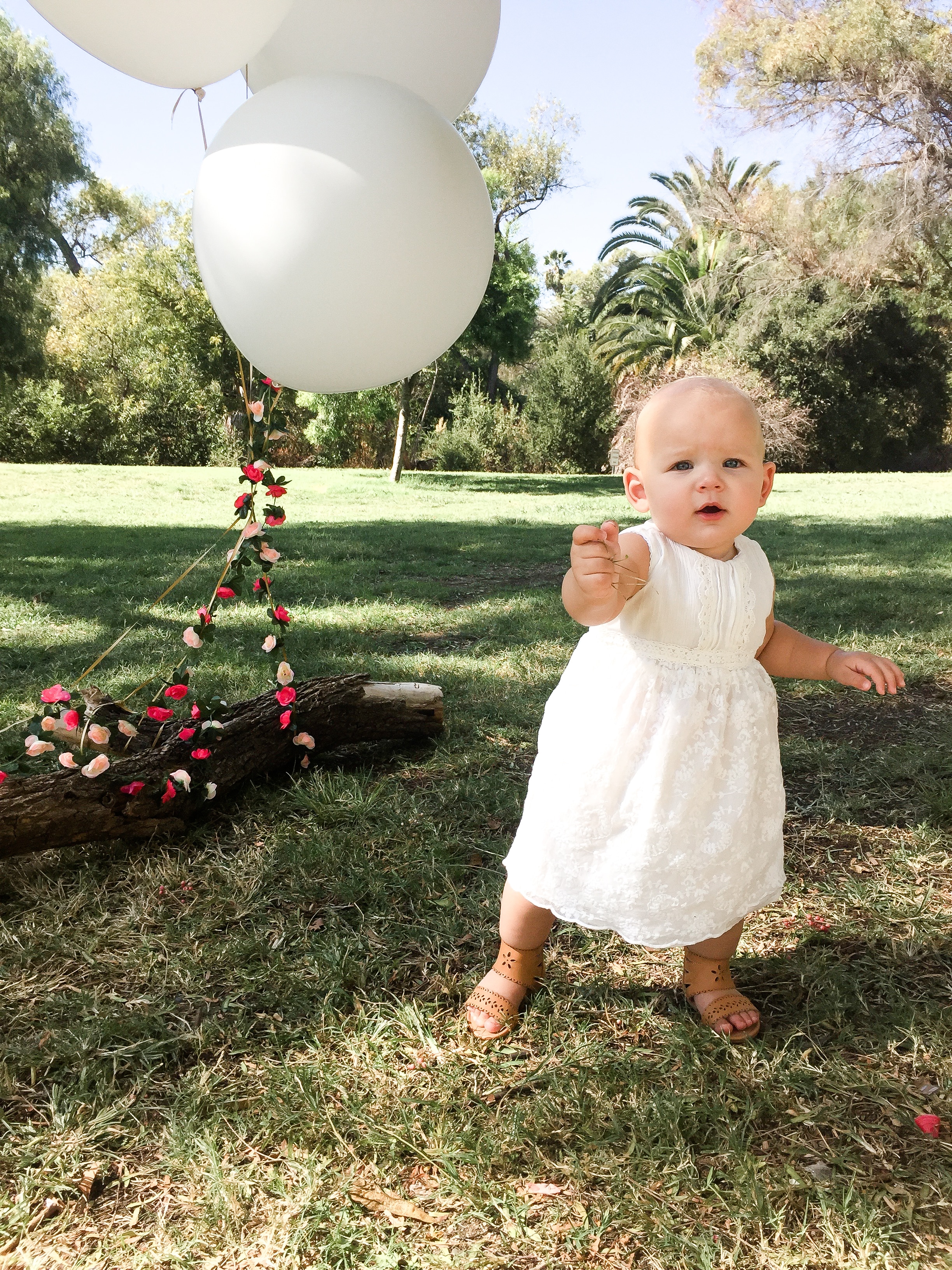 Just having a blast ripping the grass out!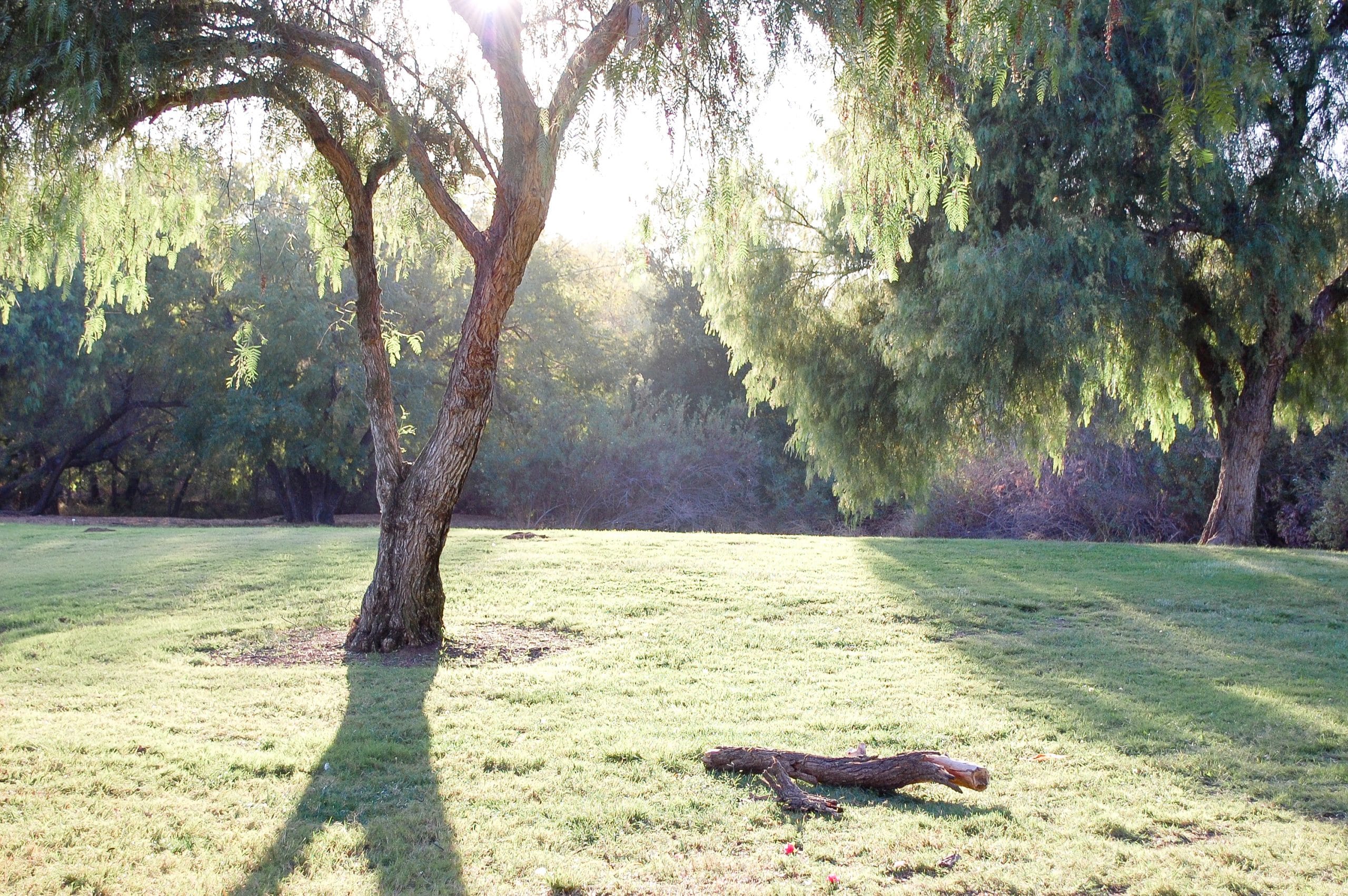 Shout out to my sister Rachel for finding the perfect location for a fairy party!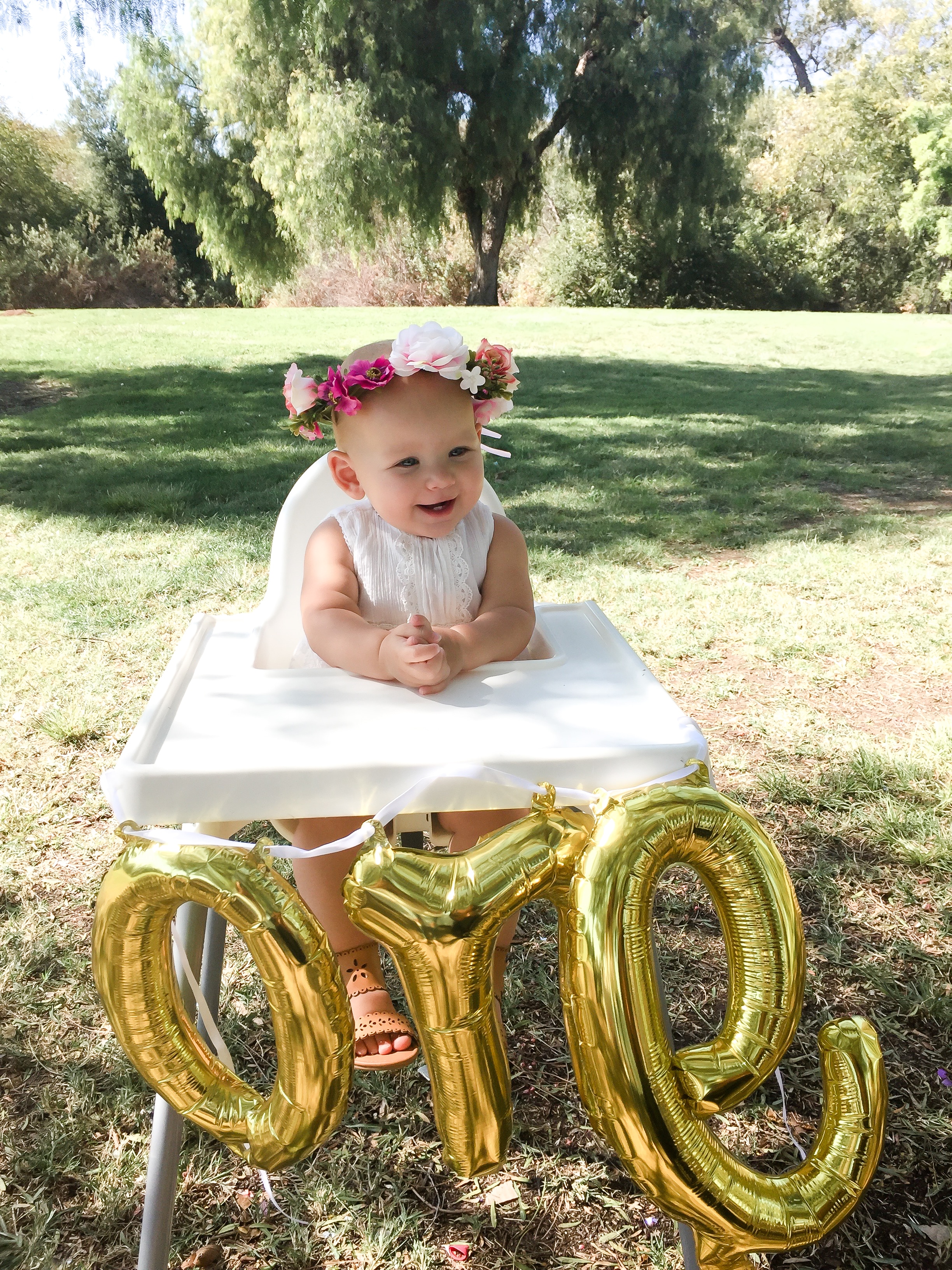 My happy little birthday girl!