This post may contain affiliate links. If you click on a link and purchase the item, I will receive a commission at no extra cost to you. All opinions remain my own. Thank you for supporting this blog!

Learn how to make your own all-natural hair mask to combat dry hair. Use this simple 4 step process to bring moisture and life back to your dry summer hair!
What if I told you-you didn't have to pay a penny for a revitalizing hair treatment and everything you needed to magically moisturize your hair was already in your home? Would you believe me?
Well, believe me, my friend, because today I am teaching you how to make your own all-natural hair mask to combat dry hair using only ingredients you can find in your kitchen or bathroom!
Good for your health and wallet
In my opinion, summer is one of the worst seasons for hair health. Add up all the chlorine exposure, salt, sun, and heat and you've got some frizzy, dry hair on your hands…or technically your head.
I know there are numerous hair masks you can buy at a store that probably work wonders; however, there are two reasons I don't like them. One, most of them are full of nasty toxic chemicals that may be helpful to your hair short-term but not to your overall health long-term. And two, the more natural based hair masks on the market cost more then I am willing to spend.
DIY Hair Masks
Therefore, I set out to find the best DIY all-natural hair mask recipes I could find and I was planning on making a list of the best ones when I realized something. All the hair mask recipes were just different combinations of the same hand full of natural ingredients.
Now, I have no scientific evidence to back up this theory, but I am going to guess that any combination of any of those ingredients will still produce results.
Instead of just listing a bunch of hair mask recipes, I decided to teach you how to make your own all-natural hair mask to compact dry hair in 4 easy steps!
It's super simple and kind of laughable that I am breaking it down into steps, but just in case you've never done a hair mask in your life I wanted to make sure you knew exactly what to do!

Step 1: Gather Ingredients
Head to your kitchen or bathroom and find 2-4 of the ingredients below.
Avocado –

Contains proteins, vitamin A, vitamin D, vitamin E, vitamin B6, magnesium, amino acids, and iron which helps improve hair growth and nourishment

Banana

– filled with 

potassium, natural oils, carbohydrates, and vitamins, which help soften and protect the hair's natural elasticity, preventing split ends and breakage

Strawberry –

Contains Vitamin C to control scalp oil and pH balance

Lemon Juice – Closes pore in the scalp which helps gets rid of excess oil

Almond Oil

– Contains high amounts of vitamin E, which is a natural antioxidant that makes your hair looks younger and healthier

Coconut Oil – Stimulates hair growth, adds moisture and shine, helps fight against lice and dandruff, prevents split ends, slows down hair loss
Olive Oil – Acts as a natural conditioner by adding hydration to damaged hair

Jojoba Oil –

Rich in Vitamin C, B Vitamins, Vitamin E, copper, and zinc which helps strengthen hair, prevent hair loss, and protect against dryness, breakage, and split ends

Apple Cider Vinegar

– Helps fight against excess oil and grease

Honey

– Moisturizes and has restorative properties that bring hair back to life

Egg

– 

Contains biotin, folate, vitamin A, and vitamin D which helps with hair growth and makes hair more resistant to damage

Peppermint Tea

– Helps with balancing scalp pH levels, oil

production, and dandruff

Pumpkin Puree

– Contains alpha and beta-carotene, fiber, vitamins (A, C, E), potassium, and magnesium which help condition and rehydrate hair and protect against UV rays

Beer

– Proteins in beer help repair damage and beer can remove split ends. Also, vitamin B, sugars and antioxidants give hair more of a shine

Mayonaise

– Contains L-cysteine (an amino acid and antioxidant found in eggs) which gives your hair strength and structure as well as increase the hair shaft and hair growth density

Milk

– softens hair

Almond Milk – Contains proteins that help reduce breakage, fatty acids that help condition and prevent frizz, and iron which help strengthen hair and prevent hair loss

Yogurt

– Has anti-fungal properties that help fight dandruff and contains high levels of lactic acid that helps with dull and damaged hair

Essential Oil – The best for hair are lavender, rosemary, cedarwood, lemongrass, peppermint, and chamomile
Possible mixtures for a little inspiration:
Banana + Almond Oil

Coconut Oil + Honey

Egg + Olive Oil

Avocado + Olive Oil + Honey + Peppermint tea

Pumpkin + Honey

Avocado Oil + Mayo + Honey

Milk + Honey

Yogurt + Honey + Egg

Strawberry + Egg Yolk + Olive Oil

Egg White + Almond Milk + Coconut Oil

Almond Oil + Honey + Apple Cider Vinegar
Step 2: Mix Ingredients Together
Now take the ingredients you choose and mix them together in a bowl until they are a paste-like consistency. Because were are creating our masks from scratch and they'll all be different combinations, you just have to wing it when it comes to how much of each ingredient to include in the mixture. Just keep the tips below in mind.
Mix more of the thicker ingredient and less of the thinner ingredient to prevent too much dripping

Make a larger batch of your mixture if you have longer hair

If you have oily hair only use egg whites, if you have dry hair only use egg yolk, if you have normal hair use the whole egg

Lemon can lighten your hair and also burn your scalp if you use too much. So keep that in mind if you choose to use lemon in your mask

Apple cider vinegar should also be used sparingly as it will burn your scalp if you use too much as well
Step 3: Apply mask to your hair
Once your mixture is ready to go it's time to apply the mask to your hair. Follow the tips below for application and then keep the mask on for 15-20 minutes.
Your hair should be damp before applying the mask. Either wet and towel dry it or wet it down with a spray bottle

If the mixture is too drippy apply the mask over the sink or bathtub

Massage the mask into your roots and then work the mixture down to the tips

Put on a plastic shower cap to keep everything inside; I like to put my hair in a loose bun or use a clip to hold it all together

Some ingredients can stay on your head for over an hour but most recipes say to keep the mask on for 15-20 minutes. So if you're not sure how long the ingredients you choose should stay on your hair, stick to the 15-20 minute guideline.
Step 4: Rise off the mask
The final step is to rinse the mask out of your hair with cold/slightly warm water. Read the points below for more rinsing tips.
You should shampoo as normal, but if you used any of the oils, honey or mayo you won't need to condition.

Make sure to rinse the ingredients out completely or it will leave a weird residue. Not to mention you probably don't want to go about your day or go to sleep with food still in your hair. Can you say bugs? I didn't read that warning anywhere, but that's the first thing that comes to my mind.

If you used egg in your mixture make sure you do not use hot water to rinse your hair. The hot water can cook the egg and then you have to get all the little bits of egg out of your hair. Not fun.
That's it!
Next time your hair is feeling the damaging effects of summer, don't reach for that expensive store bought hair mask. Now you know how to make your own all-natural hair mask to combat dry hair using ingredients you already have in your home. Just follow these 4 easy steps once a week, experiment with different ingredients and mixtures, and watch as your hair get healthier and shinier week by week!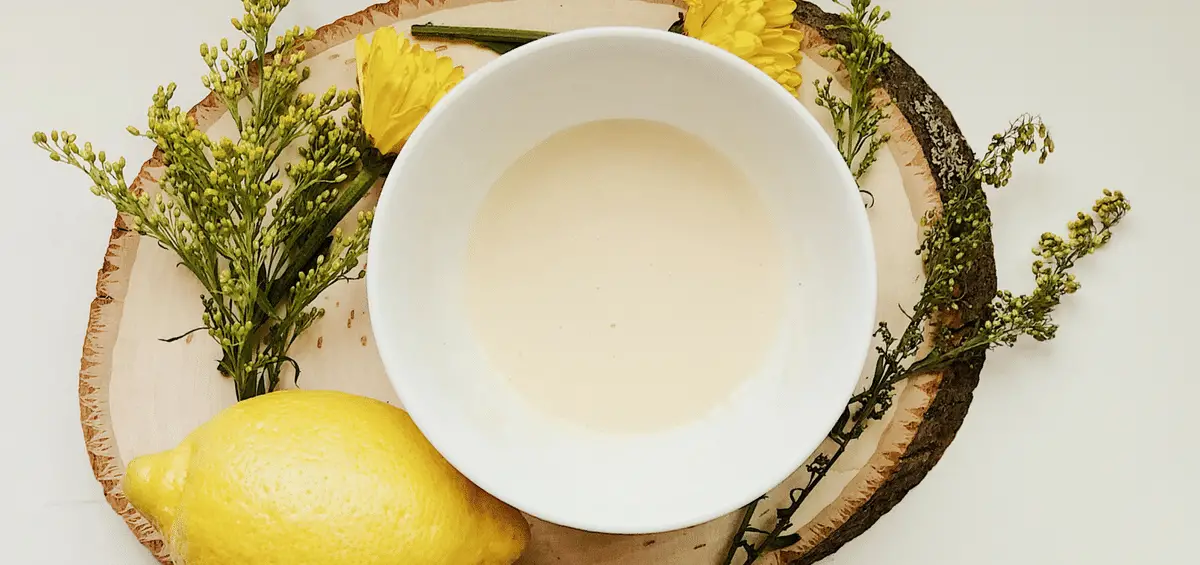 Resources:
Benefits of Coconut Oil for Hair
Benefits of Almond Oil for Hair
Benefits of Mayonaise for Hair
Benefits of Almond Milk for Hair